Working Lunch – top tips to revive the weekday lunch
With the kids back at school, many of us are now starting to re-establish routines and possibly attempting to reinstate healthy habits, and perhaps even creating some new ones! Not only for the kids but for ourselves too.
It's so easy to get stuck in a rut with our eating patterns, and lunch can often fall by the wayside. Busy as ever, lack of time can result in grabbing that go-to ready-made sandwich, rummaging aimlessly in the fridge or even missing out altogether – perhaps causing us to reach for something sweet later on. 

Overhauling your habits can feel like a daunting task, but if you're keen to reset the balance, then you're already halfway there!

We're here to help you make the rest of that journey – whether you're grabbing a sandwich to-go or reheating a ready-made soup, these useful tips, tricks, and ideas will help bring variety, balance and a little more excitement to your weekday lunch!
Working lunch goals – getting the balance right
Lunch should provide around a third of your daily energy and nutritional requirements, so aim to include foods from each of the major food groups:-
At least one portion each of fruit and vegetables
choose a sandwich containing salad and opt for fruit for dessert or choose a salad or vegetable soup. These will contribute to the all-important 5 a day – essential for supplying key micronutrients and fibre!
A portion of starchy carbohydrates
such as bread, pasta, potatoes, or rice – opt for wholewheat options as much as possible to boost fibre intake. This is important to ensure you have plenty of slow-release energy to fuel your day. Use up leftover rice, pasta or potatoes in a take-to-work salad.
A portion of protein
for example, tinned fish, tofu, chicken, or eggs. Protein promotes a feeling of fullness, which may help to keep hunger at bay. Eggs, tinned fish and pulses are really handy options to keep in stock, ready for throwing together a speedy salad or sandwich.
A portion of plain dairy
(or fortified plant-based alternative) such as cheese or a plain yogurt. These foods provide all important calcium essential for maintaining healthy bones and teeth. Cottage cheese is a great fridge standby – low in fat, high in protein, it's delicious with sliced pear or apple in a salad or as a filling for jacket potatoes. Sprinkle with toasted seeds to add crunch. Or choose a yogurt with some berries or dried fruit for a mid-afternoon snack.
Some healthy fats
such as those from olive oil, nuts and seeds, avocado and weekly oily fish. Important for supporting heart health, its key to incorporate these when you can. Snack on unsalted nuts and seeds or sprinkle them over salads or soups. Dress salads in olive oil and keep a stash of tinned mackerel in the store cupboard for quick WHF lunches.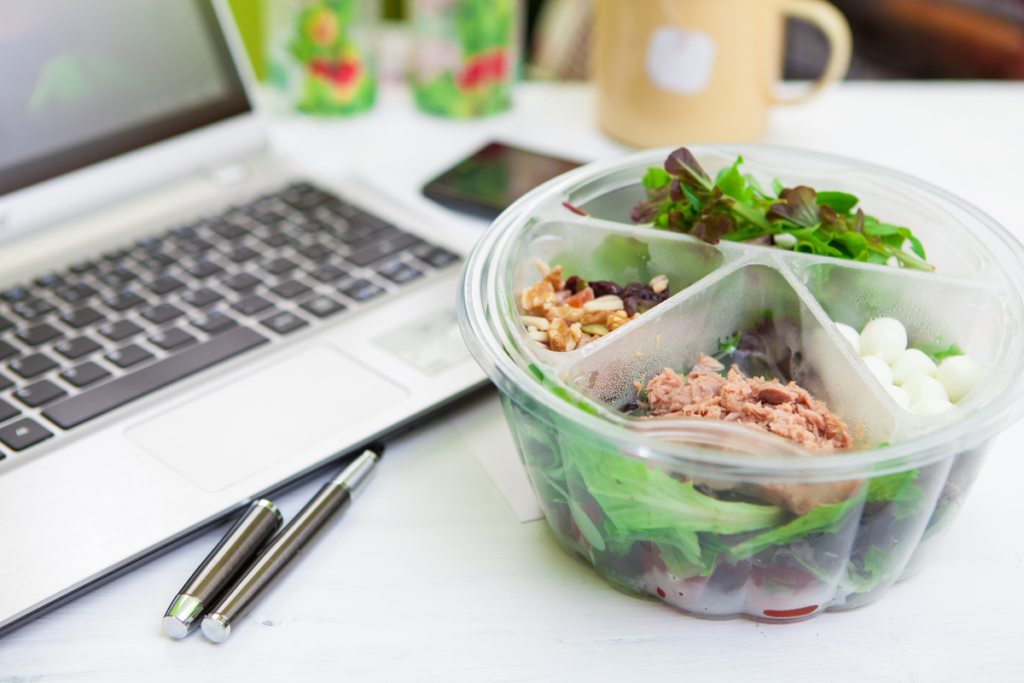 Lunch made easy
As always, a bit of pre-planning can make all the difference – saving you time, energy and head-space in the long-run.
Batch Up!
Cook a big batch of soup and freeze in portions. Simply transfer to the fridge to defrost the night before, and microwave at work. It's a good idea to include some pulses, rice or pasta to ensure its filling. Enjoy with some wholegrain bread on the side. For inspiration, check out my Curried Roasted Butternut Squash & Yellow Split Pea Soup – The Nutrition Consultant or Spicy Butterbean & Tomato Soup – The Nutrition Consultant
Versatile Veg
Roast a tray of vegetables on a Sunday and mix it with different store cupboard and fridge staples to vary it each day. Try tossing with tinned beans, lentils or chickpeas, a handful of spinach or salad leaves and some grated cheese, houmous or tinned fish. Finish with your favourite salad dressing or keep it simple with olive oil and vinegar.
Love Your Leftovers
Tackle food waste by getting creative with your leftovers. If there's not enough for a full portion, make it go further by combining with couscous or tinned pulses, and forage in the salad drawer to add colour, crunch and flavour.
Any-Veg Frittata
Versatile and filling, eggs and a little cheese can transform leftover veg of any variety into a moreish take-to-work lunch. Try my Asparagus, Pea, New Potato & Ricotta Frittata – The Nutrition Consultant or whip up my Spinach, Pea & Spring Onion Egg Muffins – The Nutrition Consultant
Family Lunchbox Prep
if you're making school lunchboxes, make your own at the same time. Sandwiches are a brilliant way to include all the main food groups – check out my guide below for some inspo!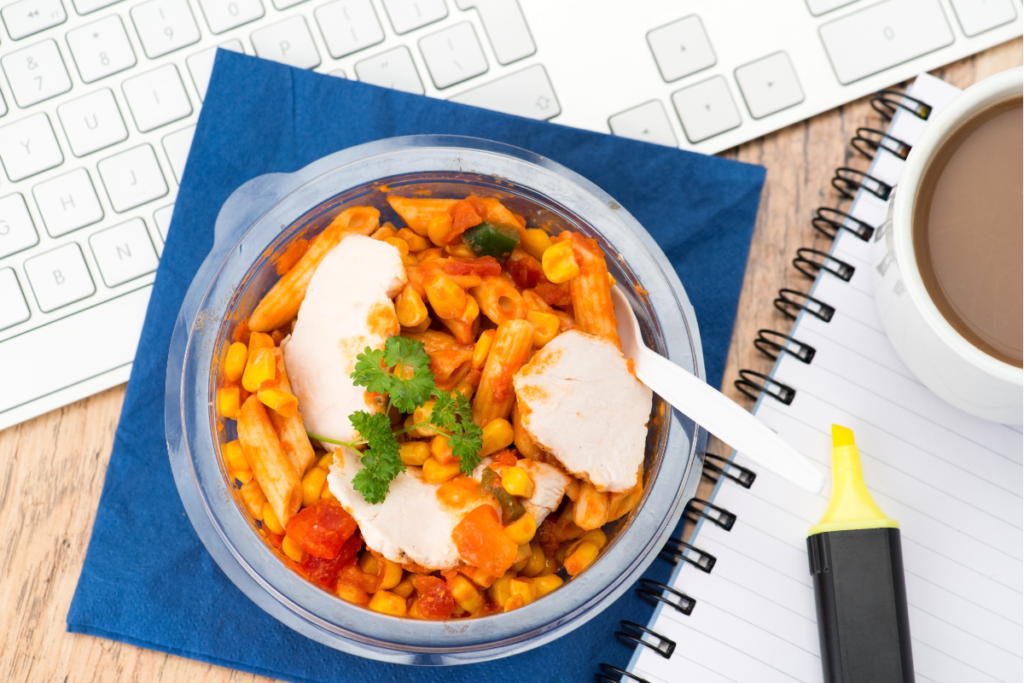 Sandwich Essentials
Change up your fillings with this simple step-by-step guide: –
try wraps, pittas, bagels or sliced -opt for wholewheat or best of both
Choose a protein packed base to keep hunger at bay
try boiled eggs, roast chicken, tinned tuna, falafel, crushed pulses, or grated cheese
Add some veg for crunch, essential fibre and flavour
try sliced peppers, shredded lettuce, spinach leaves, leftover roast veg or grated carrot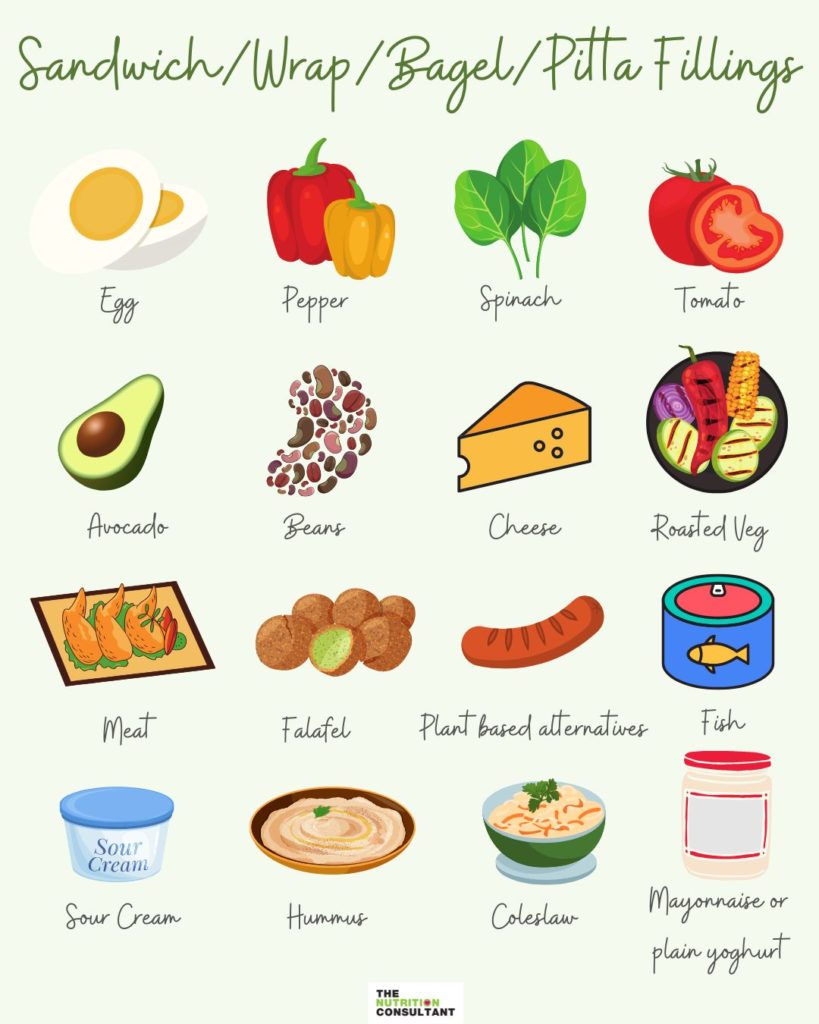 On The Go
It's not always possible to make lunch from scratch and when you're on the move, there's not often time to weigh up the healthiest option. My advice is always check the label and, keep this easy guide handy to ensure you're informed about the level of fat, sugar and salt in your food.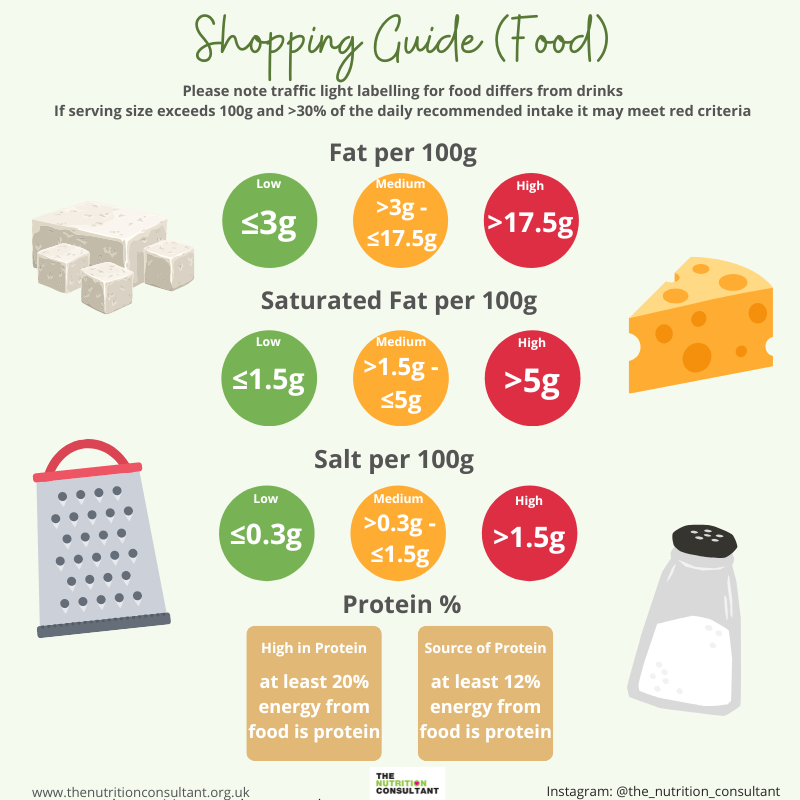 Meal deal makeover
Whilst choosing your favourite sandwich, chocolate bar and fizzy drink does no harm once in a while, opting for a more balanced selection as often as you can, could help you to achieve a healthier balance across the week – enabling you to keep intakes of saturated fat, salt and sugar to lower levels.
To switch things up, read my top tips for choosing a meal deal that's a bit more balanced: –
Be salad savvy –
Go for sandwiches which include salad to up your 5 a-day. Salad mains can be a very nutritious option but watch out for hidden fat in creamy dressings or those which are cheese-heavy. Check the label and opt for greens and ambers where you can. If your salad is low calorie and lacking starchy carbohydrate (pasta, rice, potatoes or bread), add a wholemeal bread roll from the bakery section to ensure you'll have enough energy to sustain you through the afternoon.
Wholegrain gains –
Switch to a wholemeal or wholegrain sandwich option – this will automatically increase your fibre intake and will provide you will slow-release energy.
Sandwich sorter –
Look for mainly green and amber nutrition labels, try to avoid too much red! This means that your sandwich will be low (Green) or medium (Amber) for fat, saturates, sugars and salt.
Protein power –
Make sure your choice of salad or sandwich includes a source of protein, e.g. eggs, fish, chicken or beans. This will help keep you fuller for longer.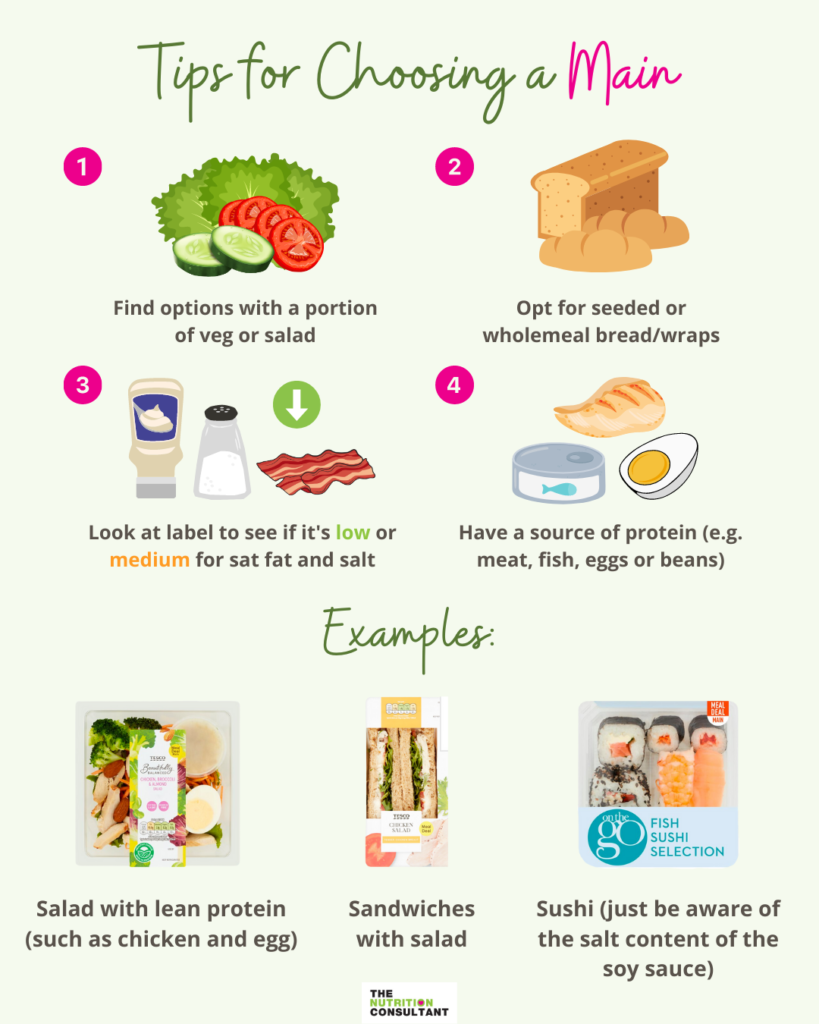 When choosing a ready-made snack, try making these healthier swaps:-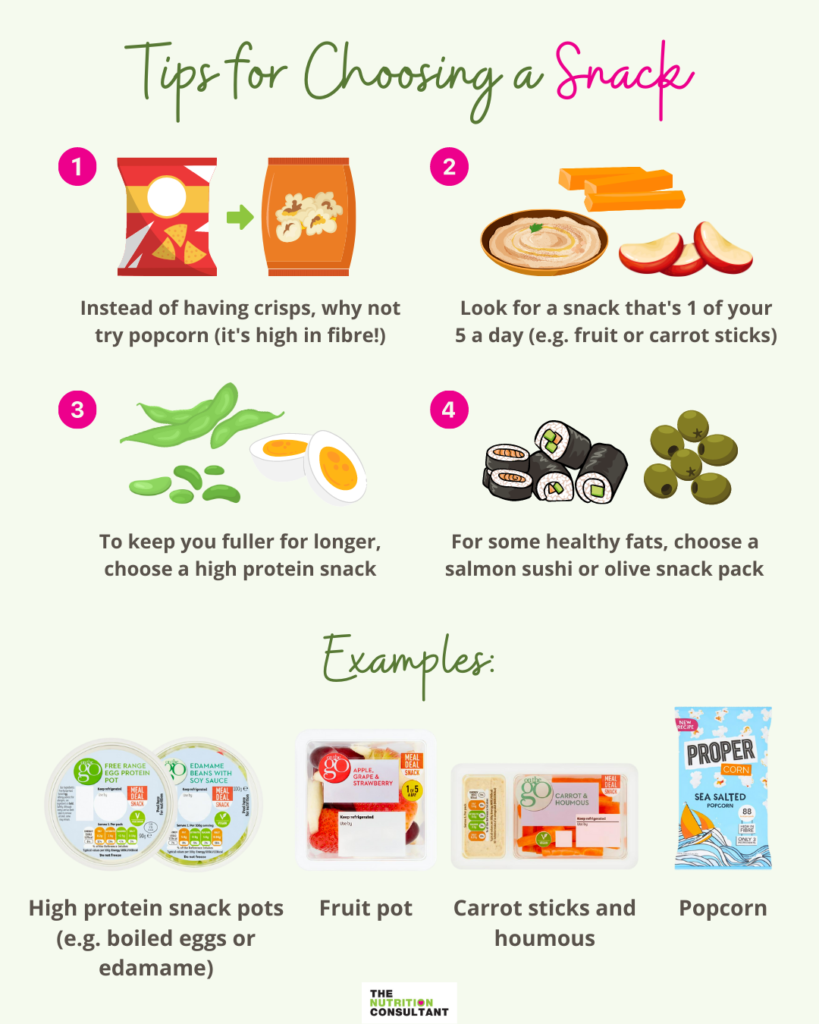 Your drinks choice can make a big difference to your overall daily energy, free sugar, caffeine and nutrient intake – follow my tips to make a healthier choice as often as you can: –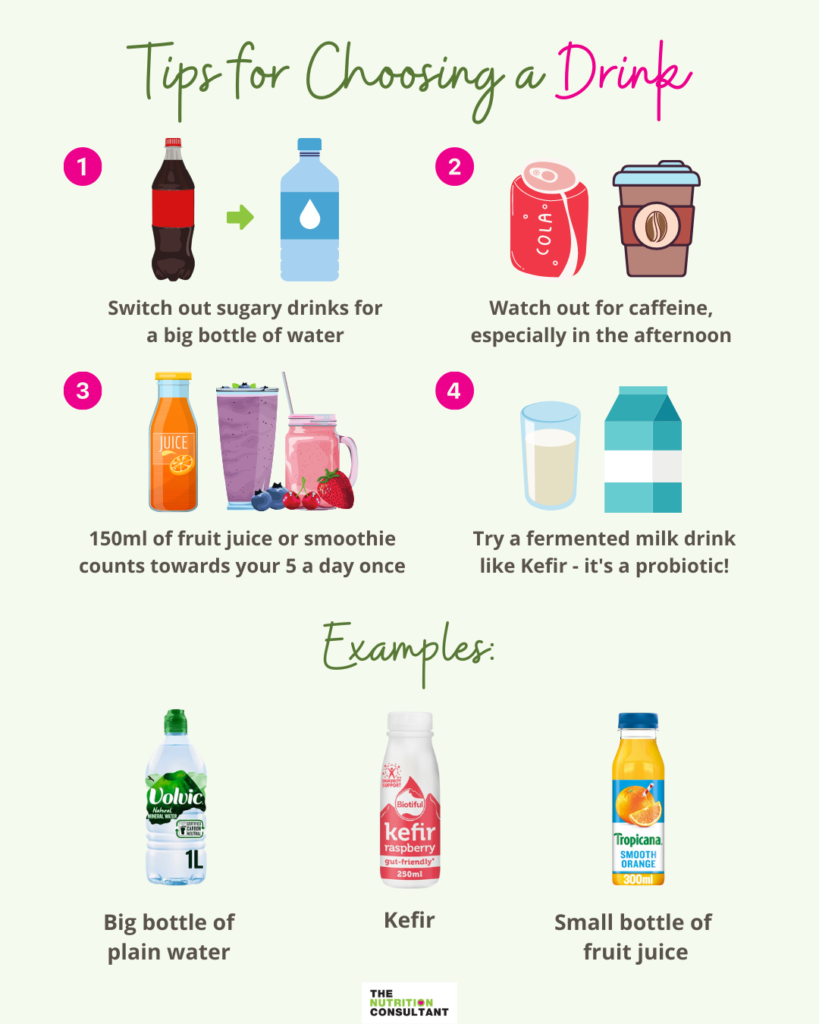 Quick As A Flash
For speedy WFH lunches, ready in minutes, try these:-
Eggcellent Eggs –
However you like your eggs – they're a quick, easy and tasty lunchtime solution and the ultimate healthy fast food when time is short. Poach, boil or scramble, add wilted spinach and serve on wholegrain toast, with a few chopped cherry tomatoes or avocado on the side. Try my Dippy eggs with hummus and avocado soldiers, Dippy Eggs with Hummus & Avocado Soldiers – The Nutrition Consultant
Brilliant Beans –
Tinned baked beans are a source of fibre, and a plant-based source of protein – opt for the low-salt and sugar variety and serve on wholegrain toast with a little finely grated cheese if you like. (TIP – finely grating it will mean you use less, than if you coarsely grate, keeping saturated fat intake more sensible).
Fishy Favourites –
Tinned tuna, sardines and mackerel are excellent store cupboard standbys, providing a quick and tasty, protein-packed topping for toast or salads. Try adding tinned sweetcorn and chopped celery to flaked tuna and mixing with natural yogurt, light mayo and a squeeze of lemon.
Boost Your Soup –
Keep a good selection of frozen veg in the freezer – stir peas, sweetcorn, mixed veg and spinach into ready-made soups to boost veg and fibre content, and make them more filling too!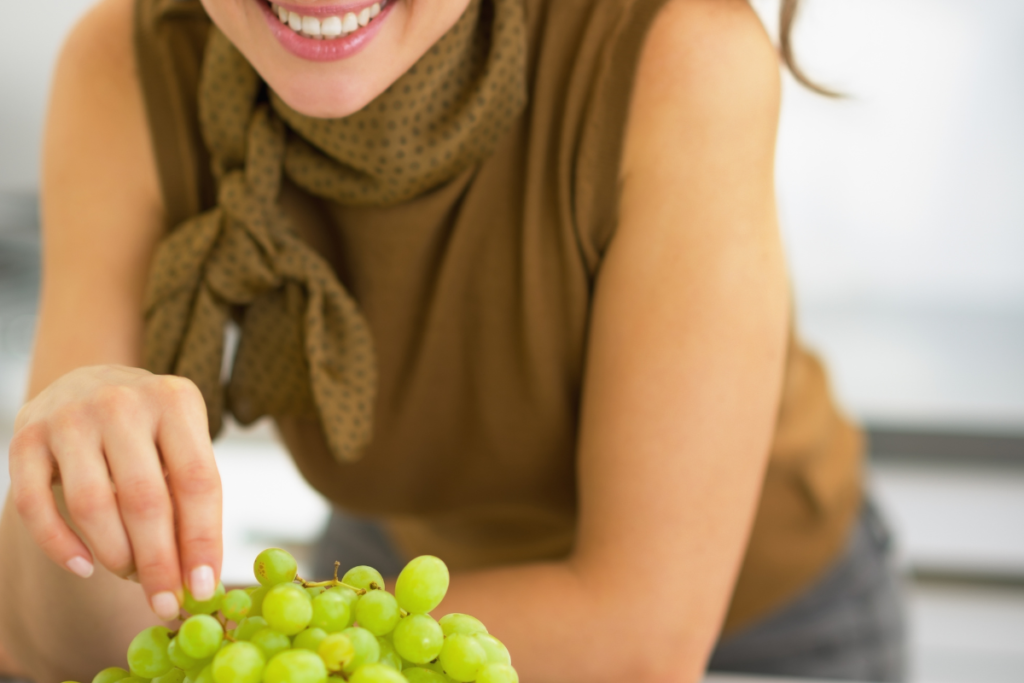 Snacking Solutions
If you find yourself reaching for a sugary snack around 4pm you're not alone! Many of us experience an energy dip in the afternoon. This can often be down to dehydration – so always make sure you're well on your way to your 8 daily glasses of water, but it can also be due to a busy day, sleep deprivation or simply not enough slow-release energy from your breakfast and lunch!
Try these snacks to help keep you going until dinner time: –
Dried fruit and unsalted nuts
Try different coloured raisins, chopped dried apricots, pitted dates and figs mixed with your favourite nuts. A daily handful of unsalted nuts can benefit your heart health.
Chocolate time
If you often find yourself battling a chocolate craving, whip up my quick and easy chocolatey energy bites – made with oats, nuts, dates and cacao they are a nutrient-dense, delicious alternative to chocolate bars: Trio of Chocolate Energy Balls – The Nutrition Consultant
A couple of satsumas, a banana, pear or apple
A slice of malt loaf
Or, if you have time, bake my moreish Oaty cake squares Oaty Cake Squares – The Nutrition Consultant
A small handful of grapes
Rice cakes with ready-made hummus
Or try them with my delicious Edamame Bean and Mint Dip Edamame Bean & Mint Dip – The Nutrition Consultant
1 tbsp peanut butter and slices of apple
A packet of low salt pop-corn
Or have a go at my easy Spicy Roasted Chickpeas Spicy Roasted Chickpeas – The Nutrition Consultant
Crudites with light cream cheese
Or whizz up my speedy Butterbean hummus Butterbean Hummus – The Nutrition Consultant or my lovely Carrot and Thyme Dip Carrot & Thyme Dip – The Nutrition Consultant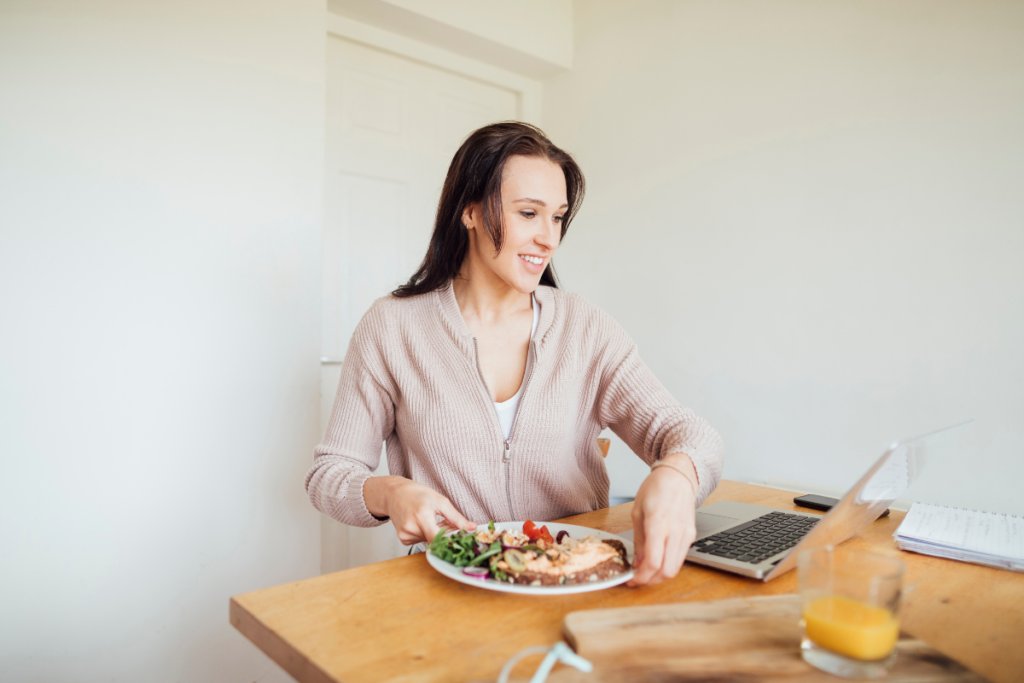 My 5 Top Tips for a tip-top lunch at work
1. Plan ahead
Whatever the week ahead looks like, spend a little time planning your weeknight dinners, factoring in leftovers, stocking up the store cupboard and doing a little batch cooking for the freezer. Getting organised will save you time and stress.
2. Get inspired
To avoid getting stuck in a rut, check out my recipes for soups, salads and frittatas to keep lunch interesting – we know that a varied diet will provide a greater range of nutrients.
3. Shop clever
If you're eating out for lunch, use my handy guide to choose a balanced meal-deal and opt for items with more green and amber nutritional values.
4. Stay seasonal (as much as you can)
This will not only be cheaper but will help guide variety. Check out my seasonal posts for some monthly inspiration.
5. Be realistic
Don't be hard on yourself if your lunches aren't going according to plan, remember we usually achieve a balanced diet across the week, rather than at every meal, so there's always room to redress the balance.