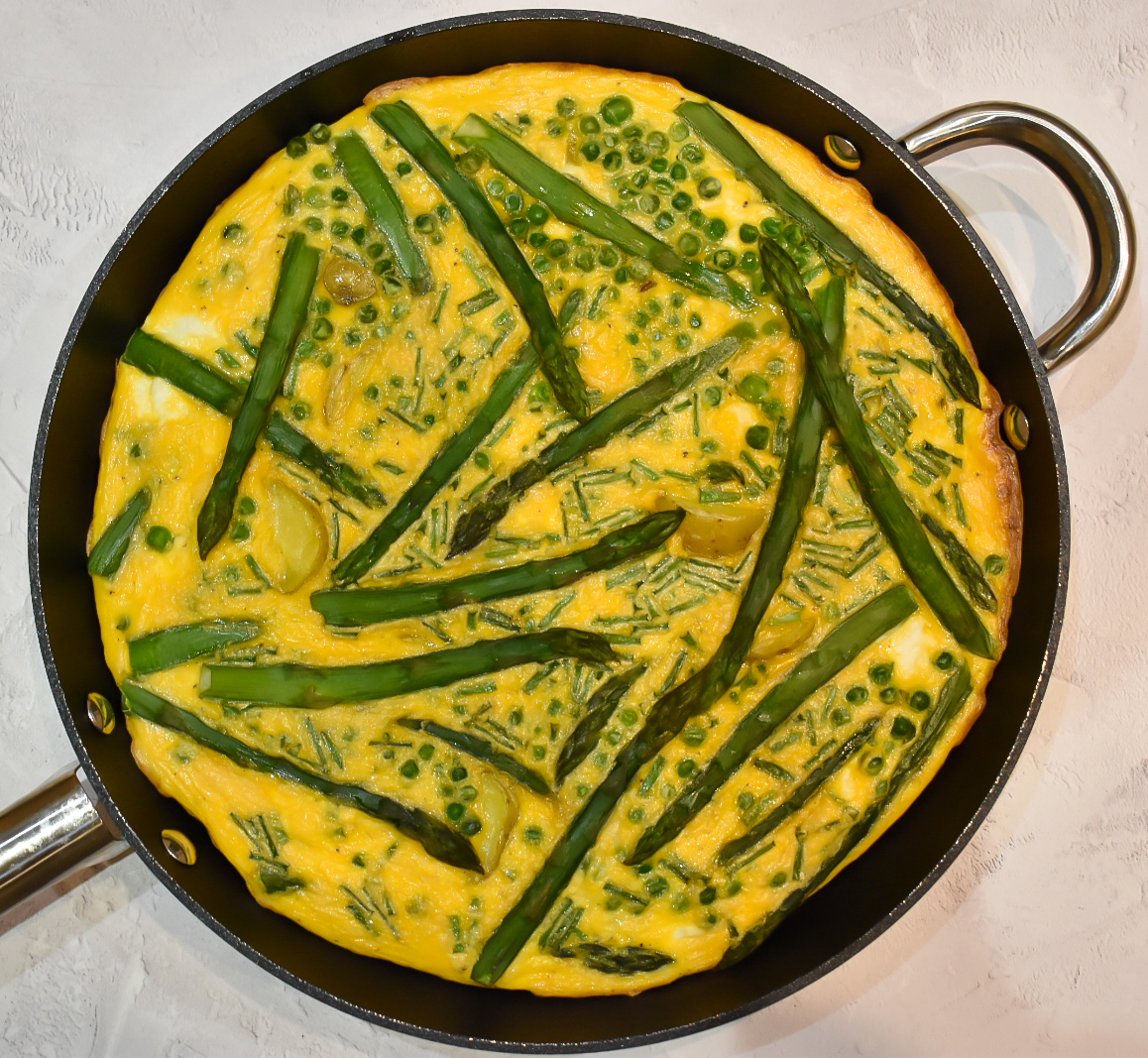 Ingredients
450g – 500g

new potatoes

400g

(untrimmed weight)

asparagus

(trimmed)

12

eggs

250g

ricotta cheese

10g (4 tbsp)

fresh chives

(chopped)

10g (2 tbsp)

pecorino or parmesan

(optional)

1-2

tsp

olive oil

150g

frozen peas

(defrosted)

seasoning of black pepper
Instructions
Wash and chop the new potatoes in halves or quarters if they are large.

Boil the potatoes in a large pan for around 15 minutes until cooked but still firm. Add the asparagus into the same pan 2 minutes before the potatoes are ready. Again, the asparagus should be cooked but still firm.

While the potatoes are cooking, whisk the eggs with black pepper, half the ricotta, chives and pecorino (if using).

Once the potatoes and asparagus have finished cooking, drain and set aside.

Preheat the oven to 180°C/ 160°C fan/ Gas 4.

In a large ovenproof frying pan (around 12 inches), heat the olive oil over high heat. Add the potatoes and fry for 1 minute, turning halfway through.

Turn down the heat to medium-high and add the egg mixture over the potatoes. Leave for a few minutes until the bottom starts to set. Then add the rest of the ricotta in dollops dotted around the top of the eggs, followed by the asparagus and peas.

Leave to cook for around 5 minutes until it's half set, then transfer to the oven for 20-25 minutes, or until cooked through.

Remove from the oven and leave to sit for 5-10 minutes before cutting and serving. Great with roasted vine tomatoes and salad.
Recipe Tips:
Great for using up leftover roast potatoes from Sunday lunch for tasty meat-free Monday

This is delicious, both hot and cold. It makes the perfect picnic food

If you find the asparagus tips start to colour too much in the oven, you can cover the pan with foil.