Top tips for making a healthy packed lunch
With the Summer holidays over, it's time for getting back to our routines and rediscovering our meal prep rhythm. Some healthy habits may have fallen by the wayside during the holidays so resetting the norm can feel like a daunting task. But there's no need to panic! We have put together some useful tips, tricks and ideas to help bring variety, colour and balance to your kids' lunchbox.
Balancing Act
Lunch should provide around a third of your child's energy and nutritional requirements for basic bodily functions and growth. As well as supplying nutrition, each mealtime allows children to develop their social skills and establish life-long healthy eating and drinking habits.
Lunchbox Goals: Aim To Include…
At least one portion each of fruit and vegetables – try a small bunch of chopped up grapes, a couple of satsumas, segmented apple, or some chopped carrots/peppers/cucumber. Remember that dried, tinned and frozen all count too! These will help contribute to their all-important 5 a day – essential for supplying key micronutrients and fibre!
A portion of starchy carbohydrates such as bread, pasta, potatoes or rice – opt for wholewheat options where you can or use best of both. This will ensure your child has enough energy to fuel their studies and wholewheat options will boost fibre intake too.
A portion of protein for example, tinned fish, tofu, chicken, or eggs. Protein is important for healthy growth and promotes a feeling of fullness, which may help to reduce hunger pangs.
A portion of plain dairy (or fortified plant-based alternative) such as cheese or a plain yoghurt. These foods provide calcium, essential for maintaining healthy bones and teeth.
Some healthy fats such as those from olive oil, seeds and oily fish. These are important for supporting heart health.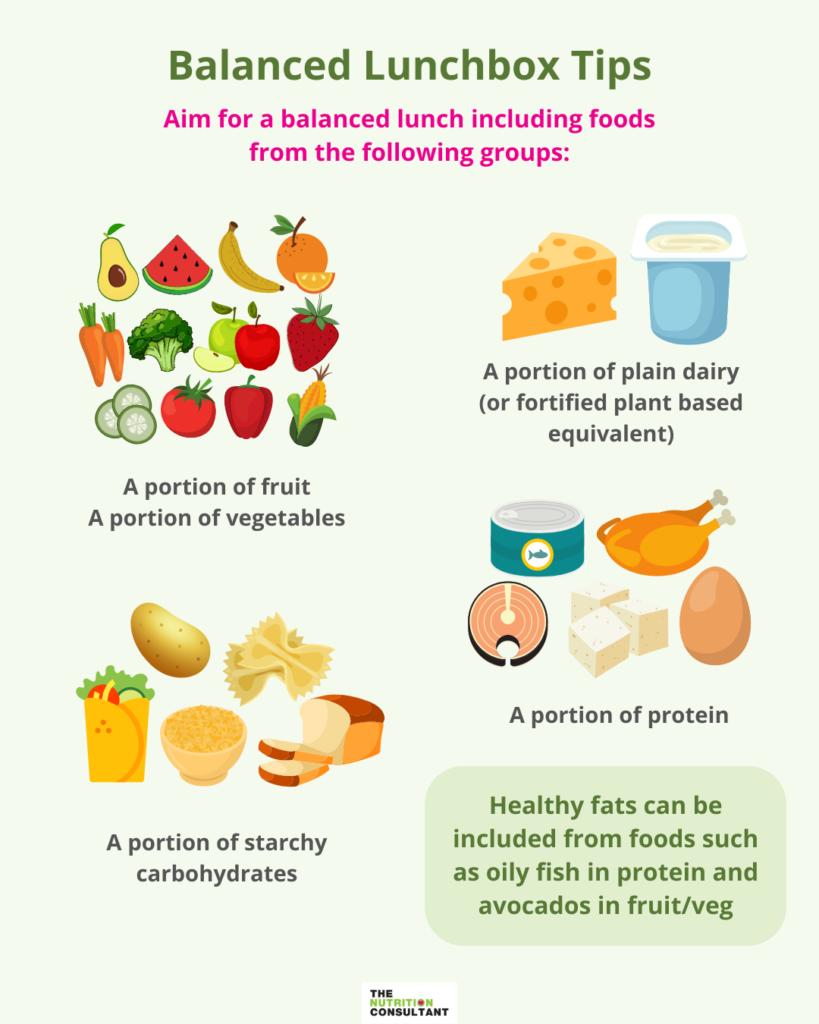 Looking Forward To Lunch
It's so easy to get stuck in a rut, making the same sandwiches day in and day out, but we know that eating a varied, colourful diet helps us to gain all the essential micronutrients we need and keeps our gut bacteria diverse and happy!
For some instant inspiration, check out our lunchbox ideas to mix things up – from stuffed pittas, wraps and bagels to pizzas, quesadillas, and veg-packed pasta salads!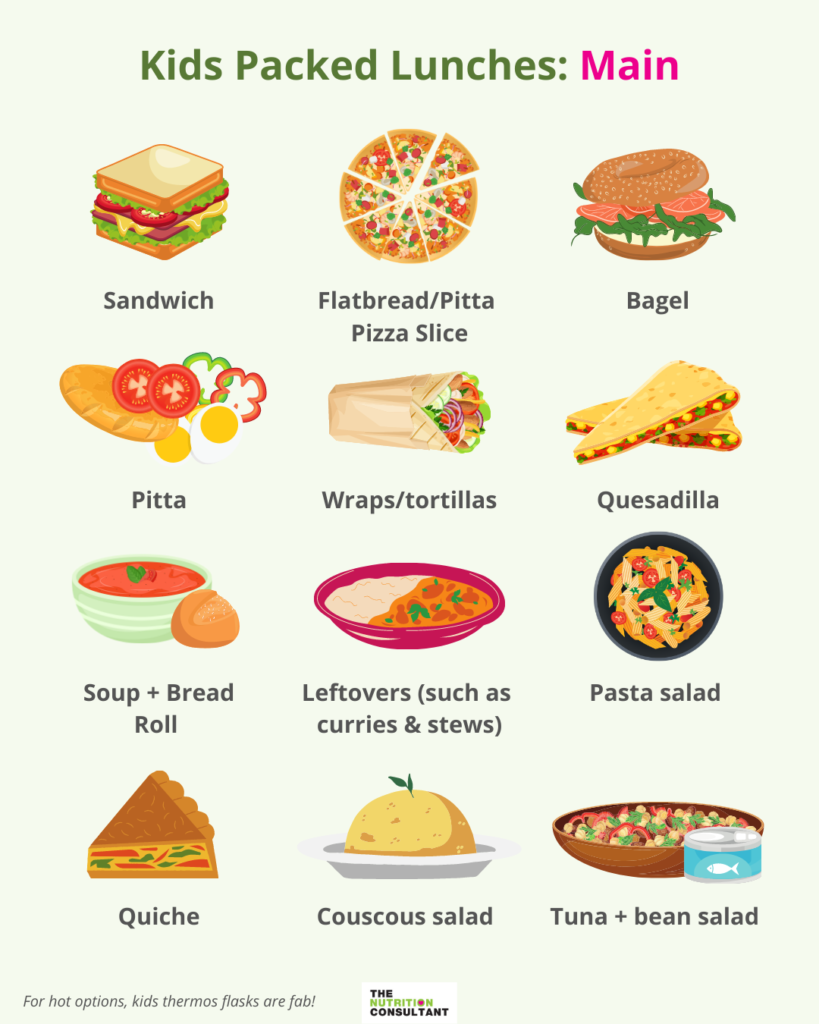 Never made quesadillas? Try this easy recipe combining tuna, sweetcorn and mashed cannellini beans all brought together with some delicious, melted cheese.
Super Sandwiches
Change up your fillings with this simple step-by-step guide:
1. Pick your bread – try wraps, pittas, bagels or sliced and opt for wholewheat or best of both.
2. Choose a protein packed base to keep hunger at bay– try boiled eggs, roast chicken, tinned tuna, falafel, crushed pulses or grated cheese.
TOP TIP: Try mixing up the type of protein source in your kid's packed lunch throughout the week and where possible, include some higher-fibre options like beans and chickpeas.
3. Add some veg for crunch, essential fibre and flavour – try sliced peppers, shredded lettuce, spinach leaves, leftover roast veg or grated carrot. You could also add fruit (such as a sweet banana sandwich or apple slices with hummus and salad).
TOP TIP: Get as many different coloured fruits and vegetables in their lunch box as you can!
4. Spreads/sauces for extra flavour – try mayonnaise, plain yoghurt, hummus, sour cream, salsa, cream cheese, guacamole and mango chutney.
5. Optional flavour boosters – coleslaw, herbs, sliced olives or pickled veg.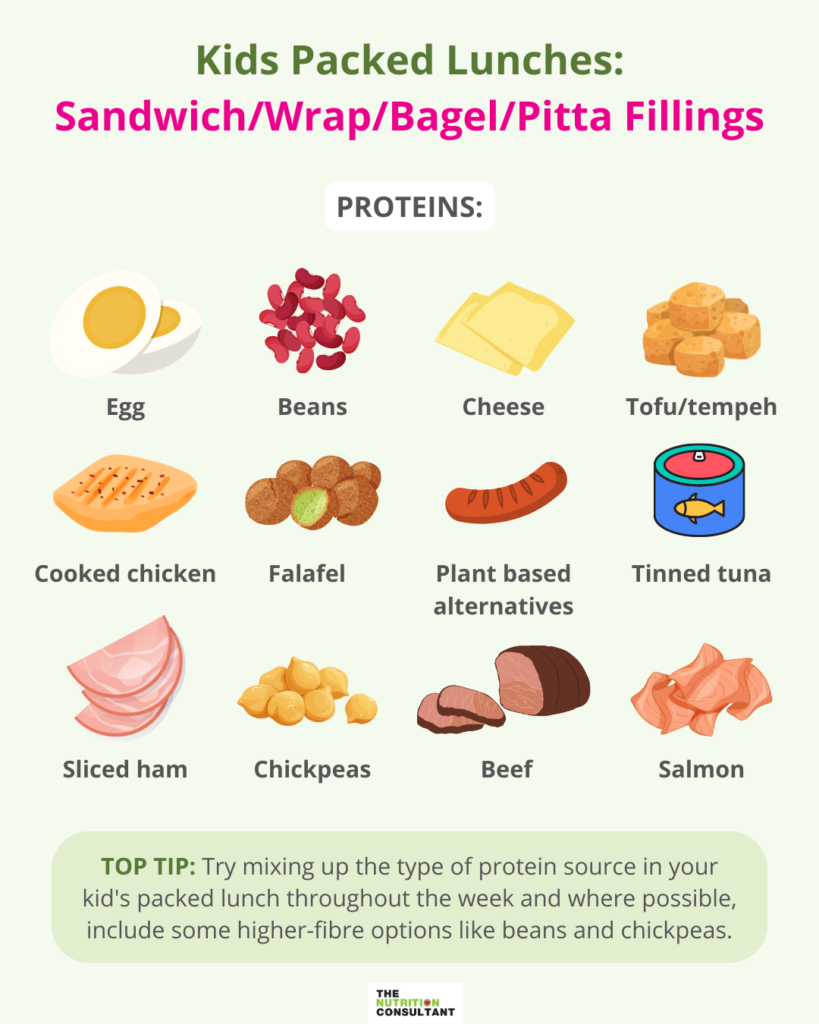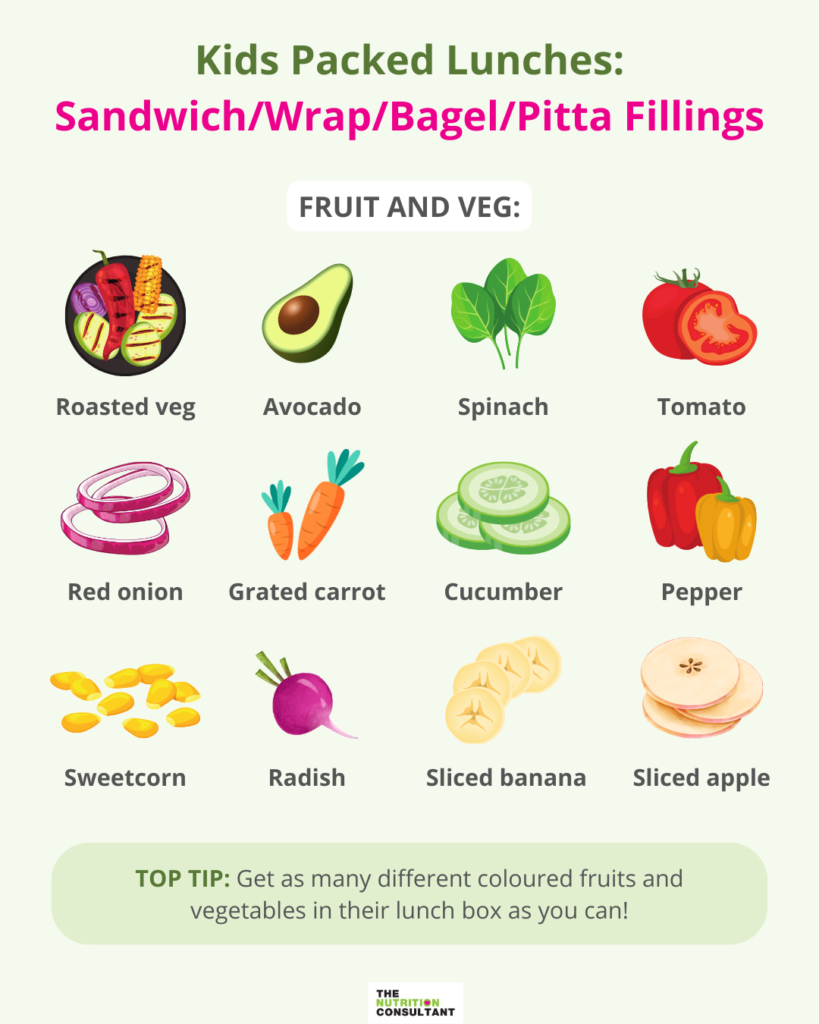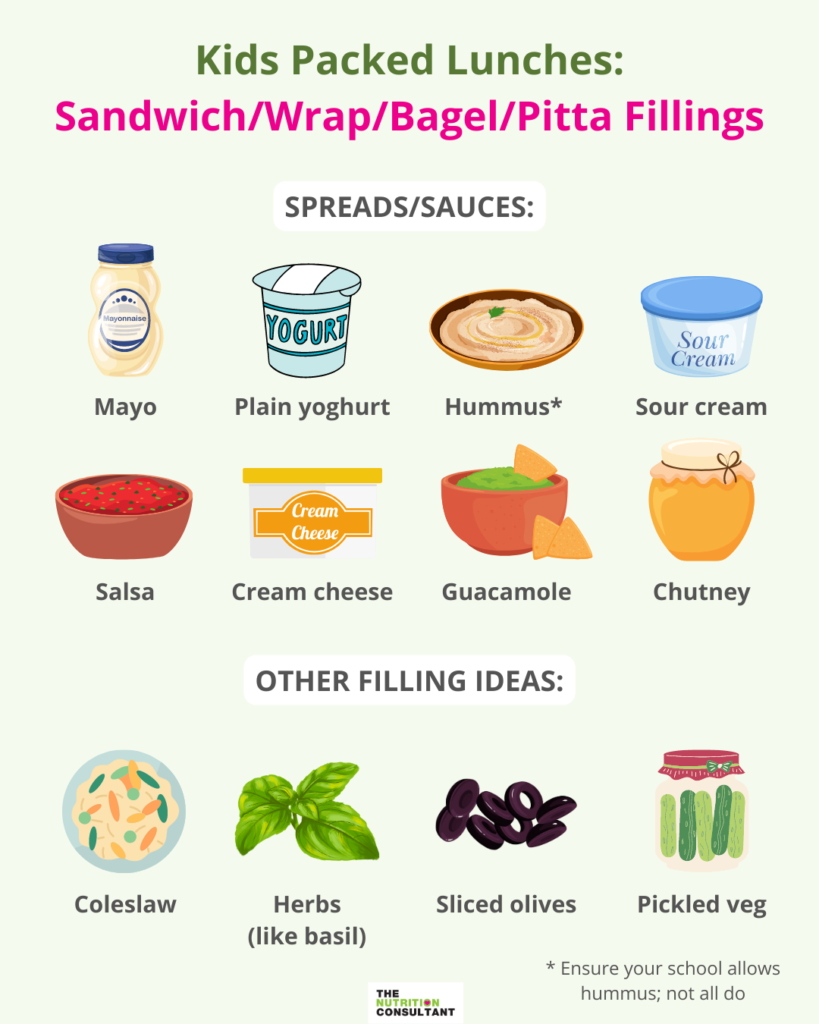 Snacks Sorted
To help you think outside the (lunch) box – here are some quick and easy snacks and sides to help ward off any hunger pangs.
Chop up some veg – try peppers, cucumber, and carrot sticks. Serve on their own or alongside hummus or yogurt for dipping. Try my Butterbean Hummus or equally delicious Carrot & Thyme Dip.
Make veg fun!  – try my super easy Salad Sticks – the kids will love to help too.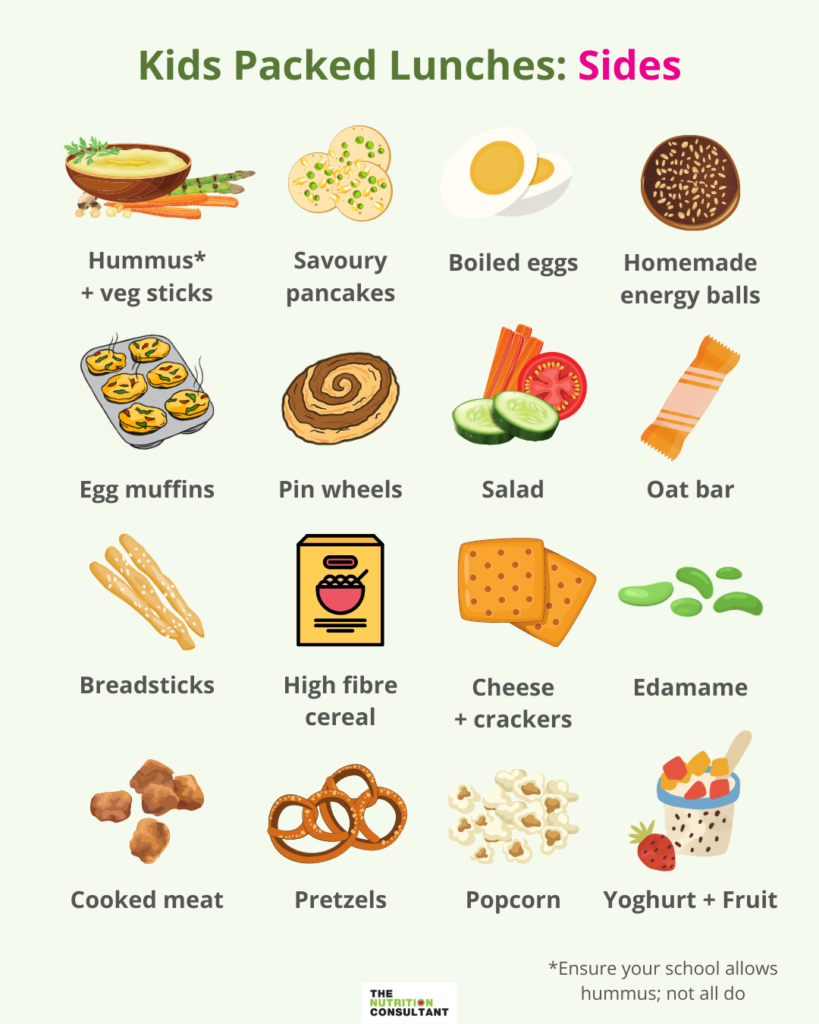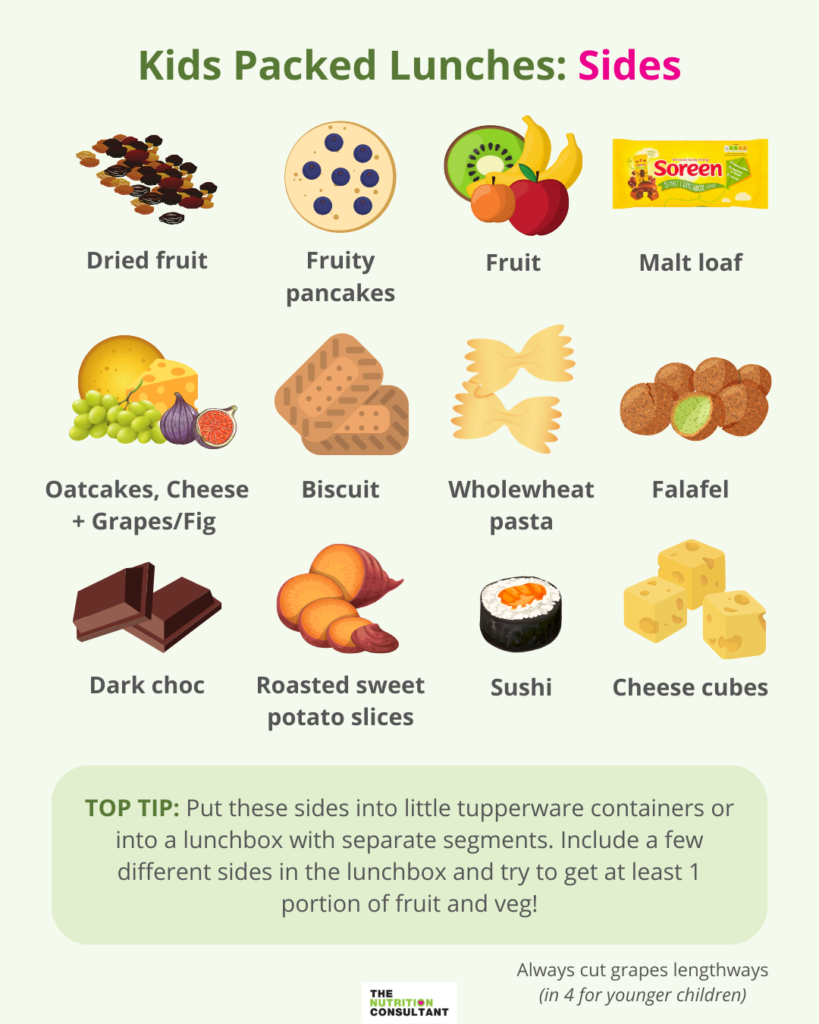 TOP TIP: Put these sides into little tupperware containers or into a lunchbox with separate segments. Include a few different sides in the lunchbox and try to get at least 1 portion of fruit and veg in!
Something Sweet
Kids use up A LOT of energy during the school day, so including some nutrient-dense carbohydrates, especially on more active days, is key to powering their activities and boosting their concentration levels.
Try these easy ideas for keeping energy levels topped up:-
A handful of dried fruit – try different coloured raisins, chopped dried apricots, pitted dates and figs
A slice of malt loaf or if you have time, bake my Oaty Cake Squares
Oatcakes, cheese and some grapes or bake these fruit packed muffins Banana, Apple & Blueberry Muffins
Easy energy boost – get the kids involved in whizzing up no-bake energy balls – blend up dates, oats and cacao powder with a splash of water and roll – here's a super simple recipe:- Trio of Chocolate Energy Balls. Make sure to stick to no nuts flavour combos when taking into school.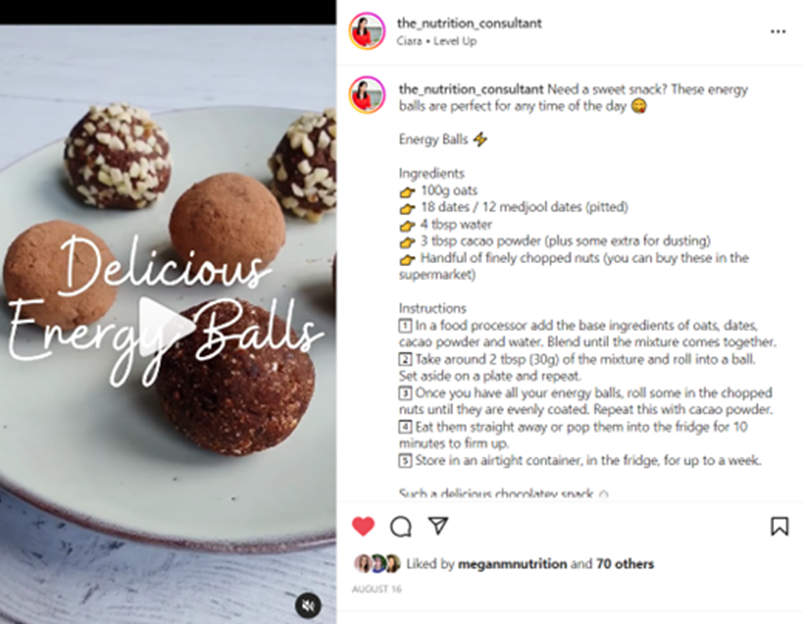 Let's talk about labels
Much of the time it's not always possible to cook things from scratch, especially when it comes to grab-and-go snacks. This can mean that we're eating a greater proportion of processed and ultra-processed foods.
My advice is always check the label to ensure you're informed about the level of fat, sugar and salt in your food. Look out for my product comparison guides which analyse popular buys, doing the leg work so that you don't have to. And, keep this easy guide handy when you're doing your food shop: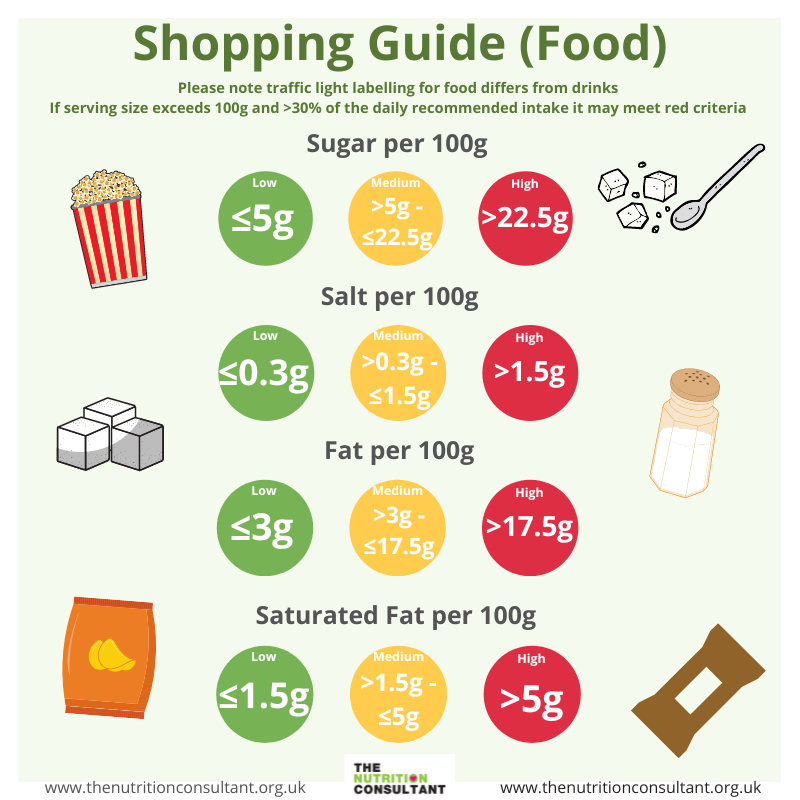 My 5 Top Tips for lunchbox success
1. Plan – getting organised for the week ahead will save you time and stress. Planning weeknight dinners can also help so you can include leftovers for lunch too – saving on food waste.
2. Mix it up – try not to get stuck in a rut as a varied diet is bound to provide a greater range of nutrients and will also help prevent boredom.
3. Keep talking – chat to your kids about what they would like and when you can, get them involved with prep and get them excited about their food.
4. Stay seasonal (as much as you can) – this will not only be cheaper but will help guide variety. Check out my seasonal posts for some monthly inspiration.
5. Be positive – don't be hard on yourself if your lunchboxes aren't going according to plan. Remember we usually achieve a balanced diet across the week, rather than at every meal, so there's always room to redress the balance.
Resources –
Download our FREE factsheet here, print it out and stick it to the fridge for instant, daily inspiration!