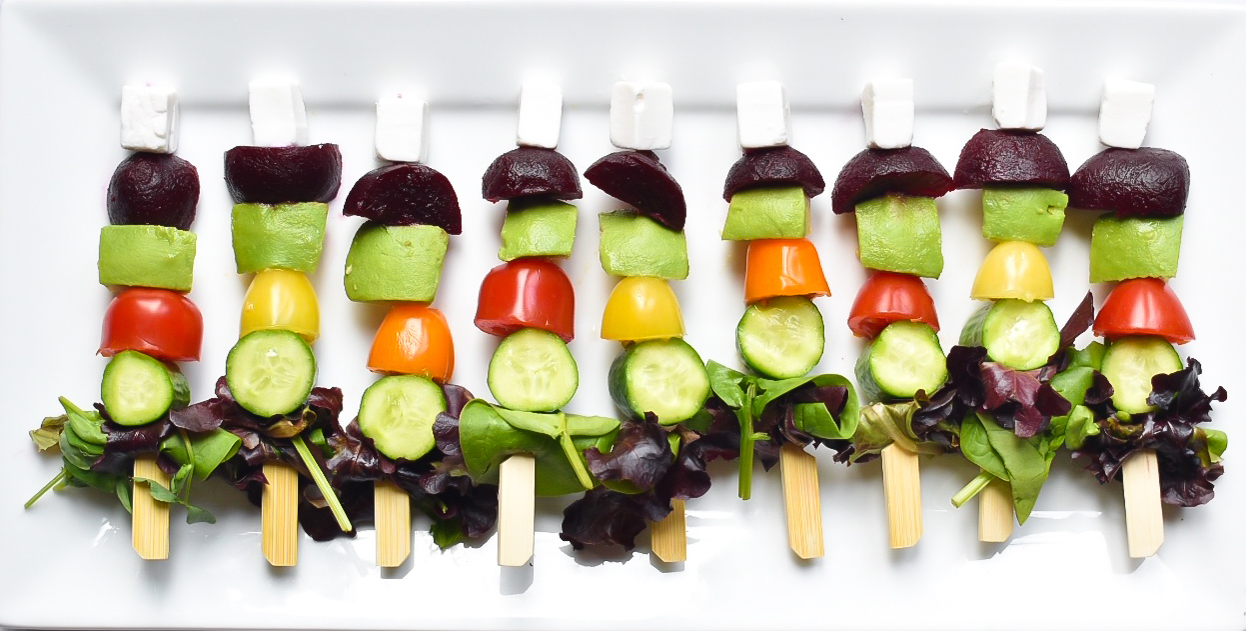 Servings:
20
small sticks
Equipment
20 small or 10 large kebab sticks
Ingredients
1

avocado

(peeled, destoned and cut into cubes)

juice of half a lemon

2

handfuls of salad leaves of your choice

4-5

mini cucumbers

(thickly sliced or 150g regular cucumber chopped into chunks)

10

cherry tomatoes

(halved; we used red, orange and yellow tomatoes)

110g

cooked beetroot

(chopped into chunks)

20

goat's cheese cubes

(or mozzarella pearls; drained)

drizzle of extra virgin olive oil

(optional)

seasoning of black pepper

(optional)
Instructions
Ensure all the salad ingredients are washed and prepared as stated above.

Coat the avocado pieces in the lemon juice to stop them from browning and set aside.

Take a few salad leaves into your hands and roll them together. Thread this through the kebab stick.

Then thread a piece of the cucumber, tomato, and avocado, leaving room for the beetroot and cheese.

Repeat steps 3 & 4 until all the sticks are done.

Now, add a beetroot piece to each of the sticks. Once completed, wash and dry your hands thoroughly as beetroot colours the skin.

Top each of the salad sticks with a goat's cheese cube (or mozzarella pearl).

If you are using large sticks, repeat steps 3-7 on each of the sticks.

If you wish, finish the salad sticks with a drizzle of extra virgin olive oil and some cracked black pepper.

Serve and let everyone help themselves. Enjoy!
Recipe Tips:
Using a serrated or shape cutter can make it fun and appealing for kids.

Using different coloured cherry tomatoes adds to the variety of colours.

Always be sure to wash your hands after touching the beetroot.

You can also swap the olive oil for a drizzle of balsamic glaze.

This recipe is perfect for snacks, parties and picnics.