How to Reduce Your Salt Intake Without Sacrificing Flavour
Are you trying to make healthier meals without sacrificing flavour? Do you want to find new ways of making delicious dishes without using too much salt? If so, keep reading!
In this blog, I'll be covering everything you need to know about making healthy meals taste great – without going heavy on the salt. Expect to find cooking tips, creative ingredient ideas and a quick guide to high-salt foods.
Let's get started!
Why Should We Reduce Our Salt Intake?
Continued high intake of salt can increase your risk of high blood pressure, which in turn can put you at a higher risk of stroke and coronary heart disease (1). It can also lead to an increased risk of stomach cancer and reduced kidney function (which can subsequently lead to kidney disease if not intervened) (2,3).
Worryingly, there are studies which point towards a link between high salt intake and calcium excretion in young girls, which could result in reduced peak bone mass at an important period of growth (4). Ultimately, this may cause issues in later life such as an increased risk of osteoporosis.
That being said, there is a place for salt in our diets and I'm not suggesting you should exclude salt completely (it's essential for the regulation of fluid in the body and nerve/muscle function), but it is important to be aware.
How Much Salt Should We Have?
For 11+ years, the recommended maximum daily amount is 6g. This is around 1 teaspoon. That's it! And for those younger than 11, the maximum intakes are much lower, particularly for those under 6 years old.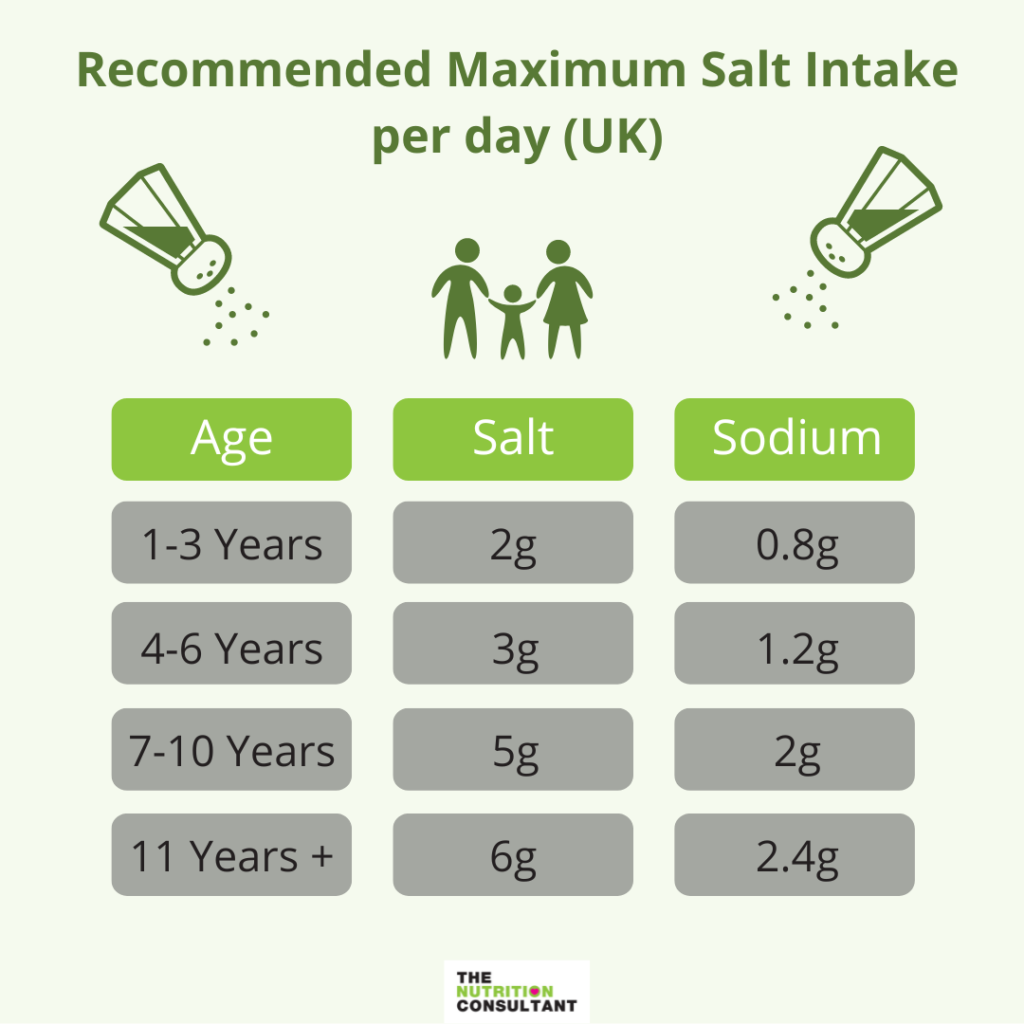 The reason babies are not shown on my infographic is that babies' kidneys are not fully developed to process salt and therefore should not be consuming much salt at all (less than 1g of salt per day). But in reality, this is so difficult to ensure as so many foods contain added salt.
To help you consume less salt, I'm going to share a quick guide to high-salt foods and all my top tips for reducing your salt intake – without sacrificing on flavour!
Foods That Are High In Salt
Some foods like ham, cheese, pickles, and olives are almost always high in salt. If you are trying to cut down on salt, try eating these foods less often or have smaller amounts.
There are also some foods that can be high in salt but aren't always. These include crisps, bread, sauces, pizza, and soups. As the salt content can vary widely across different brands, check the labels, and compare products.
Foods such as bread and breakfast cereals contribute a lot of salt to our diet. This isn't because these foods are always high in salt, it's because as a population we tend to eat a lot of them.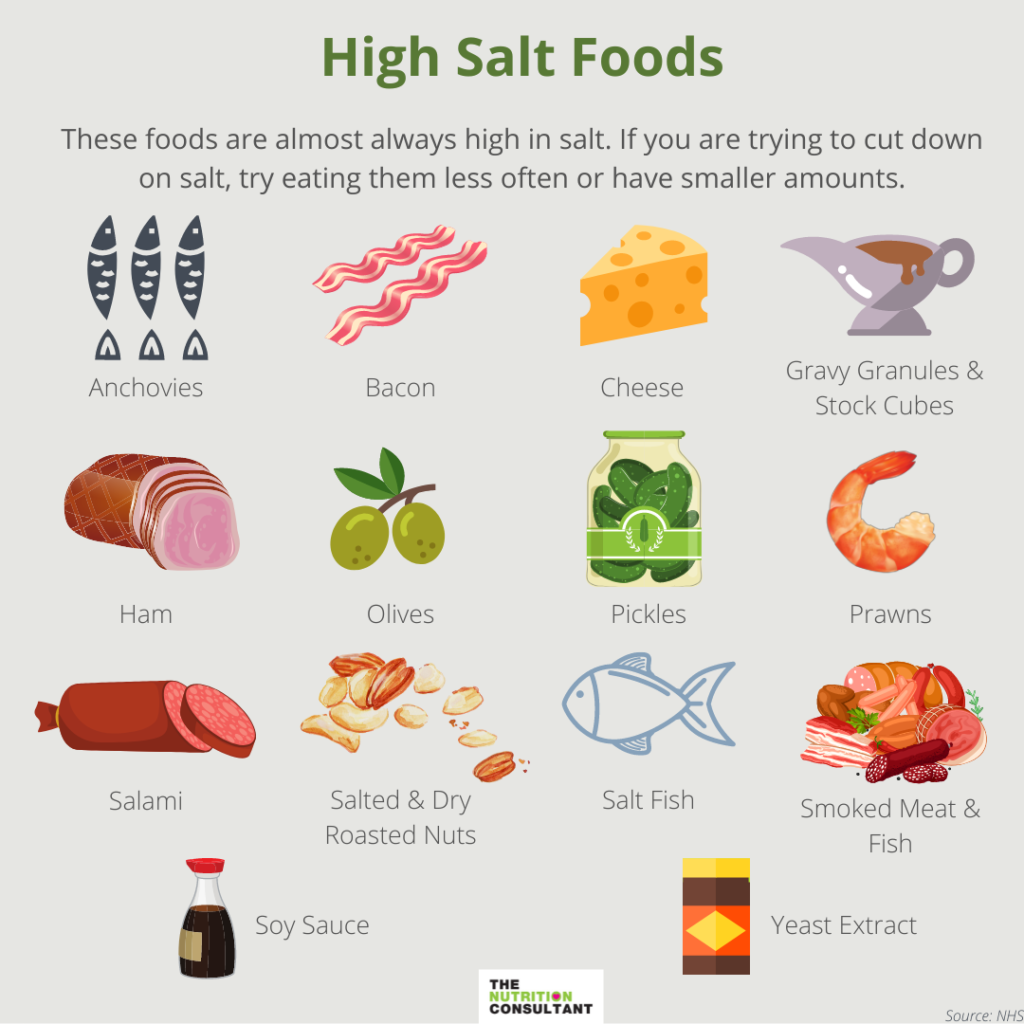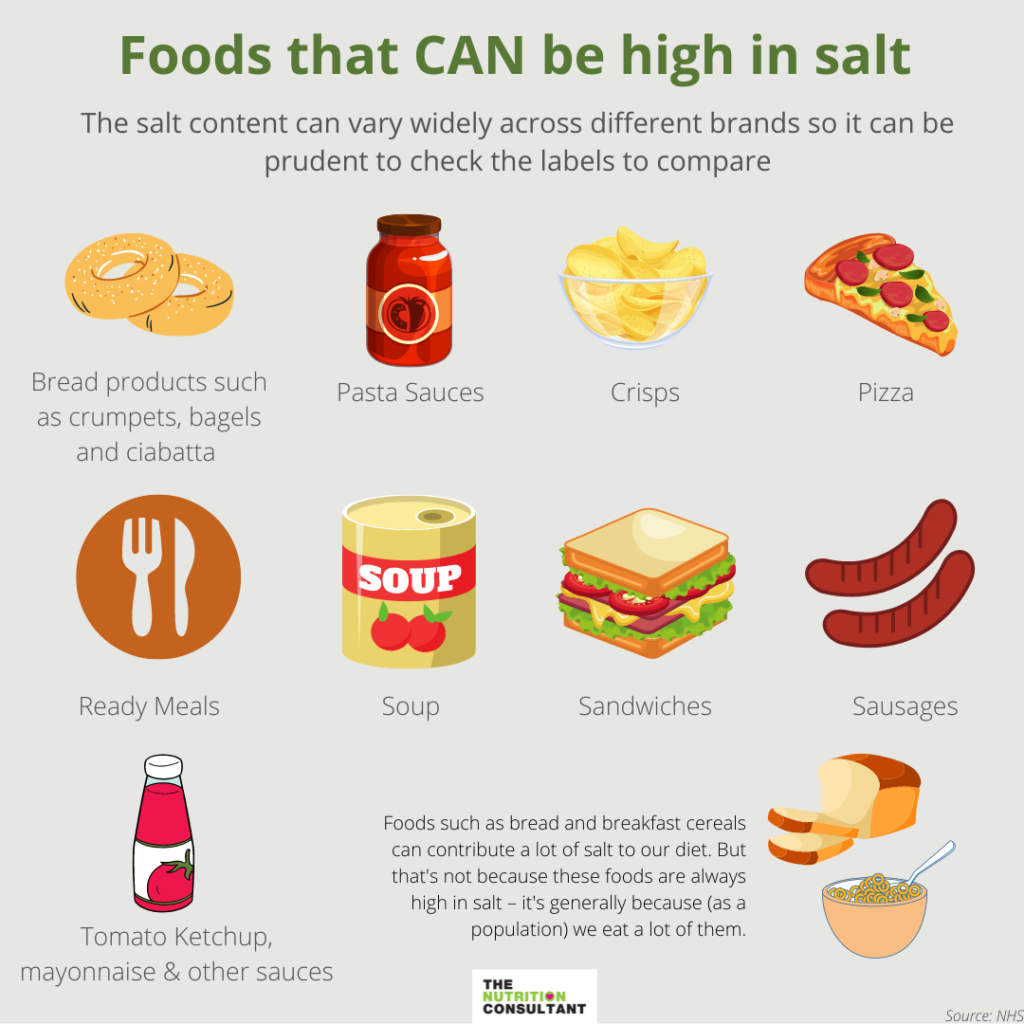 Top Tips for Reducing Your Salt Intake
1. Slowly Cut Back on the Salt Added to Your Meals
If you add salt to your food regularly, try reducing the amount you add gradually over time, so you get used to less salty flavours. For example, if you usually add 3 grinds of salt from a salt grinder, reduce this to 2, then 1 and eventually try having no salt at all.
Foods may initially taste bland, but within two or three weeks, you will start to become accustomed to the taste of lower-salt foods (it's amazing how quickly our taste receptors adapt!).
2. Check the Label (and Swap Where Possible)
When you're next in the supermarket, have a look at the salt content of the food and drinks you consume regularly. You might be surprised to find out just how salty your favourite food and drinks are (even products that don't taste particularly salty can be very high in salt, like some energy drinks).
Where possible, swap any high-salt ingredients or snacks for lower-salt or plain versions (e.g. swapping salted nuts for unsalted nuts). Just remember, you might need to try a few before you find a lower-salt alternative you like the taste of!
Quick tip: If salt is listed as one of the first ingredients on a packet, it probably means it's high in salt!
Here's how you can spot if a food or drink is high, medium or low in salt: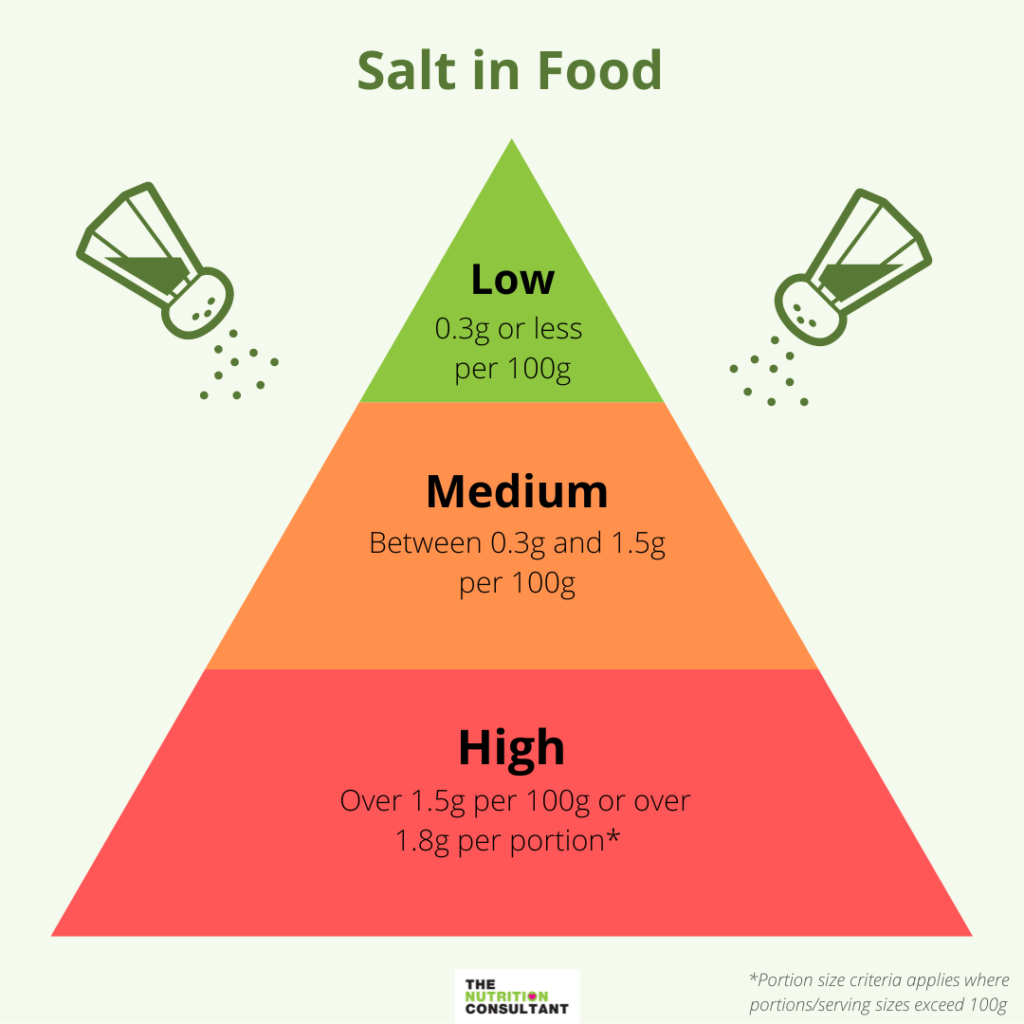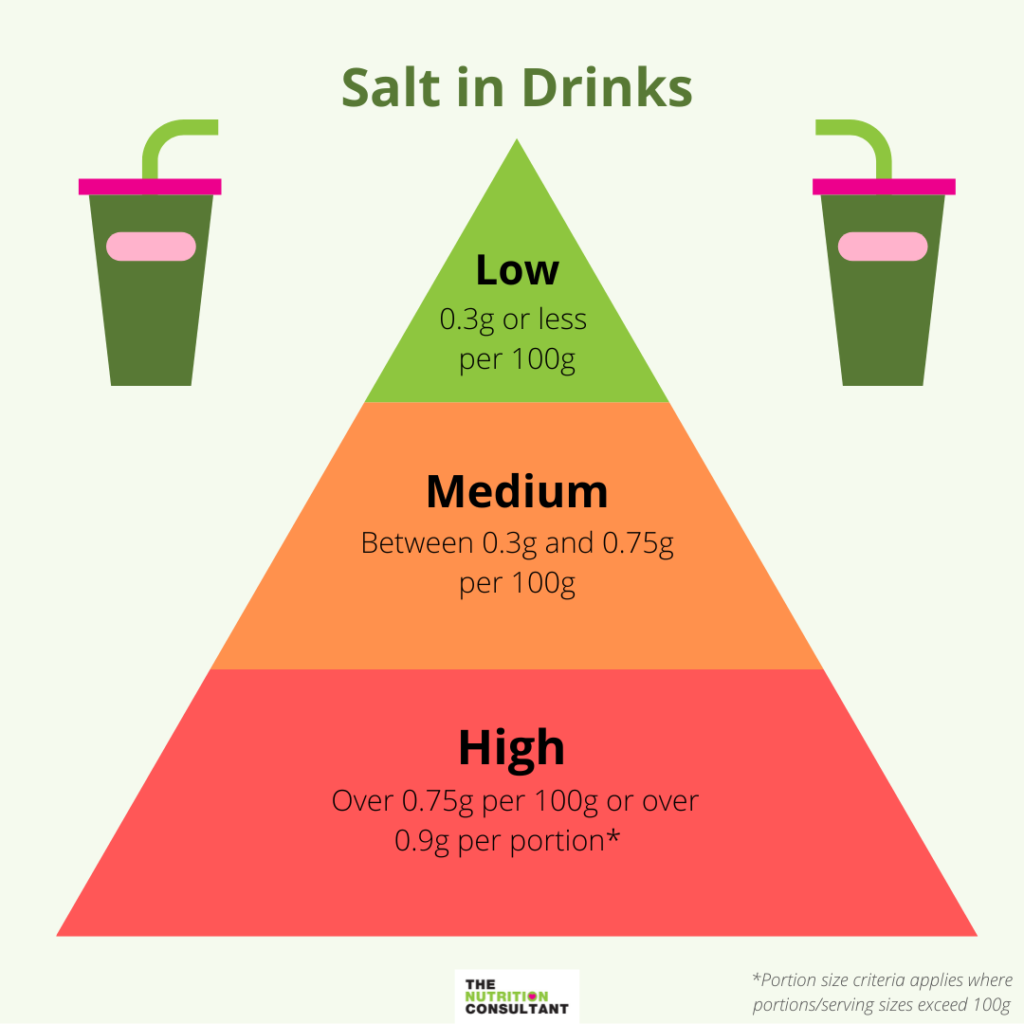 3. Add Flavour in Other Ways
Adding flavour to your cooking doesn't have to be limited to salt. Spices, garlic, ginger, pepper, vinegar, fresh herbs and citrus fruits like lemon and lime can really enhance the taste of any dish.
If you haven't already, I recommend investing in a spice rack and keeping it well-stocked with your favourite herbs and spices, so you always have them on hand to add an extra kick to your meal. Just be sure to double-check that your spice mixes don't contain any added salt!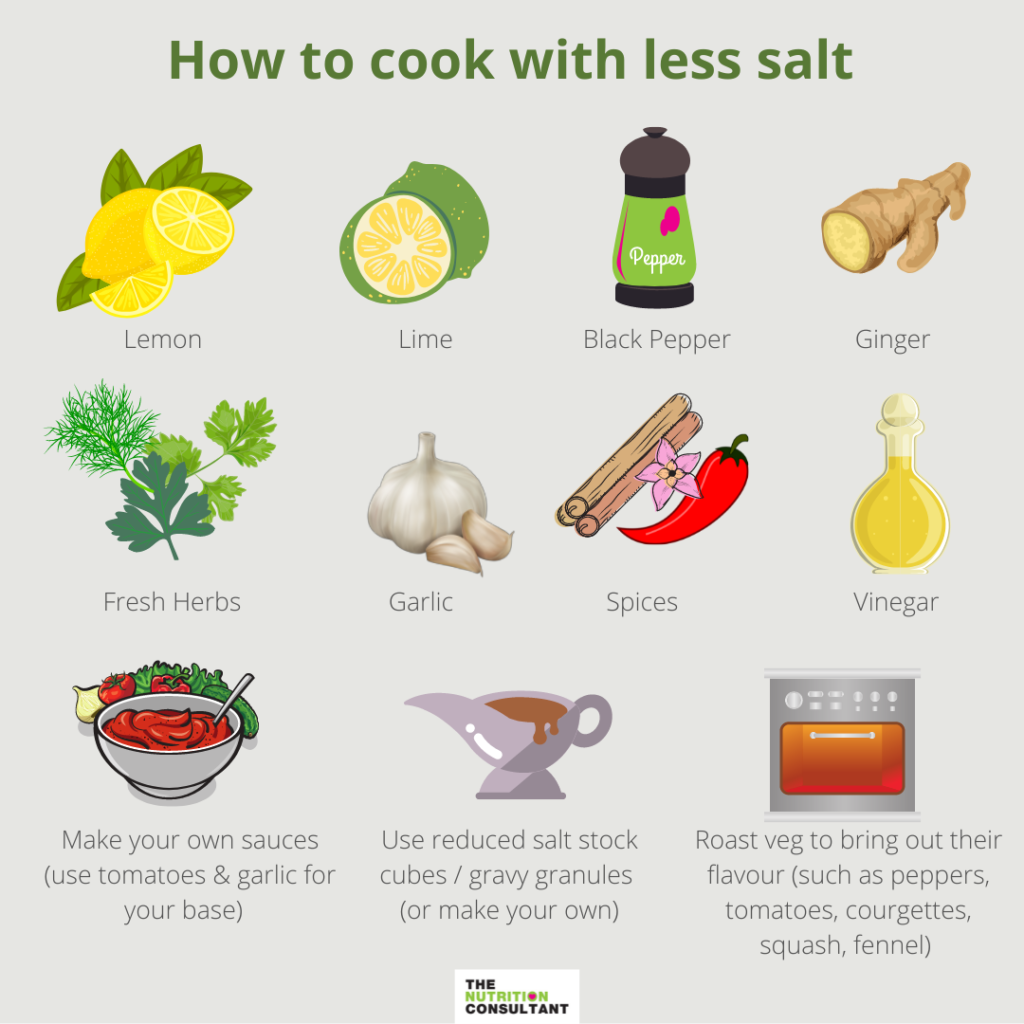 4. Opt For Less Processed Meats
Processed meats such as ham, sausages, smoked meats, bacon and salami are usually very high in salt. If you eat these regularly, I recommend swapping these for plain cuts of meat/fish that you can flavour yourself (with herbs/spices) to reduce your overall salt intake.
If you don't eat meat but like to have plant-based meat alternatives, I still recommend being cautious, as these are often high in salt as well. Instead, try mixing things up with lower-salt plant-based proteins such as beans, lentils, chickpeas, and plain tofu/tempeh (and adding your own herbs/spices).
To see how much salt your favourite plant-based meat alternative contains, check out this nutritional comparison over on my Instagram.
5. Cook From Scratch
Around 75% of the salt we eat is added to our food before we even buy it, which is why it's important to limit the amount of pre-packed foods/takeaways we consume and instead, create more meals from scratch. I have loads of healthy recipes that are delicious and low in salt – so why not give them a go and let me know what you think!
Making your own sauces or gravy from scratch can also significantly reduce how much salt you're eating, as store-bought ones often have very high amounts of salt. Alternatively, you can buy low-salt options in the supermarket (just be careful if a product says 'reduced salt' – as this doesn't always mean LOW salt).
If you struggle to eat vegetables without adding salt or a high-salt sauce, I recommend trying out a different cooking method. You'll be surprised how much flavour you can get from vegetables when you roast them instead of steaming/boiling. My favourite vegetables to roast are peppers, tomatoes, courgettes and squash as they become a lot sweeter and richer in flavour when roasted – with no salt needed!
Summary
Consuming too much salt can have a detrimental impact on our health and increase our risk of diseases such as stroke and coronary heart disease.
People aged 11+ are recommended to consume a maximum of 6g of salt per day (with children under 11 recommended to eat much less).
Some ways to reduce your salt intake include:
Slowly cut back on the amount of salt you are ADDING to your meals. This way, it won't be such a shock to the tastebuds.
Check the food label and compare products. Try to opt for foods and drinks that are lower in salt.
Add flavour in other ways, such as with spices, garlic, ginger, pepper, vinegar, fresh herbs and citrus fruits like lemon and lime.
Opt for less processed meats like plain cuts of meat and fish.
Eat less pre-prepared foods/takeaways and cook more from scratch.
References
Wang, Y.J., Yeh, T.L., Shih, M.C., Tu, Y.K. and Chien, K.L. (2020). Dietary sodium intake and risk of cardiovascular disease: a systematic review and dose-response meta-analysis. Nutrients, 12(10), p.2934.
Wu, B., Yang, D., Yang, S. and Zhang, G. (2021). Dietary salt intake and gastric cancer risk: a systematic review and meta-analysis. Frontiers in Nutrition, 8, p.801228.
Ohta, Y., Tsuchihashi, T., Kiyohara, K. and Oniki, H. (2013). High salt intake promotes a decline in renal function in hypertensive patients: a 10-year observational study. Hypertension Research, 36(2), pp.172-176.
Matkovic, V., Ilich, J.Z., Andon, M.B., Hsieh, L.C., Tzagournis, M.A., Lagger, B.J. and Goel, P.K. (1995). Urinary calcium, sodium, and bone mass of young females. The American journal of clinical nutrition, 62(2), pp.417-425.