Building a Balanced Plate and a Guide on Portion Sizes
What should we be eating and how much?
We're often told to "Eat a healthy balanced diet" BUT what does that mean?
A healthy diet can be different things to all of us, but from a nutritional perspective we generally need to consider 5 main food groups:
Fruits & vegetables
Carbohydrates
Protein
Dairy or fortified dairy alternatives
Unsaturated fats
Some of these we need more than others, and some foods will cover more than one food group.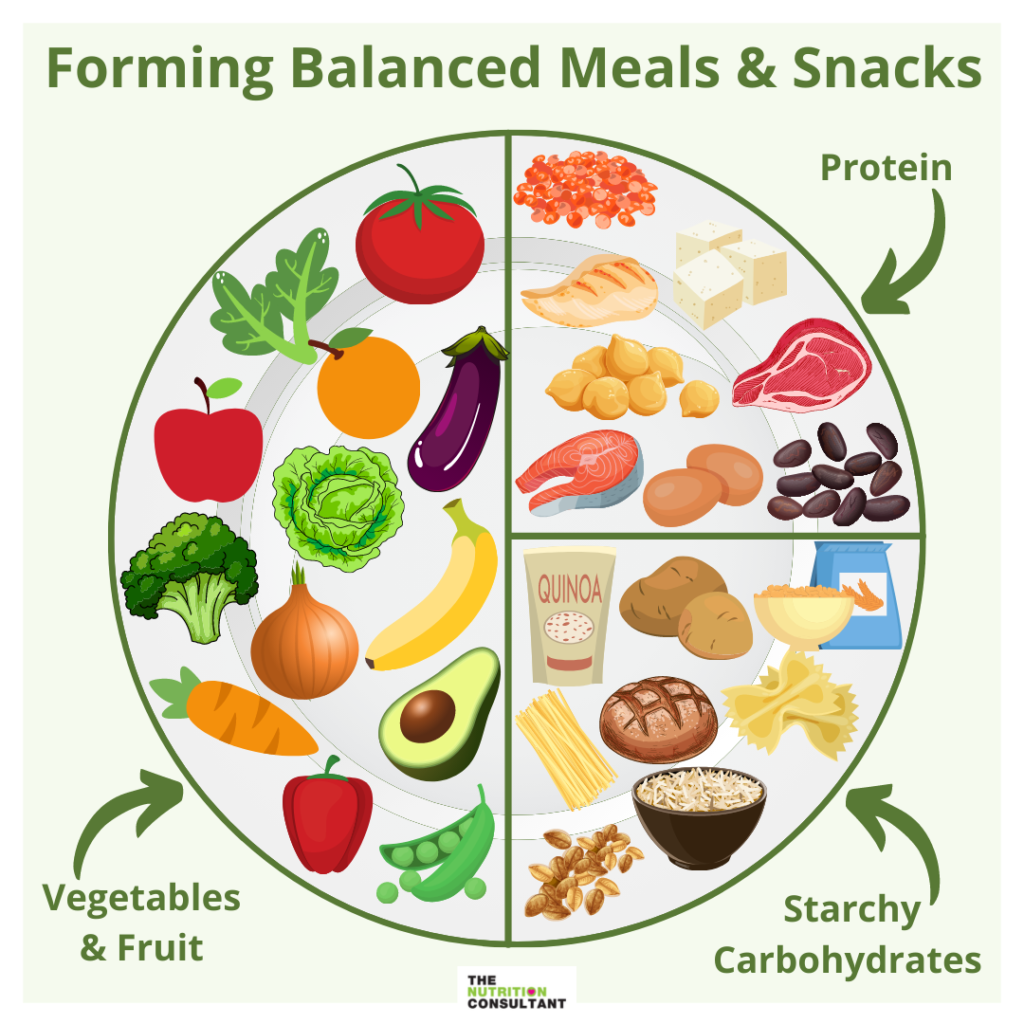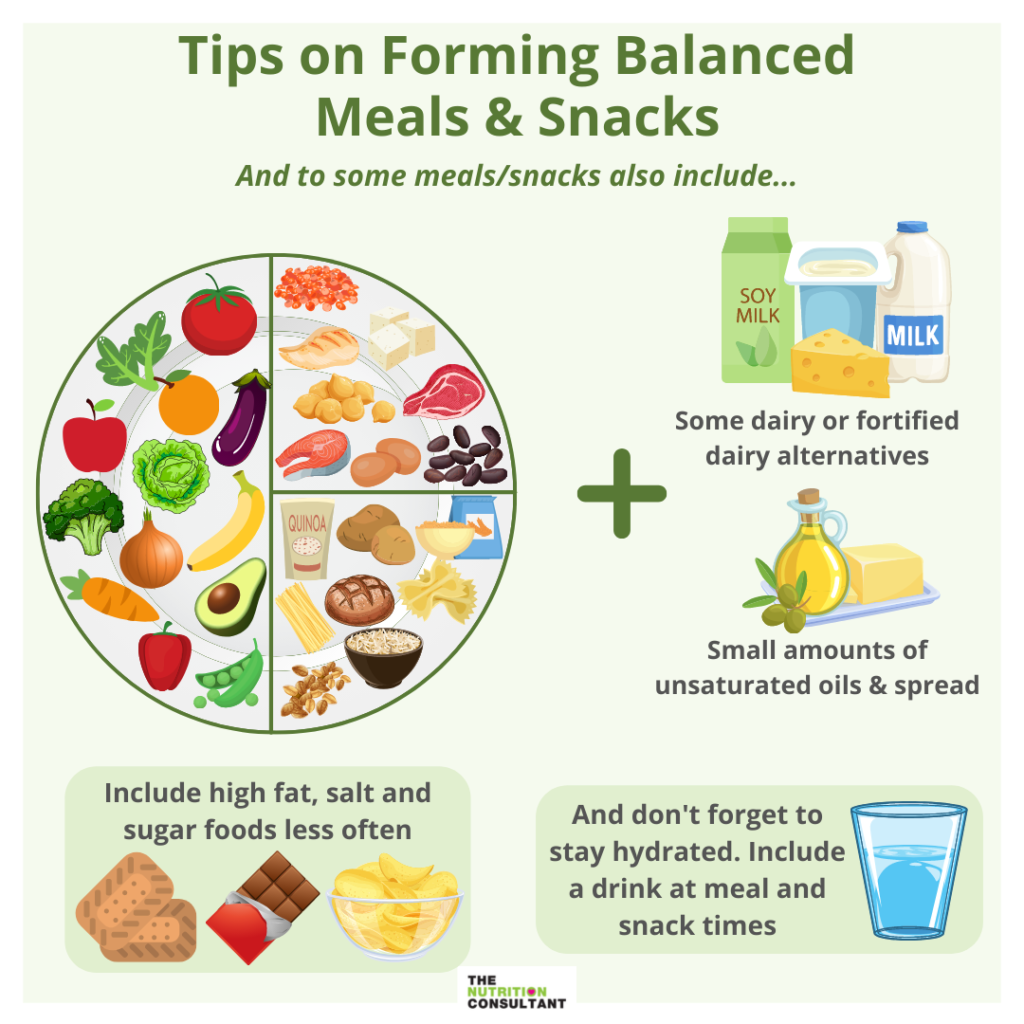 Why should we be including these food groups?
Fruits and Vegetables
Fruits and vegetables contain lots of vitamins, minerals, fibre and phytonutrients. As a nation that is still falling short of the 5-a-day fruit and vegetable recommendations, try filling half your plate with veg, salad or fruit and include a portion at snack times to increase your intake. All varieties count, fresh, frozen, tinned and dried. Include lots of different coloured fruit and veg as they all contribute different nutrients, or in other words 'eat the rainbow'. Why not try out my Tofu Stir Fry as a quick but tasty way to include vegetables into your day?
Protein
Proteins are important to help the body grow, repair and maintain itself. Aim for 2-3 portions of protein a day. Include lean cuts of meat, eggs and some plant-based sources such as beans, lentils and chickpeas too. And, if you eat it, also include 2 portions of fish per week – one being oily fish. If you don't eat oily fish, try incorporating walnuts and flaxseeds as plant-based sources of omega-3 fatty acids. My Kids Fish, Chips and Mushy Peas recipe is a great way to get oily fish into children's diets.
Carbohydrates
Despite the myths about carbs being bad, they should make up a third of our diets – just like fruit and veg! However, it's the type and how much you're eating that can make a difference. Include 3-4 portions a day and aim for wholegrain, high fibre or 50/50 versions such as brown bread, wholewheat pasta, brown rice, oats, and other grains. Leaving the skin on your potatoes is also a great option too. Carbohydrates are the best source of energy and contain B vitamins and iron which is needed to build red blood cells.
Dairy and/or Fortified Dairy Alternatives
Dairy contains calcium which is essential for bone health. But in addition to calcium, dairy is also a good source of iodine, B12, B2, potassium and protein! Like protein, aim to consume 2-3 portions a day. If you opt for plant-based sources of dairy, such as plant-based milk alternatives ensure they are fortified with calcium and B12 as a minimum. Most of the time include plain dairy/alternatives such as plain yoghurt and add your own toppings.
Fats
We do need a little fat within the diet, they aid in absorbing fat-soluble vitamins! Use healthier unsaturated oils such as olive oil and rapeseed oil and vegetable spreads in your cooking.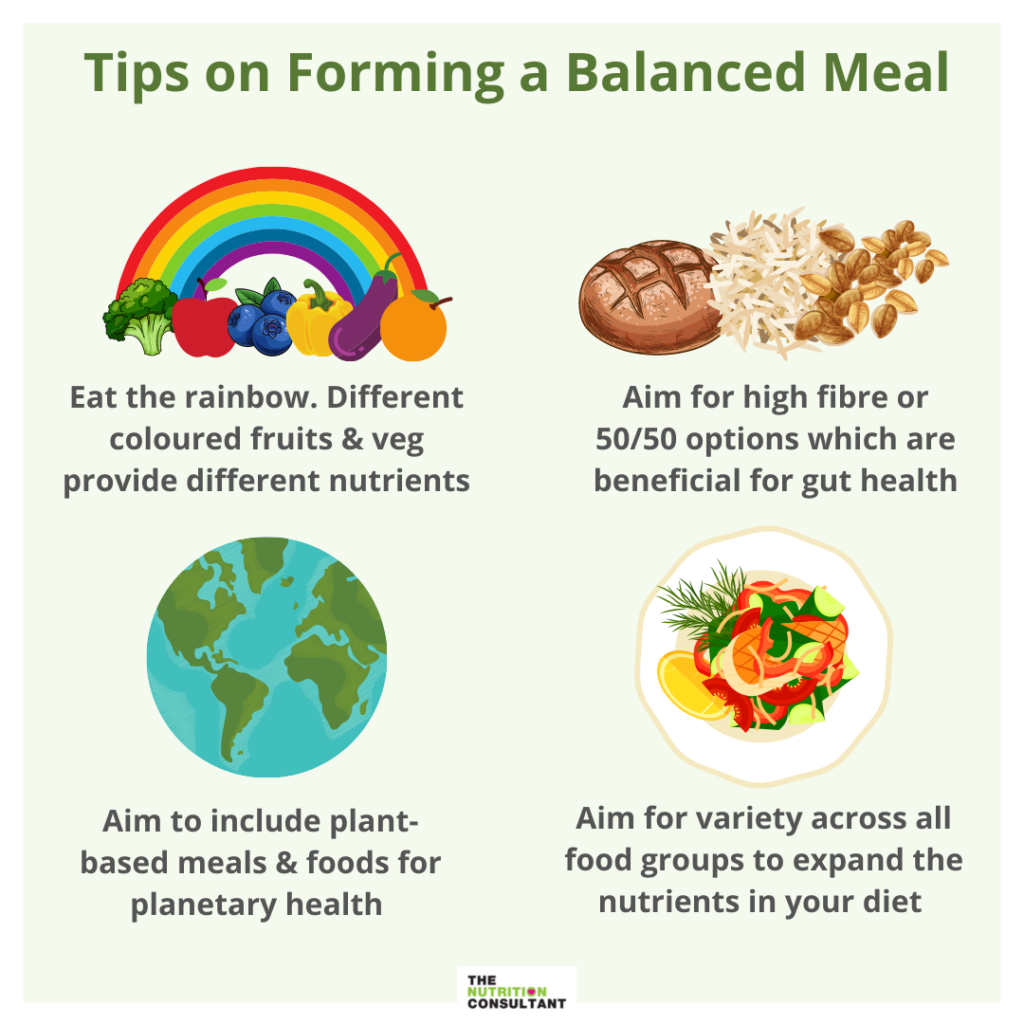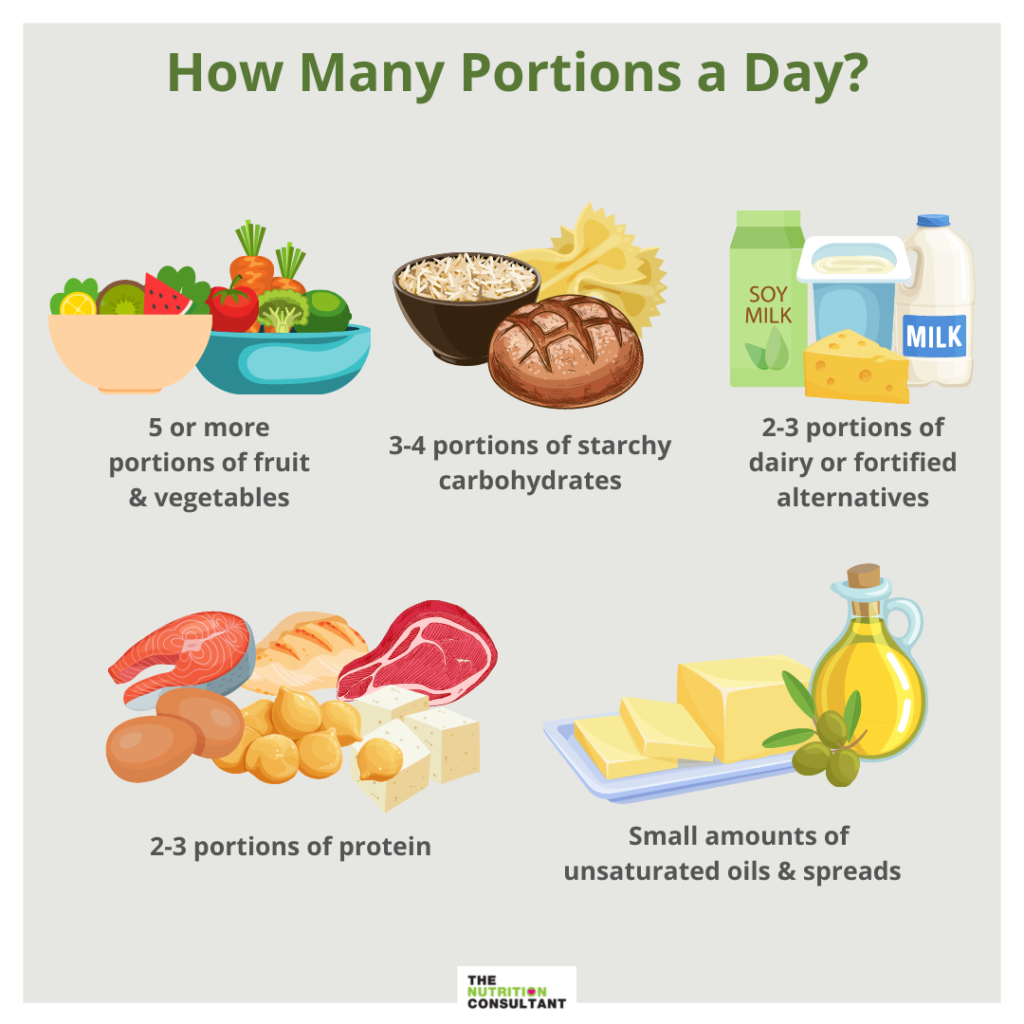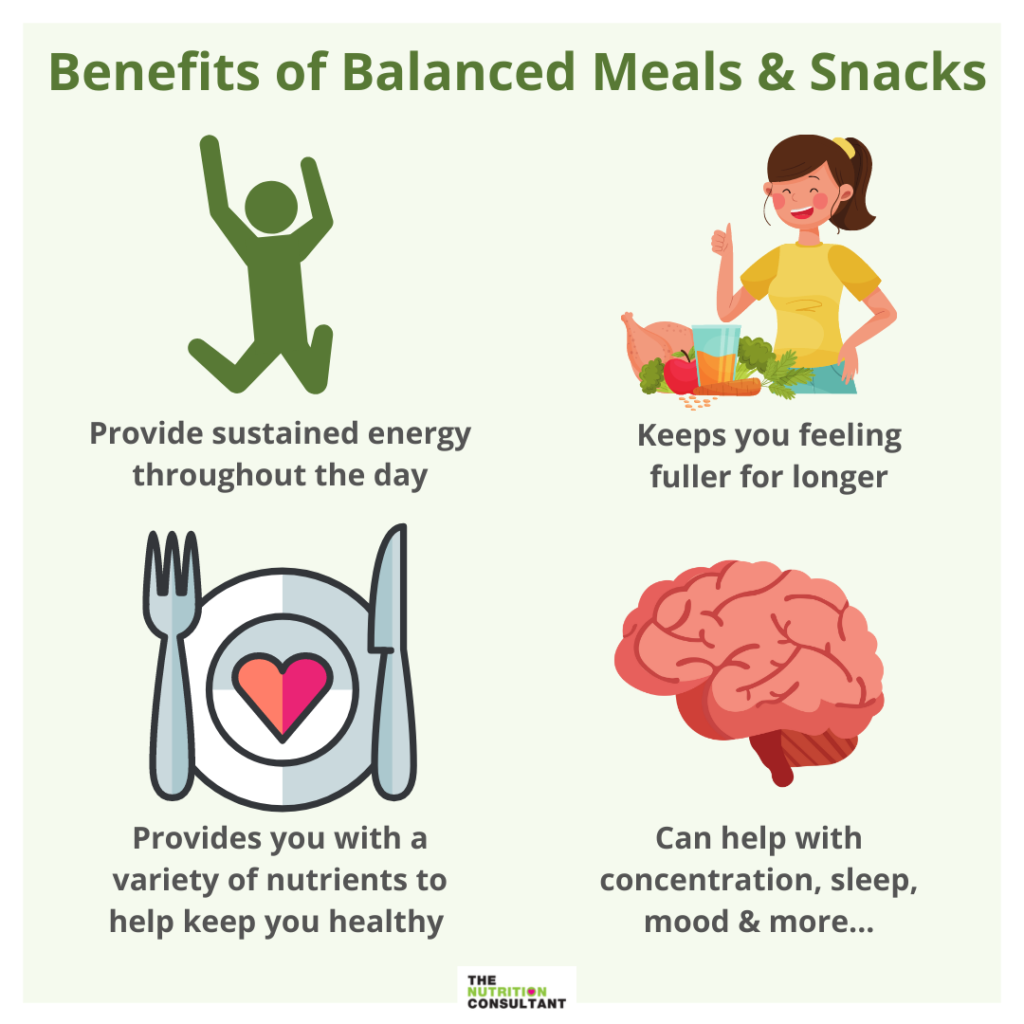 But how much of each of these do we need?
How much you need to eat can be a difficult area to navigate as portions are very individualised. They can also change depending on the type or quantity of food consumed at other points of the day/week, activity levels, how hungry we are, social circumstances, and even how we are feeling from day to day.
Whilst we are given specific measurements of portions for some foods, 80g for fruit or veg or 140g of cooked fish, for example, it's not always practical! This is when portion size guides using your hands can be a helpful tool. This method can make your portion sizes personal to you and can be a friendly way of being mindful of portion sizes without getting caught up in numbers, which for some can lead to an unhealthy relationship with food. In an ideal world, we would all rely on our bodies to tell us how much we need, but many people really do value some guidance when it comes to portion sizes.
When using hand portions aim for:
A palm-full of protein
A handful of carbohydrates, fruit, and nuts
A fist of vegetables
2 cupped hands of salad
2 fingers of cheese
Thumb tip of unsaturated oils and spreads
Look at the infographic below for a visual example of how you can measure foods using your hands as a guide.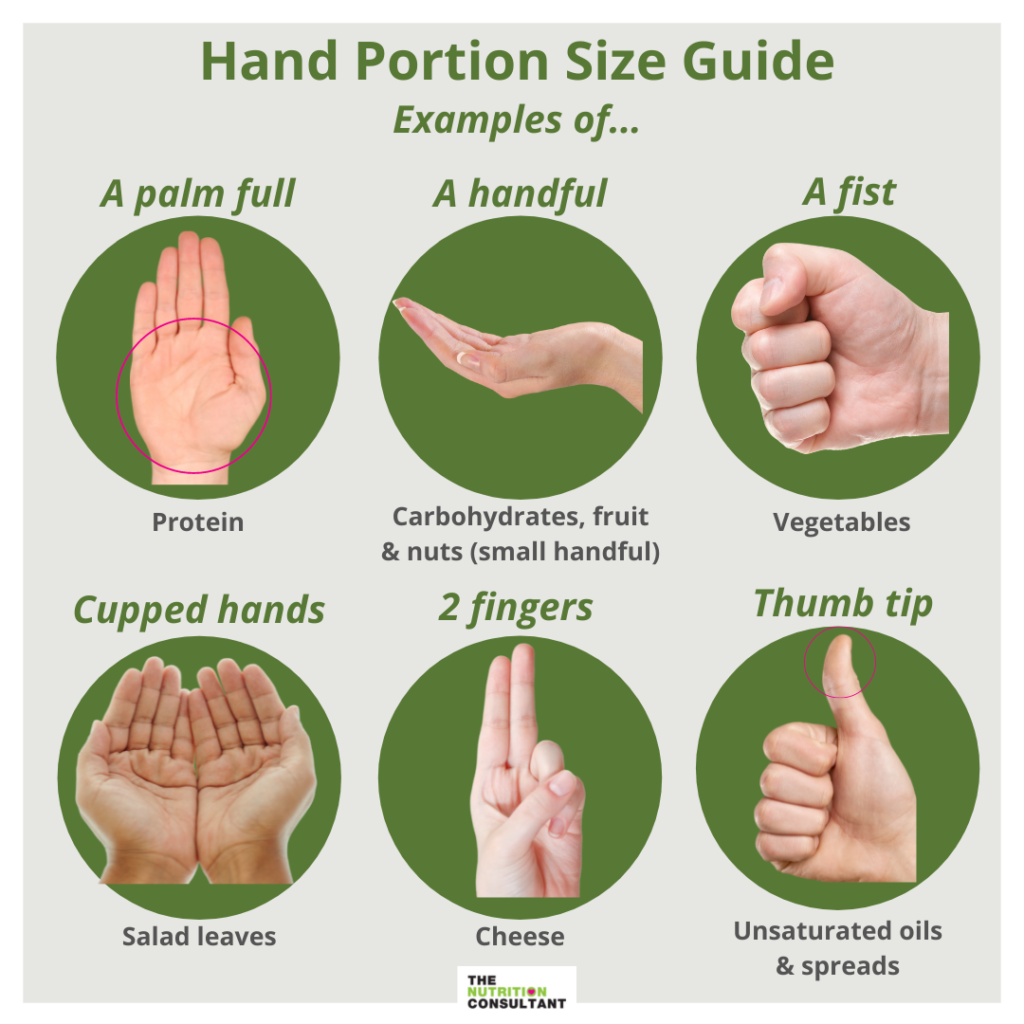 Everyone's take on a hand measure will differ and while using your hands can help form a balanced plate, they're just a guide and won't apply to all foods and all occasions.
And don't forget…
Keep yourself hydrated with at least 6-8 glasses a day. Meal and snack times can be the perfect reminder to get a drink!
Food is much more than just nutrients, if you fancy that cake, crisps or chocolate…go for it! Everything in moderation does the soul good!
Summary
Overall, I recommend focusing on getting in fruits and vegetables, wholegrain starchy carbs and some protein. And then throughout the day, fitting in some sources of dairy or fortified dairy alternatives and some unsaturated (healthy) fats.
Balanced meals and snacks will not only provide you with all the nutrients you need but help to keep you well, feeling good and fuel your body with energy throughout the day as well as keep you fuller for longer!
Try slowing down at mealtimes, take time to enjoy what you are eating and listening to your body, engaging with those hunger and fullness signals. It can take around 20 minutes for the brain to receive those signals from the gut, so take your time.
When it comes to balanced meals and portion sizes you do not need to be following this advice all day, every day, but it's what you do the majority of the time that counts. An 80-20 type rule often helps, which works on the premise that 80% of the time you cover off your important food groups and then 20% of the time just go with the flow!