How to make healthier choices when eating out – simple swaps, navigating menus and building a balanced plate.
Eating out can be a time to try new dishes, explore new cuisines, and spend time with our family and friends, however, we are often unaware of the calories, fat, sugar and salts we are consuming.
Quite often we leave 'nutrition at the door' when we are eating out, however, if you would like to make healthier choices from time to time, check out these top tips:
1. Read the menu beforehand
Most restaurants will have their menus displayed on their website. Reading the menu beforehand and coming up with a shortlist of options will help you to not be influenced by others.
2. Eat consistently during the day
Depending on the time of day you're eating, try having a smaller meal or snack at breakfast or lunch as this can help prevent over ordering at the restaurant.
3. Sharing is caring and helps minimise food waste
Wanting a starter, dessert or both is normal when eating out. If there's something you fancy, but you don't want it all, maybe you can split a dish with someone you are with. This can help control your portion size and minimise any potential food waste.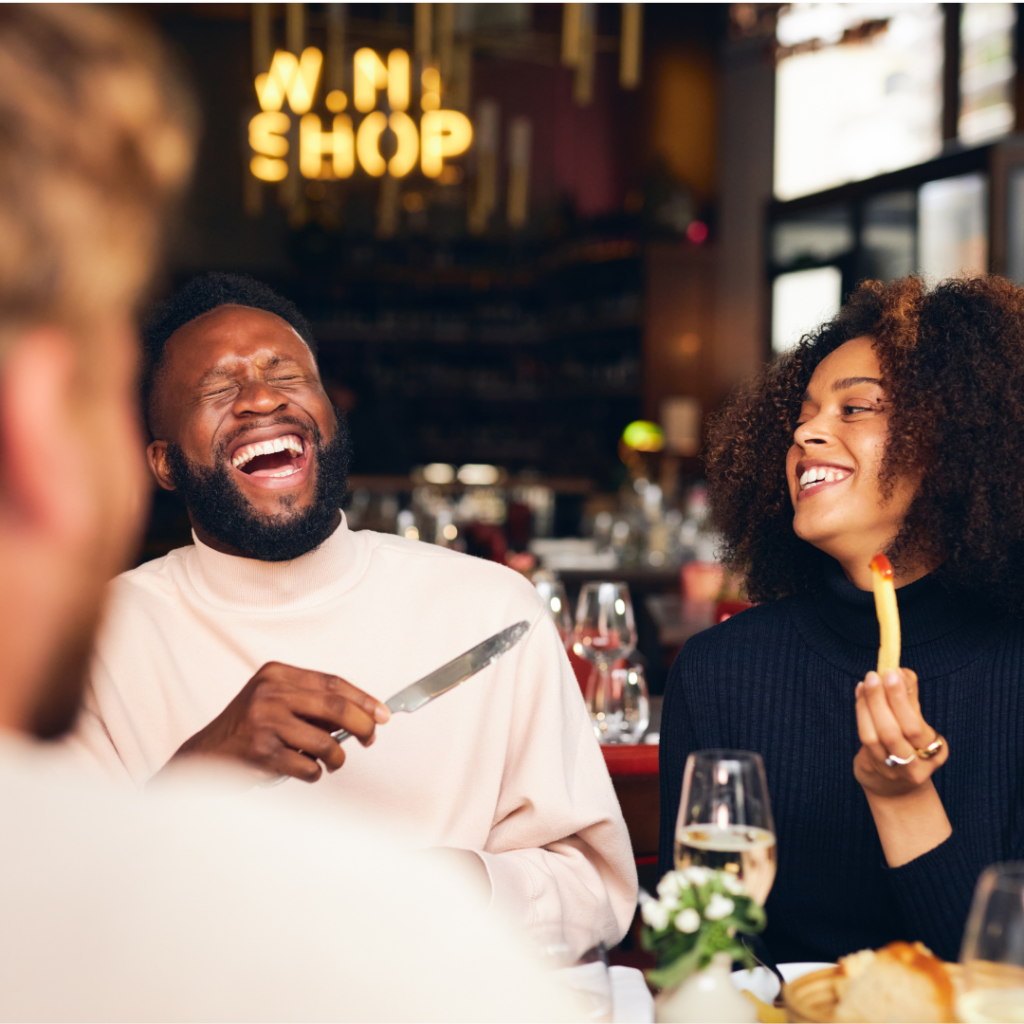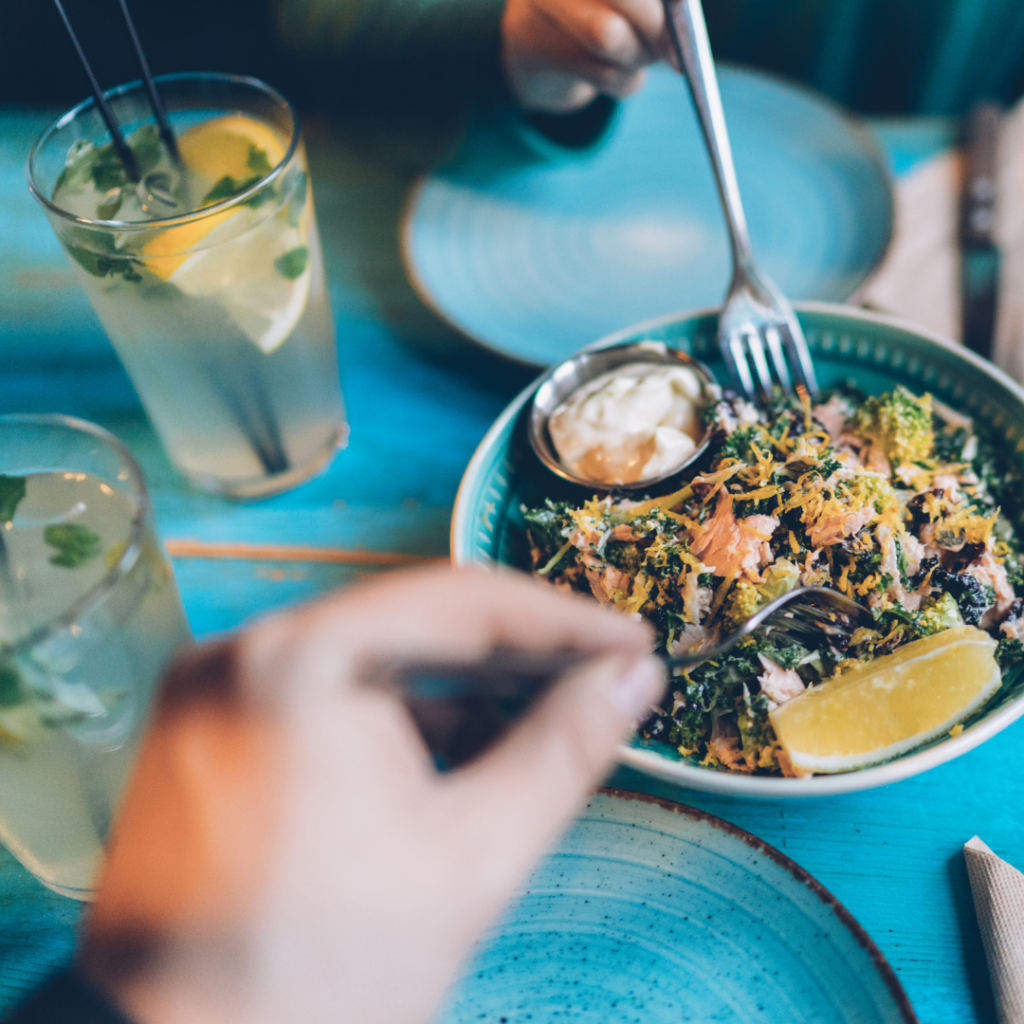 4. Menu language watch outs
– Foods which are deep fried or battered will be cooked in large quantities of oil resulting in extra calories and saturated fat. To reduce this, aim for grilled pieces of meat, fish or plant-based alternatives and remove any visible fat.
– Aim for foods which have been steamed or baked. These cooking methods tend to use little oil, keeping your meal more nutritious.
5. Food swaps
Don't be afraid to ask the restaurant team to adapt your meal;
– Try swapping chips for some wholegrain rice, a jacket potato or baby potatoes. Starchy carbohydrates are a great way to add fibre to a meal and leave you feeling fuller for longer.
– Try adding a side of vegetables or salad – these will add vitamins and minerals to your meal.
– Ask for sauces on the side – this can help you control the amount of dressing you add to your dish. Sauces such as Caesar or French dressing tend to be higher in calories and fat. If you're looking for a lighter choice, try balsamic vinegar or a wedge of lemon to give it a zesty taste!
– Swap white sauces for a tomato-based sauce as white sauces are usually made up of cream or cheese. Tomato sauces will be centred around vegetables, adding to your 5-a-day, and tend to be lighter in calories and fat and more nutrient dense.
– Some menu's display icons to help signpost customers to healthier options. Every menu is different but some might have 'lighter option' sections or have an 'under 600kcal' message.
6. Drink choices
– Alcohol is energy dense. It contains 7 calories per gram and can add a lot of additional calories to your night. Enjoying a glass or two with dinner is fine, however it's important to be mindful of the amount you're drinking if you go out regularly.
– Cocktails often contain lots of added sugar from the fruit juices and syrups. If you're looking for an alcoholic drink with less sugar, try a spirit and low sugar mixer.
– If you're looking for something non-alcoholic try a soda or tonic water and ask for some cut up fruit – this can be particularly refreshing.
– Request tap water for the table – keeping hydrated is really important.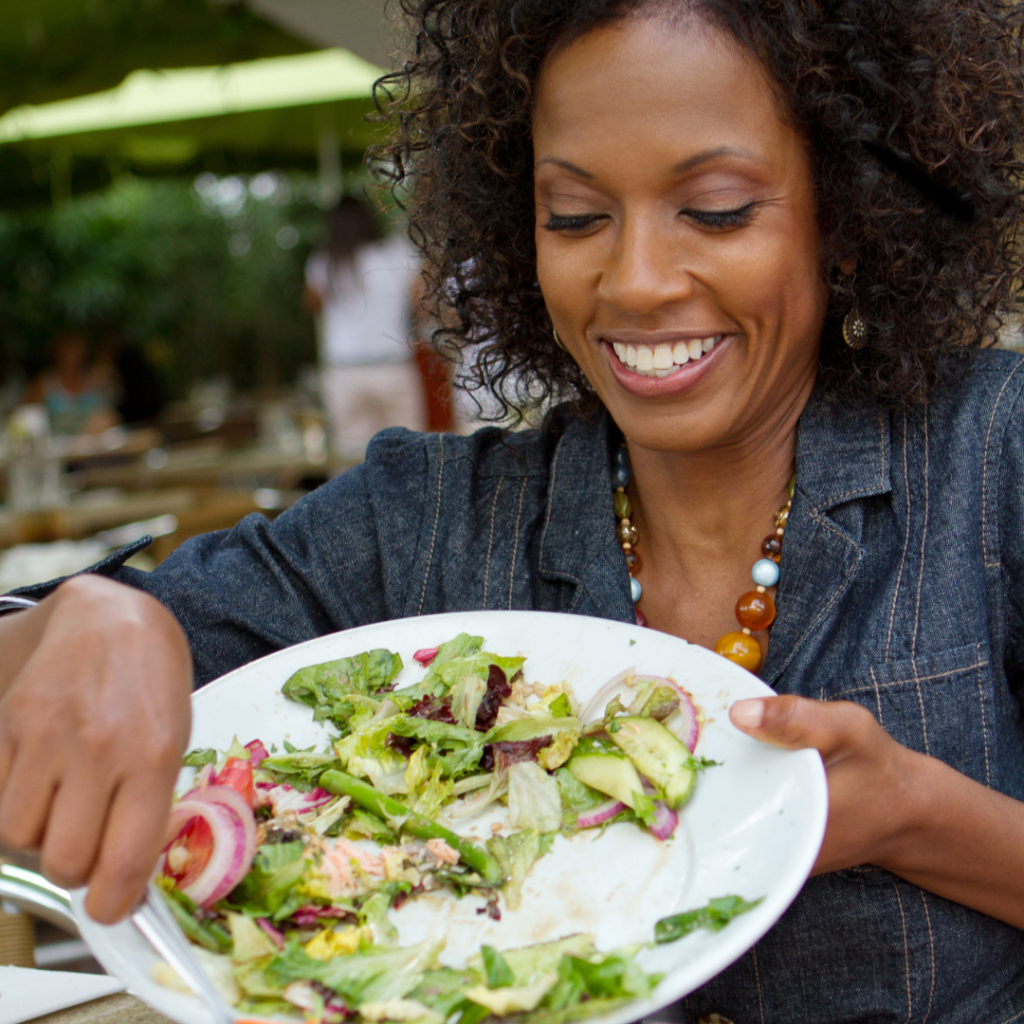 7. Eat mindfully
Try taking in your surroundings, the smells and tastes of the food you order. Eating slowly and taking a couple of breaks during your meal will give you time to engage with your hunger levels.
8. Ask to take the leftovers home
As restaurants tend to have bigger portion sizes, you can always request to take your leftovers home – this will reduce food waste and provide a meal to enjoy the next day.
9. Lastly, Enjoy!
Eating out should be an enjoyable experience. If you fancy the more indulgent options then go for it! Just remember to not over think it and enjoy the experience!
References
Eatwell guide https://www.nhs.uk/live-well/eat-well/the-eatwell-guide/
British nutrition foundation – Healthy eating out of home https://www.nutrition.org.uk/putting-it-into-practice/make-healthier-choices/healthy-eating-when-out-and-about/
Robinson E, Jones A, Whitelock V, Mead B R, Harynes A. (Over)eating out at major UK restaurants chains: observational study of energy content of main meals BMJ 2018:363