Food and Mood: Top Tips to Beat the January Blues
With the festive spirit dwindling and the weather getting colder, you might be feeling a bit down with the January blues. It's normal to experience feelings of low mood sometimes, but did you know that what you are eating could have an impact on how you feel?
In this blog, I'll be sharing a quick overview of the latest evidence around nutrition and mental health, as well as my 6 top tips for improving your mood with food.
Nutrition and Mental Health
The role that our diet plays in our mental health is a hot topic in nutritional research.
Some observational studies suggest that people who follow a healthy diet, such as the Mediterranean diet, have a significantly lower risk of depression compared to those who follow a less healthy diet. (1)
However, the problem with this type of research is that it's not clear what the link between diet and mental health is. Researchers are still trying to understand whether people who eat a healthier diet feel less depressed, or whether people who are less depressed eat a healthier diet. This uncertainty is a big limitation of observational research.
In recent years, randomised controlled studies such as the SMILES trial have provided novel findings into whether changing our diet could offer any benefits in the treatment of depression. The 2017 trial found that those who received nutritional support to help them eat a healthier diet had a significantly greater remission rate than those who only received social support. (2) In fact, 32.3% of people who received nutrition support went into remission after 12 weeks, compared to only 8% in the social support group.
Whilst this evidence isn't enough to recommend a specific diet to those with depression, it does highlight that what we eat is likely to have some impact on our mental health. However, the question we still need to answer is: how BIG of an impact can nutrition have in the treatment of mental health conditions? Hopefully, future research can answer this!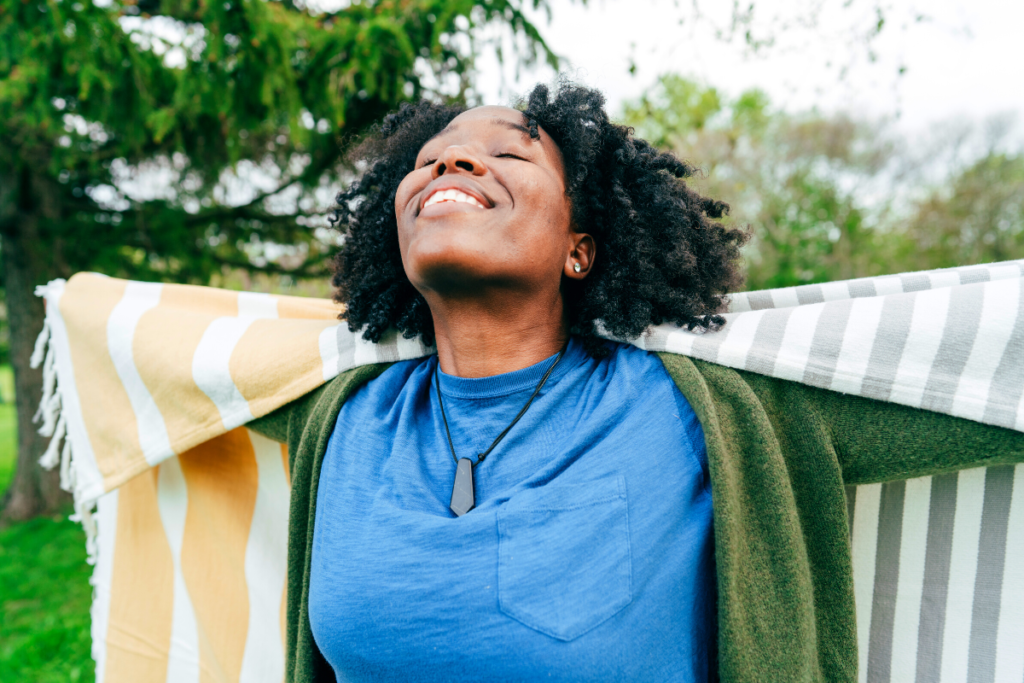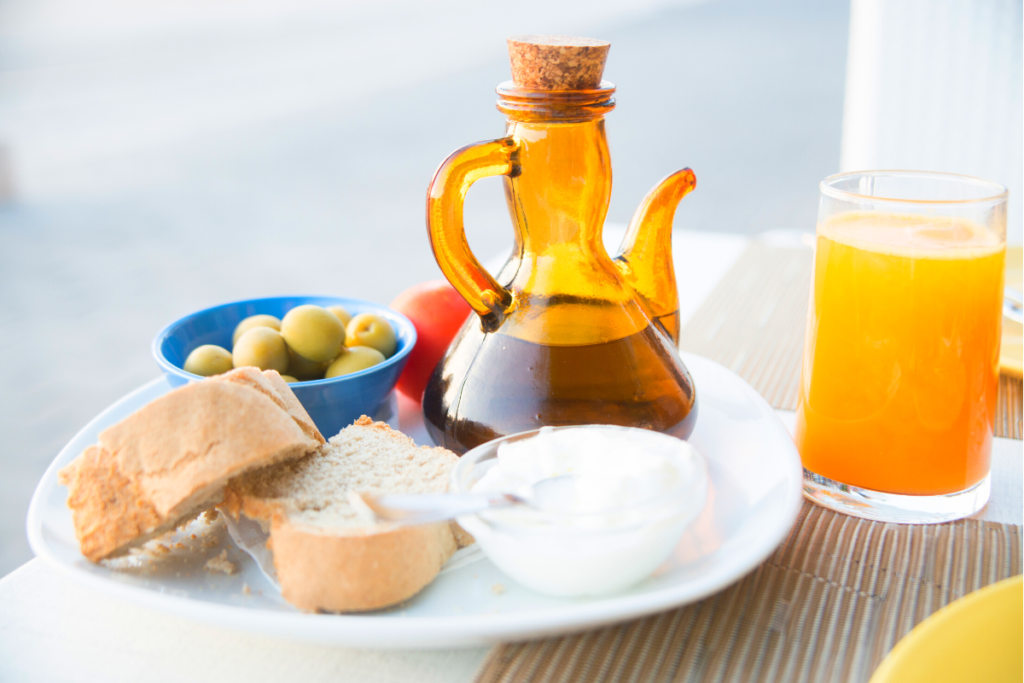 6 Tips for Improving Your Mood with Food
If you've ever felt 'hangry' you'll know that food plays a big role in how we feel day-to-day.
Even though the science around nutrition and mental health is still unclear, we know that making small dietary changes can help keep your energy levels steady and your brain functioning normally – which can help lift your mood!
1. eat Regular Meals
Our blood sugar naturally peaks and dips after meals, but if you skip a meal, it might cause your blood sugar to dip too low which can make you feel tired and sluggish. If this feeling is familiar (like the dreaded 3pm slump after skipping lunch) you may have also tried to remedy this with a sugary meal to boost your energy levels back up.
The problem is that these big dips and peaks in blood sugar over the course of a day can make you feel like you are on an emotional rollercoaster. This is why it's so important to ensure that you are eating regular, balanced meals to keep your energy levels (and mood) steady.
2. Include lots of colour
Vitamins and minerals play an important role in the normal functioning of our brain and nervous system. This is why it's no surprise that some research suggests that nutrient deficiencies could increase the risk of depression. (3)
One way to reduce the risk of vitamin and mineral deficiencies is to eat a varied diet with plenty of different coloured fruits and vegetables. This is because different coloured fruits and vegetables contain different types of nutrients that are beneficial for our health.
If you struggle to eat a variety of fruit and veg, I have a FREE 5-a-day challenge with lots of tips that you can download here.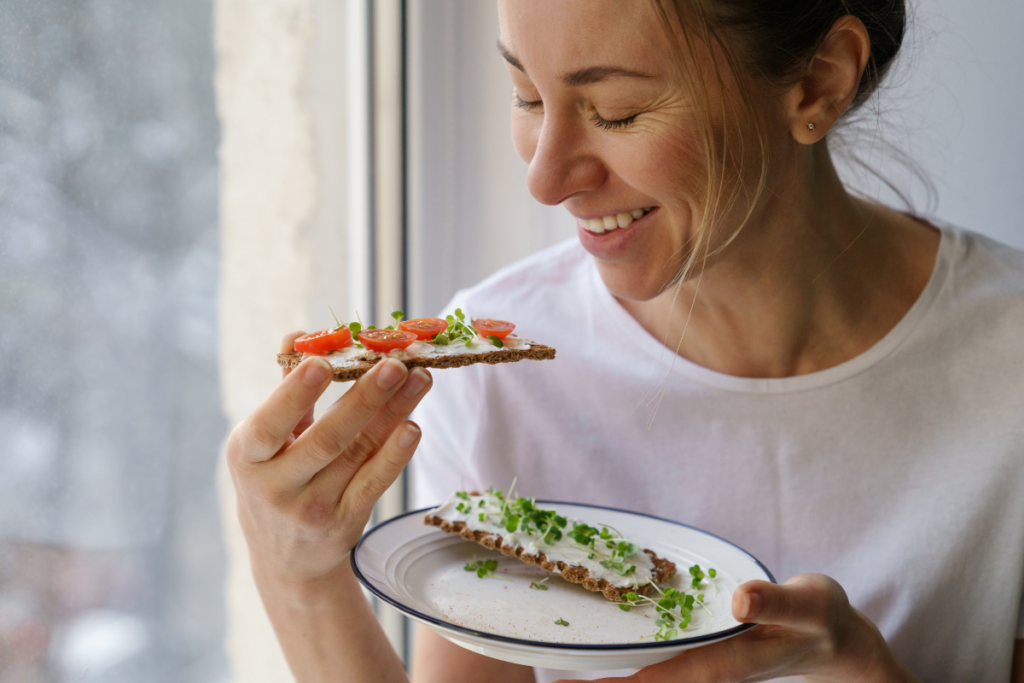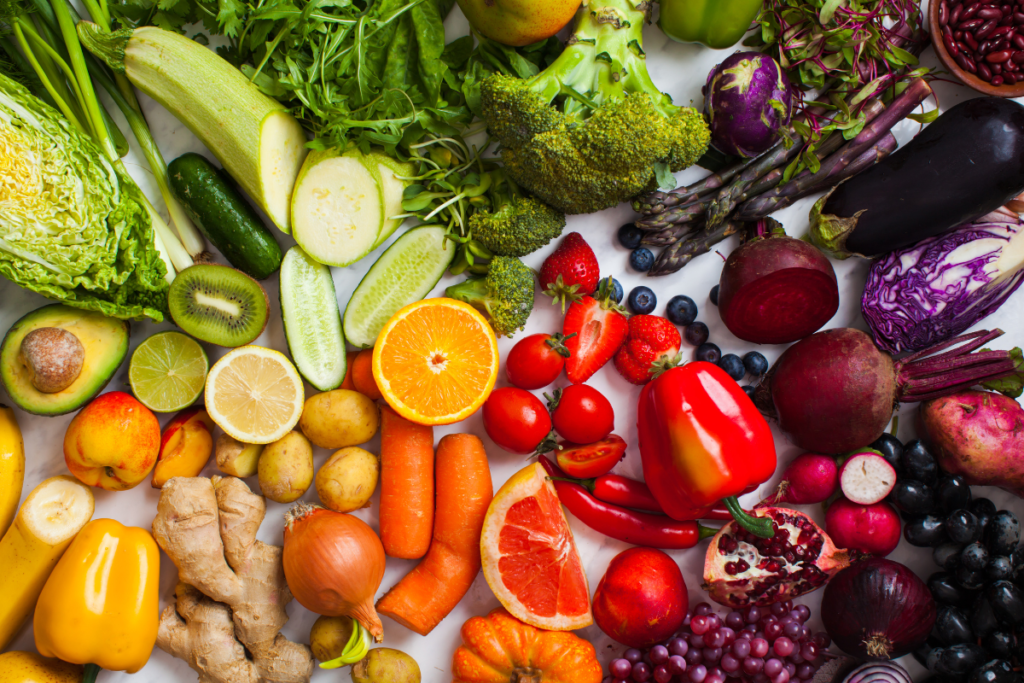 3. Don't skip carbs
Your brain requires lots of energy and its main source of energy is glucose. In fact, it will use around 20% of the body's glucose energy supply to function normally – that's a lot!
One way to keep your brain sharp and your energy levels steady is to make sure your diet contains plenty of good-quality carbohydrates such as whole grains, fruits and starchy vegetables.
This will not only fuel our brains but eating plenty of high-fibre carbohydrates also fuels our gut bacteria.
Some studies suggest that eating a high-fibre diet is associated with a reduced risk of depression, which may be a result of the fibre-loving bacteria living in our gut. (4) Researchers believe that these gut bacteria can beneficially communicate with our brain through a network called the gut-brain axis, which could be one reason why improving your gut health has been linked with better mental wellbeing.
Whilst more research needs to be done in this area, one thing we know for certain is that to keep your energy levels steady and your brain functioning at its best, carbs are important.
4. Add Healthy Fats
Omega-3 is a type of fat that is important for normal brain functioning. It can be found in several foods such as oily fish (sardines, mackerel, salmon), flaxseeds and walnuts.
Interestingly, some research suggests that omega-3 supplementation could have a beneficial effect on the treatment of depression. (5) However, as this is a very new area of research, the long-term effects are not yet known and more studies are needed.
Nevertheless, regardless of whether omega-3 has a therapeutic effect in depression, it is still a really important nutrient for our brain to function normally.
I recommended including some sources of omega-3 in your meals (where you can) and if you don't get enough from your diet, consider taking a fish oil or algae-based omega-3 supplement.
Note: Nutrition supplements are not a replacement for other mental health treatments such as medication, therapy and social support. Remember, nutrition is just one piece of the puzzle!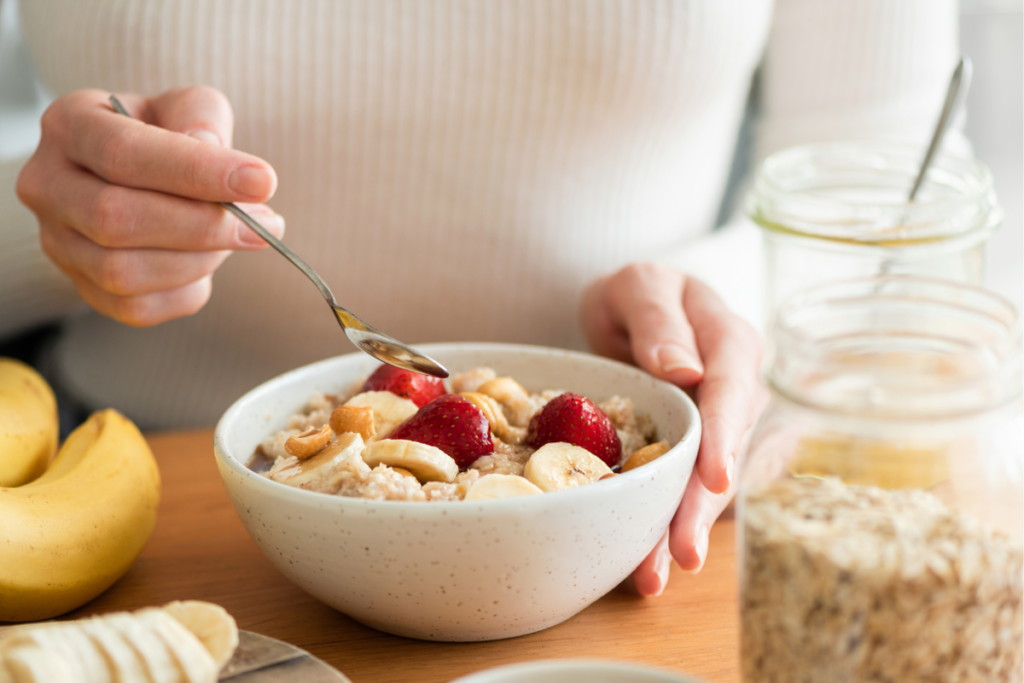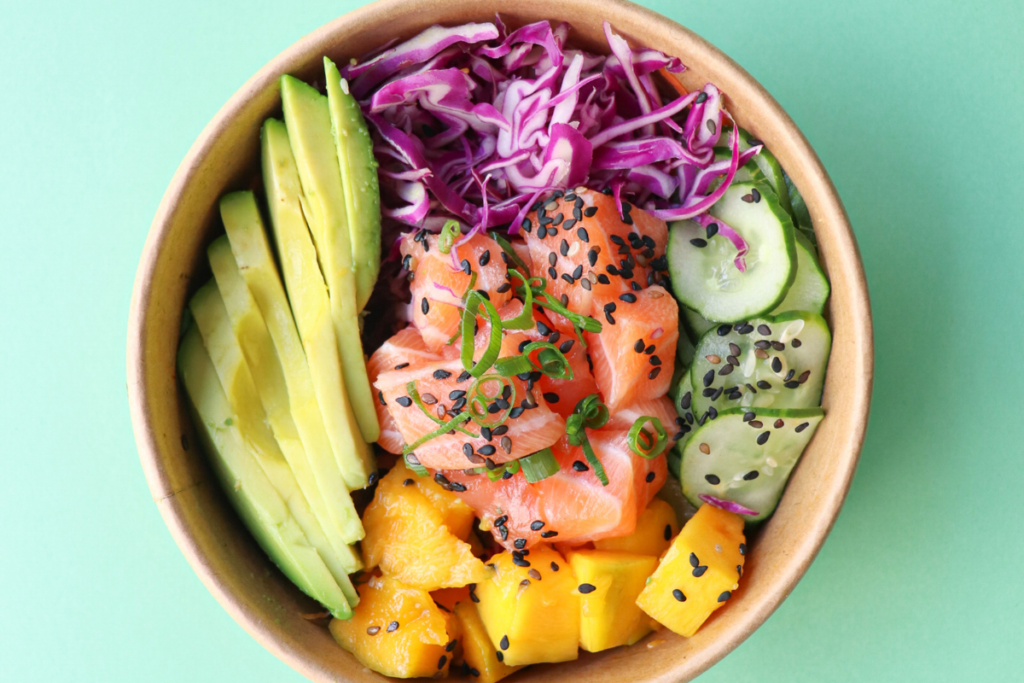 5. Be mindful of Caffeine
Caffeine is a stimulant that is found in coffee, tea, soft drinks like coca cola and energy drinks.
It's well known for its cognitive benefits of keeping us more alert, but everyone experiences the effects of caffeine differently. Some people can feel anxious and jittery after one cup of coffee, whereas others can have no side effects at all.
If you are more sensitive to caffeine and experience unpleasant side effects, the best way to avoid the post-coffee jitters is to avoid caffeinated drinks altogether or switch to decaf.
6. Drink Plenty of water
A large proportion of our brain is made up of water (around 75%!). This is why drinking plenty of water is important for normal brain functioning.
When we drink enough water, we are able to think more clearly and this will naturally improve our mood. Whereas, if we let ourselves get dehydrated, we can start to feel tired and irritable.
Adults are recommended to drink 6-8 glasses of water a day, but this amount increases if you are sweating more due to activity or hot weather.
To make sure you are staying hydrated, I always recommend carrying a water bottle around with you wherever you go. If that doesn't help, you can also try setting reminders on your phone so you don't forget to hydrate throughout the day.
I have more information and top tips about how to stay hydrated here.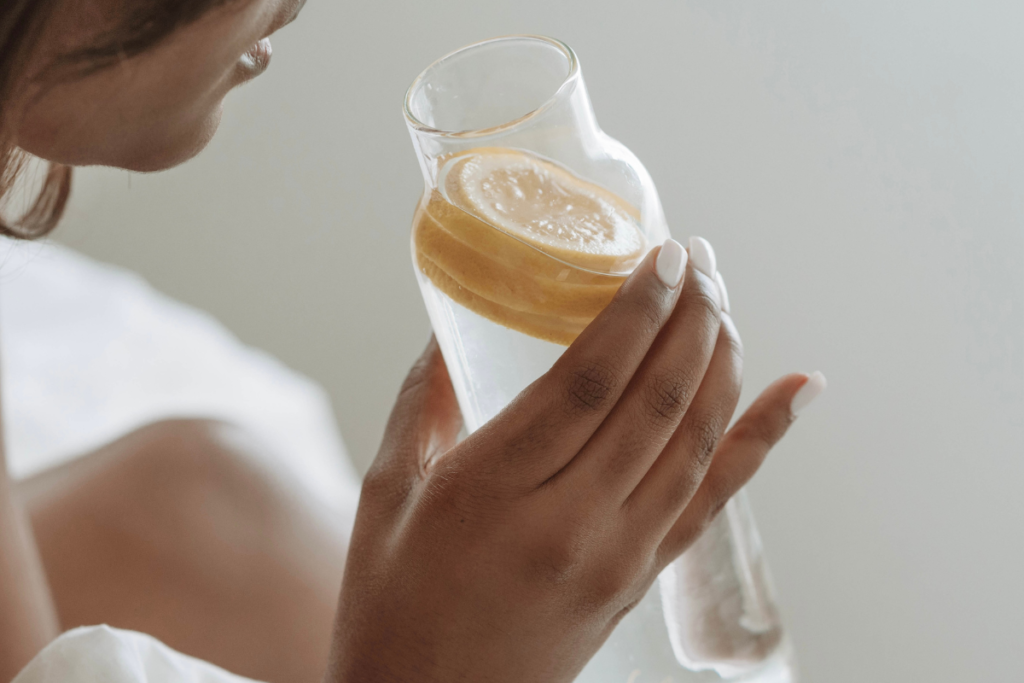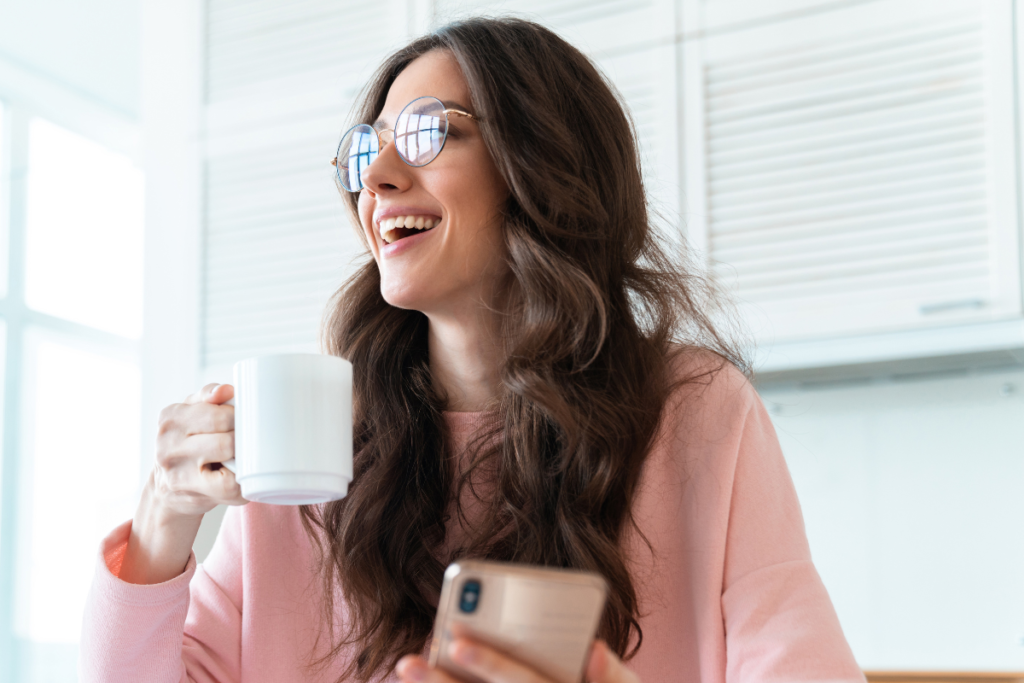 Summary
What we eat can have an impact on our day-to-day mood and research suggests that there are several dietary changes that could support our mental health.
However, it's important to highlight that nutrition is not a replacement for other effective mental health treatments, such as medication, therapy and social support.
If you are looking to improve your mood with food this January, these 6 tips are a great place to start:
Eat regular meals to keep your energy levels steady
Include lots of colourful fruits and vegetables to get all the vitamins and minerals you need
Don't cut carbs from your diet – they're important energy for your brain and gut bacteria
Add healthy fats like omega-3 to your meals or consider taking an omega-3 supplement
Be mindful of how caffeine affects your mood
Drink plenty of water so you can think more clearly and feel good
References
Lassale, C., Batty, G.D., Baghdadli, A., Jacka, F., Sánchez-Villegas, A., Kivimäki, M. and Akbaraly, T. (2019). Healthy dietary indices and risk of depressive outcomes: a systematic review and meta-analysis of observational studies. Molecular psychiatry, 24(7), pp.965-986.
Jacka, F.N., O'Neil, A., Opie, R., Itsiopoulos, C., Cotton, S., Mohebbi, M., Castle, D., Dash, S., Mihalopoulos, C., Chatterton, M.L. and Brazionis, L. (2017). A randomised controlled trial of dietary improvement for adults with major depression (the 'SMILES'trial). BMC medicine, 15(1), pp.1-13.
Rao, T.S., Asha, M.R., Ramesh, B.N. and Rao, K.J. (2008). Understanding nutrition, depression and mental illnesses. Indian journal of psychiatry, 50(2), p.77.
Fatahi, S., Matin, S.S., Sohouli, M.H., Găman, M.A., Raee, P., Olang, B., Kathirgamathamby, V., Santos, H.O., Guimarães, N.S. and Shidfar, F. (2021). Association of dietary fiber and depression symptom: A systematic review and meta-analysis of observational studies. Complementary Therapies in Medicine, 56, p.102621.
Liao, Y., Xie, B., Zhang, H., He, Q., Guo, L., Subramanieapillai, M., Fan, B., Lu, C. and McIntyre, R.S. (2019). Efficacy of omega-3 PUFAs in depression: a meta-analysis. Translational psychiatry, 9(1), pp.1-9.