Should my child be eating fish?
Fish can be a nutritious part of our diets, but how often and how much you should be offering it to your child can be confusing. You may have questions about whether there are certain fish you should avoid giving, how to introduce it, and what you should do if your child has a fish allergy – or just doesn't like it!
Be confused no longer! Paediatric Dietitian, Jo Lenz explains more.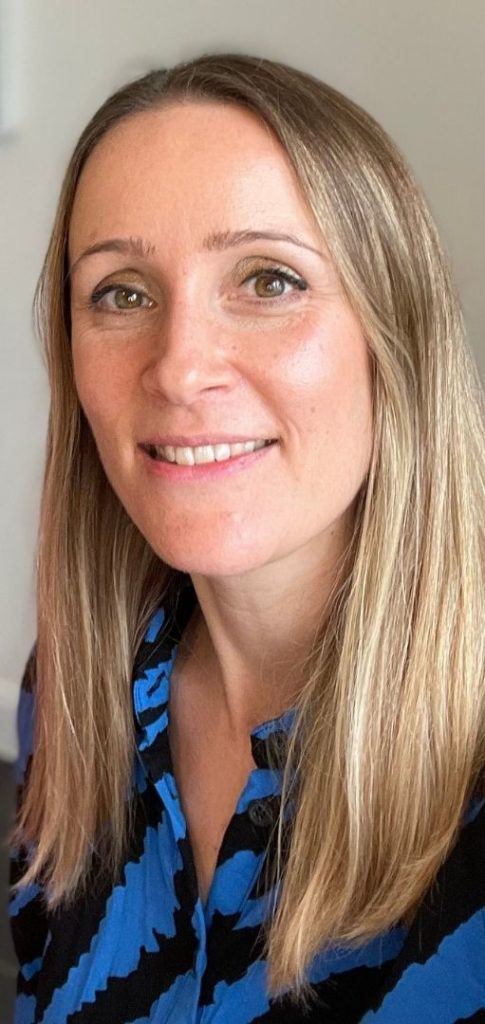 How much fish should children be eating?
Aim to offer your child 2 servings of fish per week (1 should be an oily fish)
Start offering fish as soon as you start weaning from 6 months of age
Girls should have no more than 2 portions of oily fish a week (due to pollutants* that can build up and potentially affect future development of babies). Boys should have no more than 4 portions of oily fish a week.
It's safe to eat as many portions of certain white fish per week (e.g. cod and haddock) but sea bream, sea bass, turbot, halibut, rock salmon, and brown crab meat, can contain similar pollutant levels to oily fish and should be limited.
To reduce the risk of your baby/child getting food poisoning avoid giving them raw or undercooked shellfish (like raw oysters or undercooked prawns).
Certain types of fish (shark, marlin, swordfish) can be high in methyl mercury and so all children under the age of 16 years should avoid these.
*Chemical pollution in the air is washed by the rain into the seas and rivers and most fish will contain some pollutants.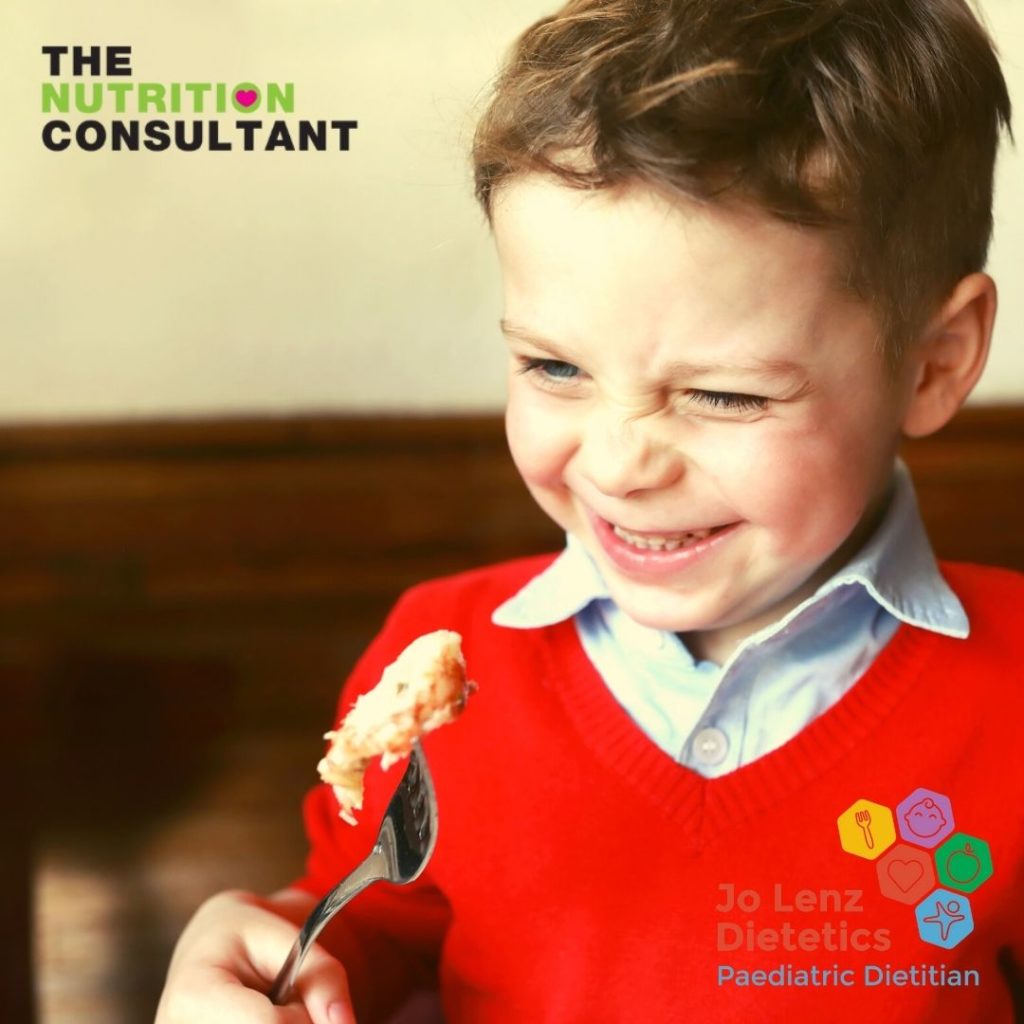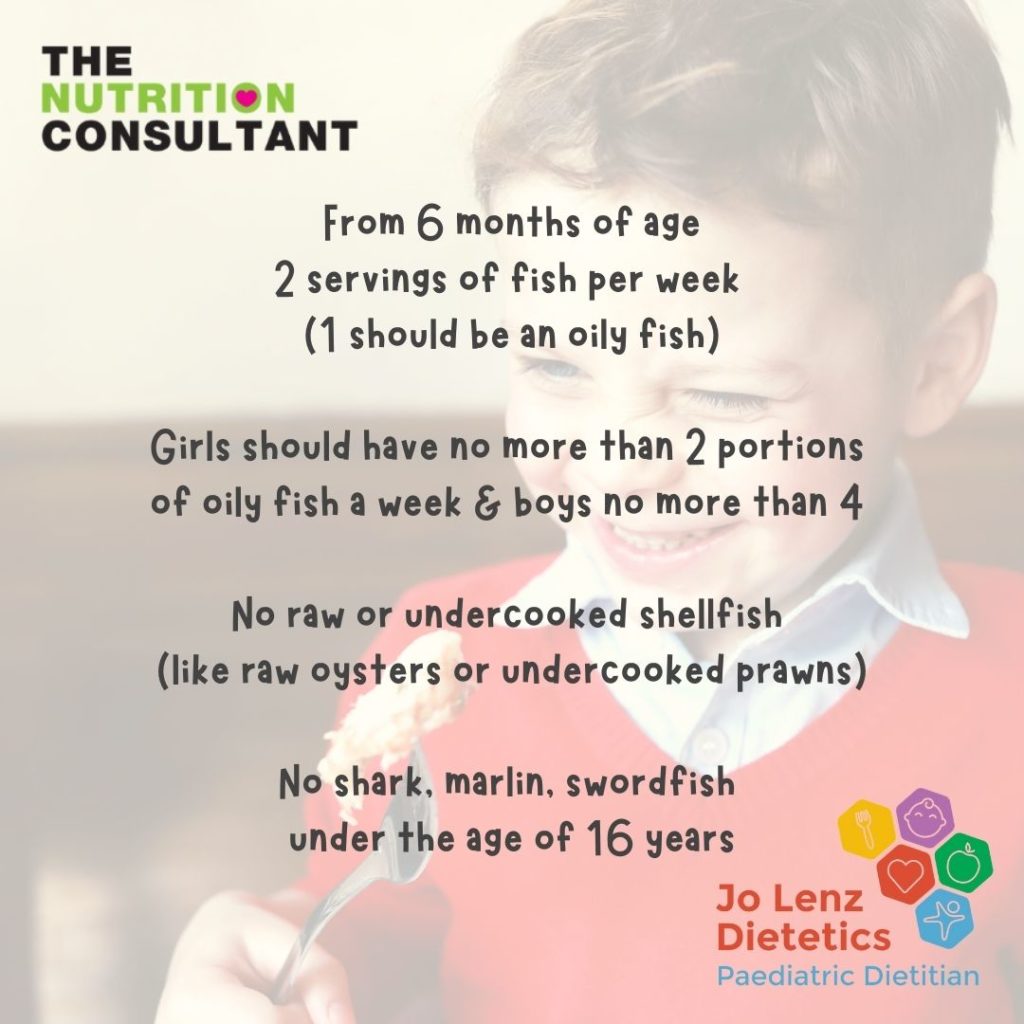 Which fish are oily?
The richest sources of omega 3 fats are salmon, sardines, trout, crab, and mackerel. Interestingly, the omega 3 in the fish comes from the microalgae/small plants found in the water that the fish eat.
Tuna (fresh and tinned) does not count as an oily fish. Fresh tuna used to, but we have since realised it doesn't contain enough omega 3.
Certain foods are enriched with omega 3 (fish fingers and certain eggs) but you'd need to eat quite a lot of these to get the same benefit.
What is the correct portion size for my child?
Under the age of 1 year there aren't any portion guides, however in this age group I would offer around 1tbs or ¼ fillet (you'll get to know your baby and how much they will eat)
18 m – 3 yrs (1-3 tbs or ¼ – ¾ small fillet)
4 – 6 yrs (2 – 4 tbs or ½ – 1 small fillet)
7-11 yrs (4-6 tbs or 1 fillet)
12+ (140g fresh fish or a small can of oily fish)
A portion for adults is 140g
A normal sized can of tuna is around 145-160g (all brands vary). You can get small tins of tuna 60-80g and fridge pots (110g) which are quite handy for sandwiches. Tinned sardines and salmon vary in weight.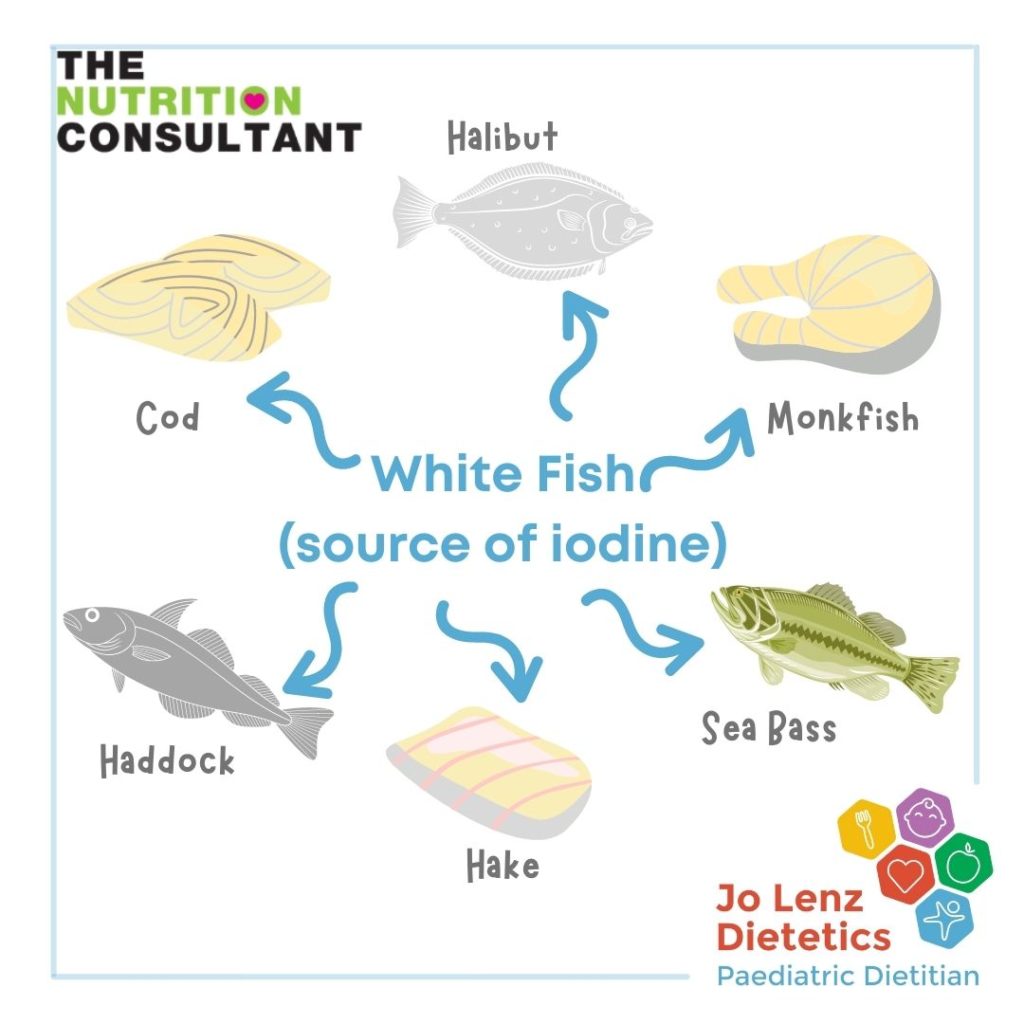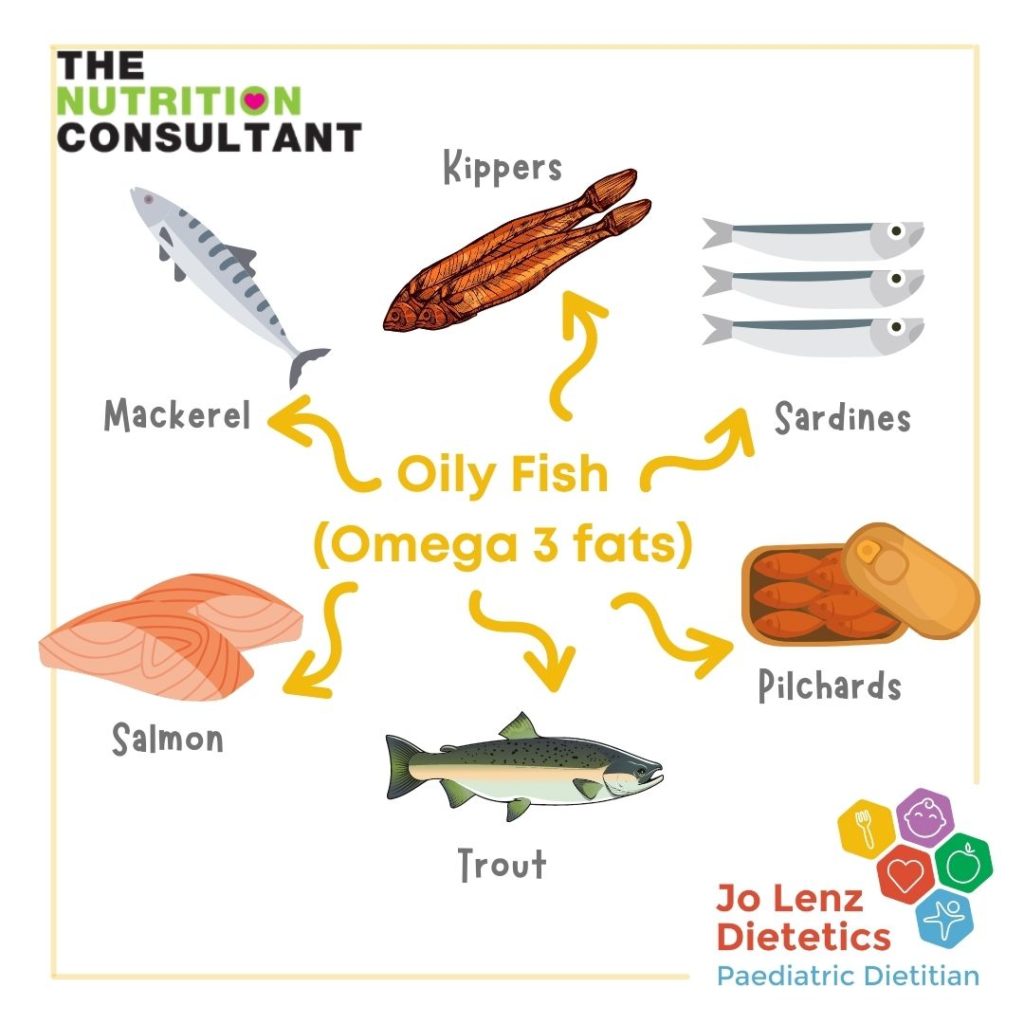 What if your child doesn't like fish?
That's ok. Keep offering fish though, it may be that they come to like it, or like it cooked in a certain way. Most children like fish fingers and fish and chips!
Plant based sources of omega 3 include walnuts, pumpkin seed butter (the butter is useful for children as it's not a choking risk – if it is smooth), milled/ground linseeds (also known as flaxseed), milled chia seeds, soya and soya products (tofu), leafy green vegetables and rapeseed oil.
Some children benefit from an omega 3 supplement (not a fish liver oil as this is different). Discuss with your healthcare provider for more information on the most suitable one.
Vegetarian/vegan omega 3 supplements are available (algal oil) – check with your healthcare provider if unsure but if in a capsule form this can usually be pierced and the oil added to food. Check supplements are age appropriate to safe guard against over dosing or choking.
Should I be worried about allergies?
You can introduce fish/shellfish to your baby from 6 months of age but be mindful that fish/shellfish are one of the top 9 allergens in children (don't let this put you off though!) and less than 0.1% of children in Europe have a fish allergy. Cooking the fish doesn't make the allergy less likely to happen. Introduce a small amount to start with.
Do I need to worry about the salt content of fish?
Smoked fish (smoked salmon, smoked trout, smoked mackerel, smoked haddock) has a higher salt content than fresh fish due to the way it's brined (soaked in salty water) and then smoked (to preserve it). Smoked fish can also contain nitrates and nitrates (by products of smoking).
In babies under 1 year, I suggest avoiding these smoked fish, and for toddlers and older children limit to once a week maximum (smoked salmon is nice in a sandwich/bagel or with scrambled eggs and you can make a homemade fish pate using smoked mackerel). Watch the amount of other foods high in salt you offer on that day (for example if you were going to offer a toddler some smoked salmon with scrambled eggs for lunch then I would try not to offer marmite that day).
Some canned fish has salt added (try to look for those that don't). Try to choose canned fish with less than 100mg sodium (0.25g salt) per serving. You can rinse fish under water to remove some of the salt.
What about fish pate? Fish pate is high in salt (more than 1.5g salt per 100g is high salt). You could try making your own.
As a reminder babies up to 12 months should have less than 1g salt/day, 1-3 year olds less than 2g salt/day, 4-6 year olds less than 3g/day, 7-10 year olds less than 5g/day and 11+ years less than 6g/day.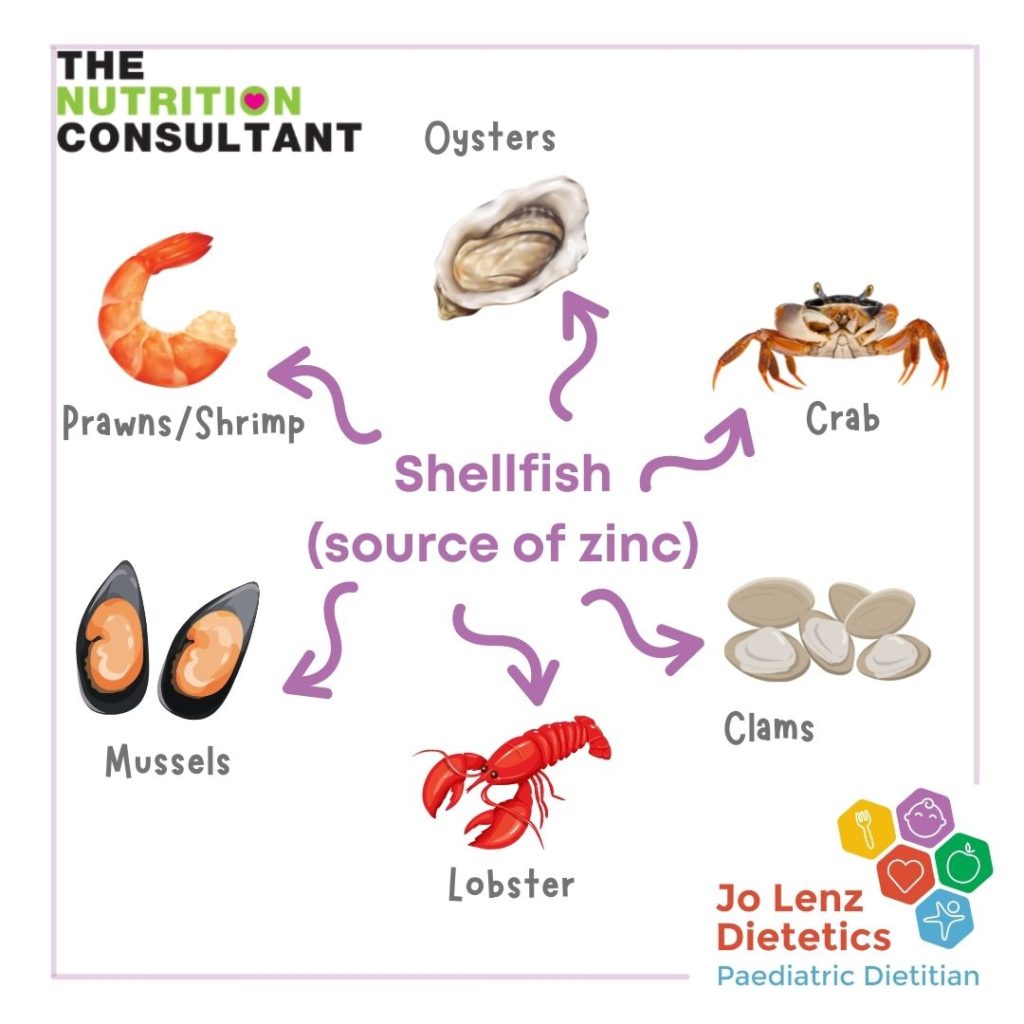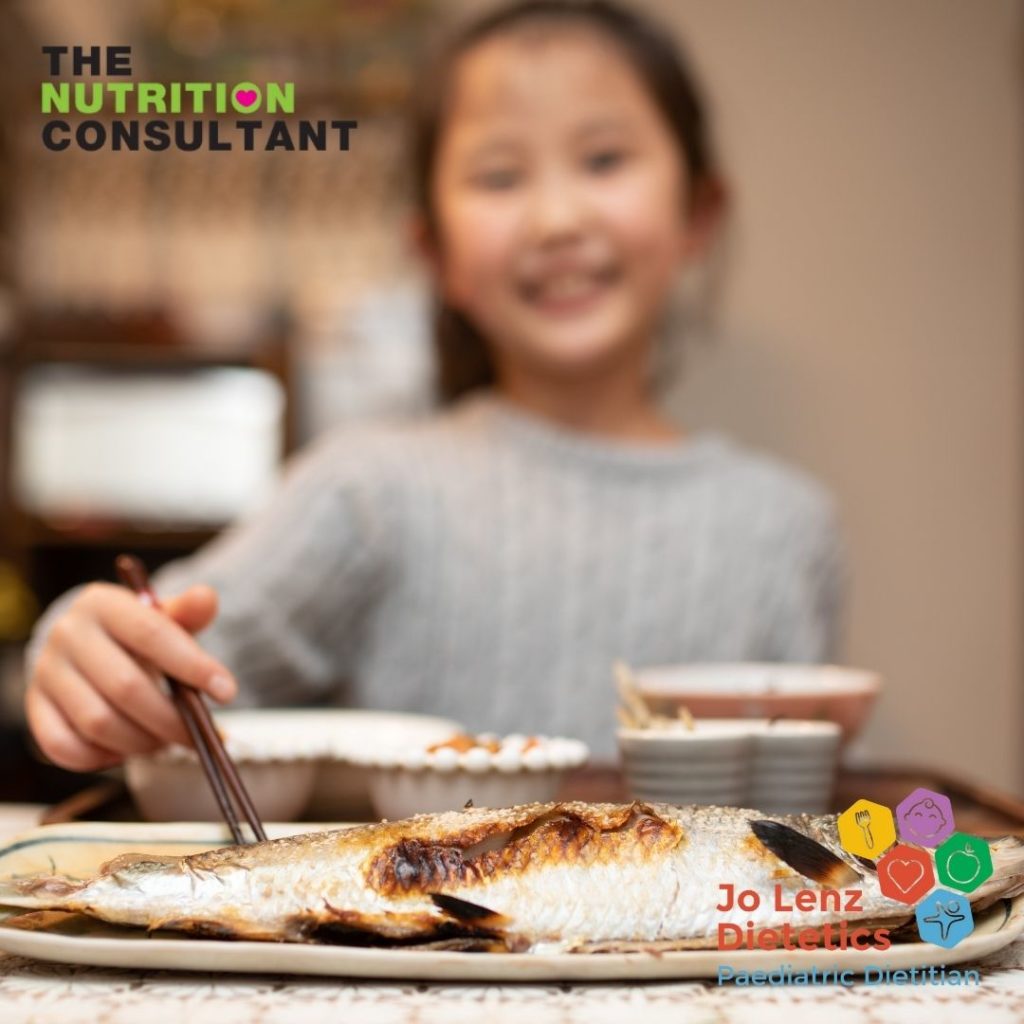 What about dyed fish?
Traditional smoked fish is soaked in salt water and then smoked over a wood fire. This gives a pale-yellow colour. Some fish (particularly haddock) can be dyed artificially to resemble the traditional ones (usually yellow using a food colourant), or by adding turmeric. It will taste the same with or without the colour. 'Solids Starts' advises delaying serving smoked fish (smoked salmon) to your child until 18 months of age due to the salt content.
How should I serve fish?
Generally speaking, steamed, baked, grilled fish is healthier than frying fish (frying fish can destroy some of the omega 3 oils and will increase the fat content of the dish). Children need healthy sources of fat for growth.
Limit fish in breadcrumb or batter (keep them to once a week if you can) – this is to allow for plenty of variety.
Some oily fish contain bones that you can eat (tinned salmon, tinned sardines) – when canned these become soft and easily mashed.
Fresh, frozen, canned is all fine.
You can buy fish tinned in oil, tomato, or brine. Try to choose the versions with the skin and bones and mash these well but also check the salt content. Try to choose those without salt added, or with the lowest amounts.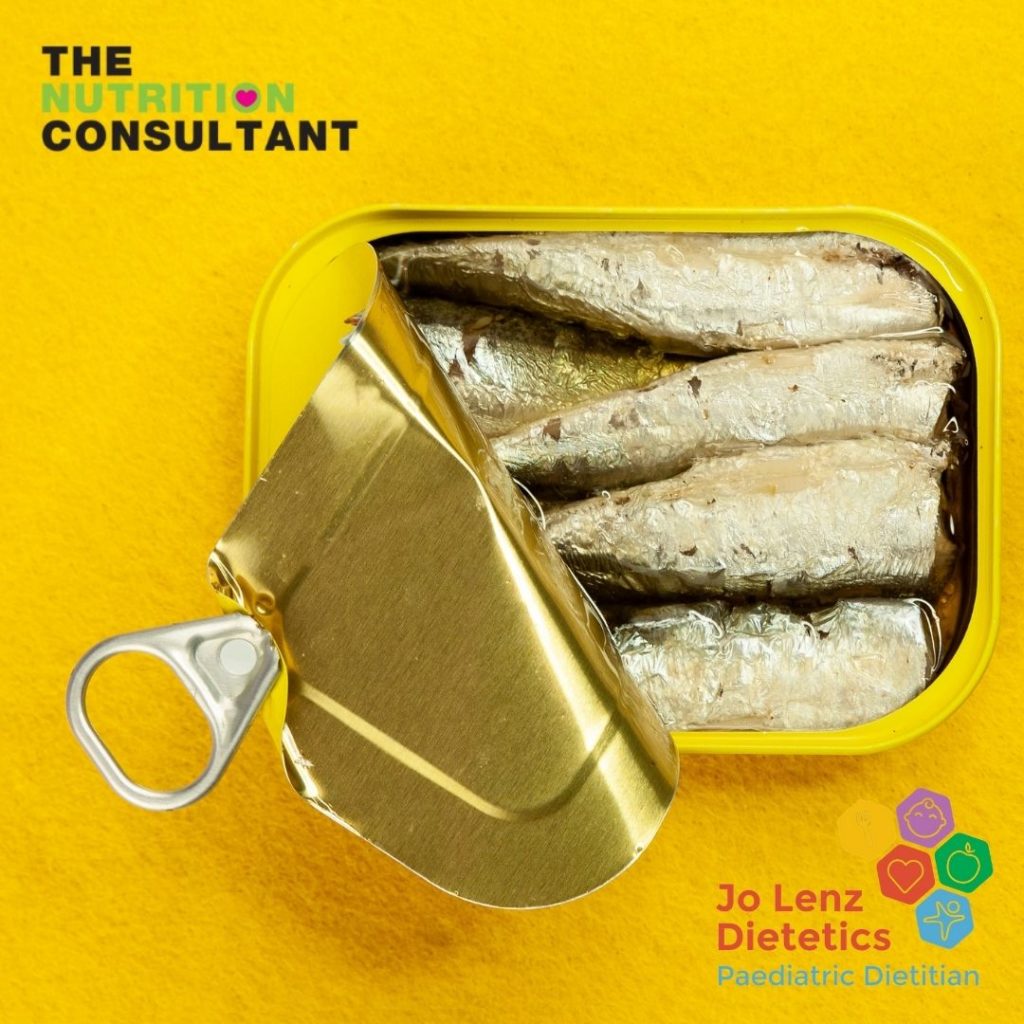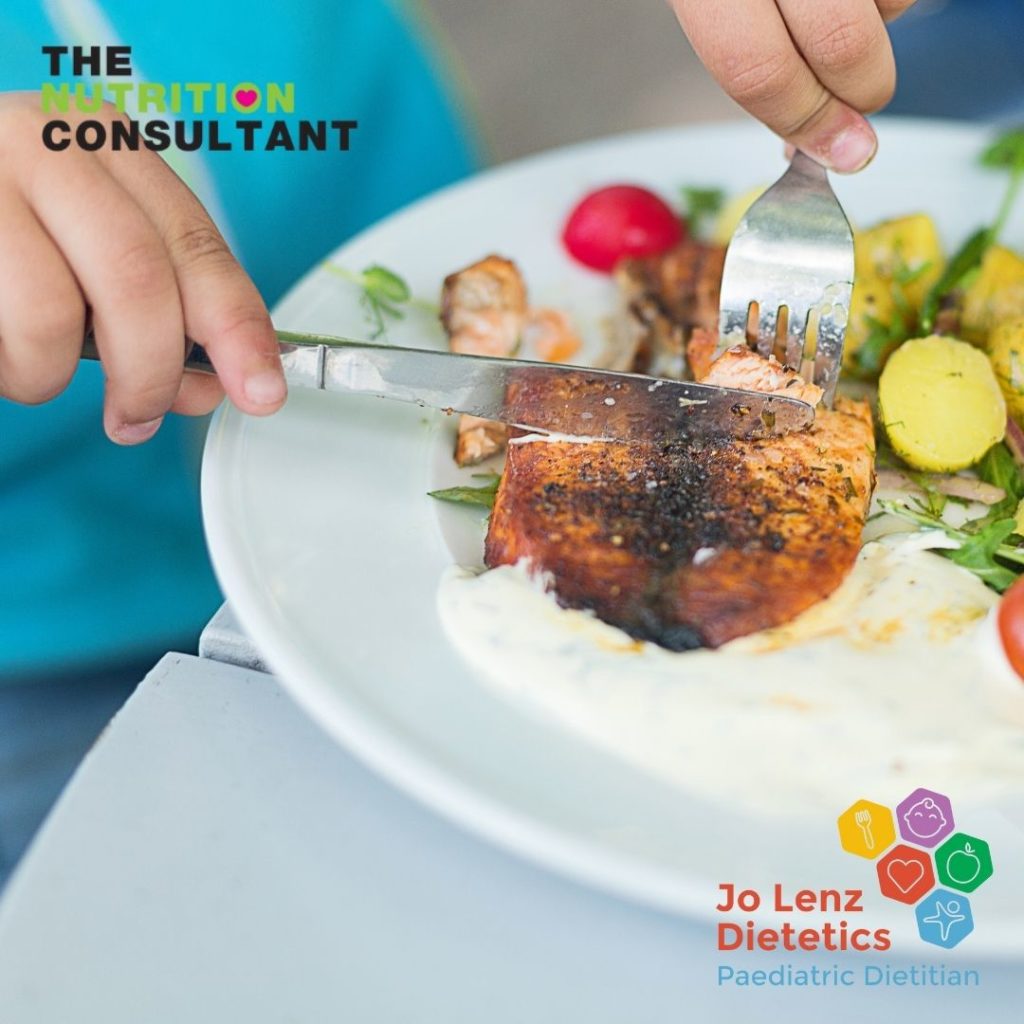 Why is fish good for children?
Fish is a good source of protein which is essential for growth.
White fish (particularly haddock and cod) is a rich source of iodine which is important for growth and metabolism in children.
Oily fish is a good source of omega 3 which is a type of unsaturated fat (polyunsaturated) otherwise known as an essential fatty acid (meaning the body can't make these). Omega 3 is good for heart health (reducing risk of heart disease) and may help maintain good memory. Research also shows that Omega 3 fats are important for cognition, brain development, visual acuity, intellect, behaviour of children, and show benefit for those children with Attention Deficit Hyperactivity Disorder (ADHD) and Autism (BDA Fish Oils document).
Salmon, sardines, and mackerel are good sources of vitamin D and sardines also contain iron.
The bones of tinned fish are a great source of calcium (mash them well).
What else do I need to consider?
Try to buy sustainable fish & seafood with MSC label (certified by the Marine Stewardship Council) as stocks of certain fish are in decline.
Take care with bones & shell as these can be a choking risk.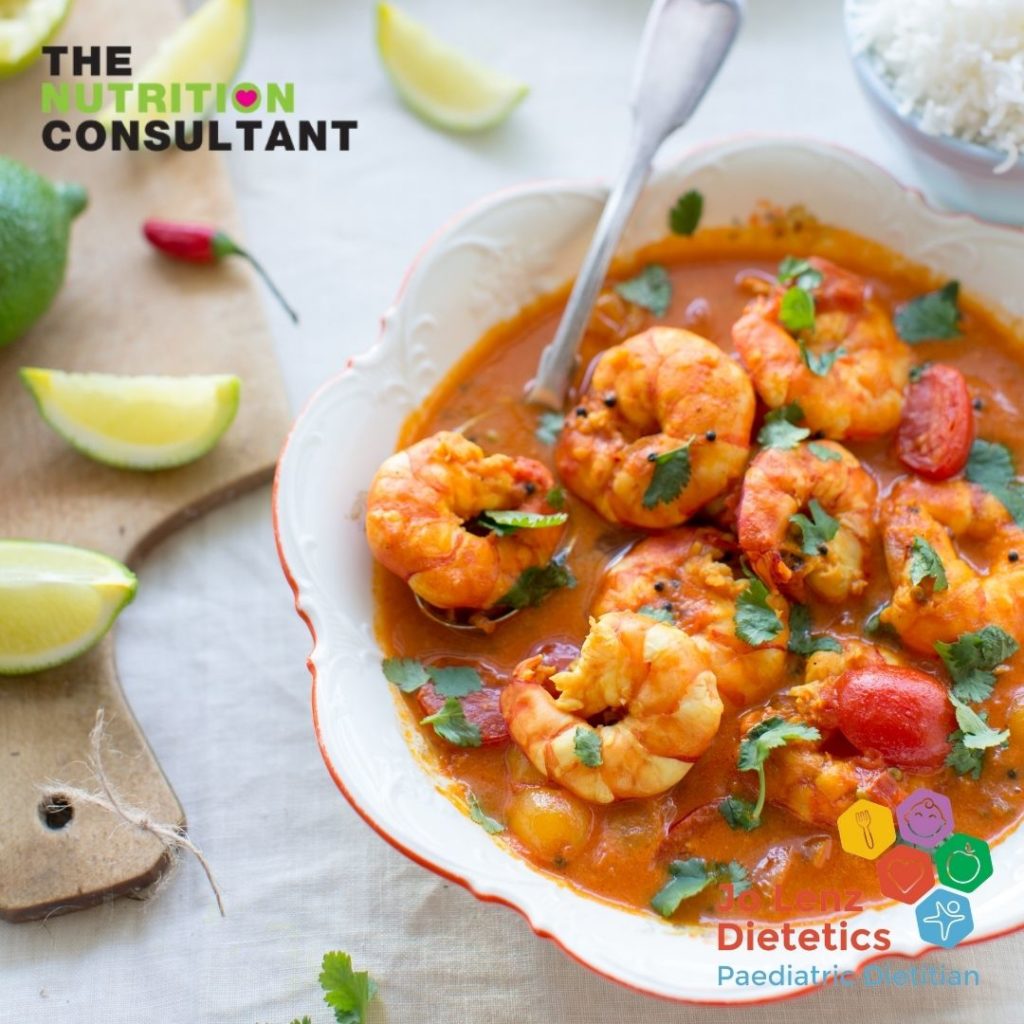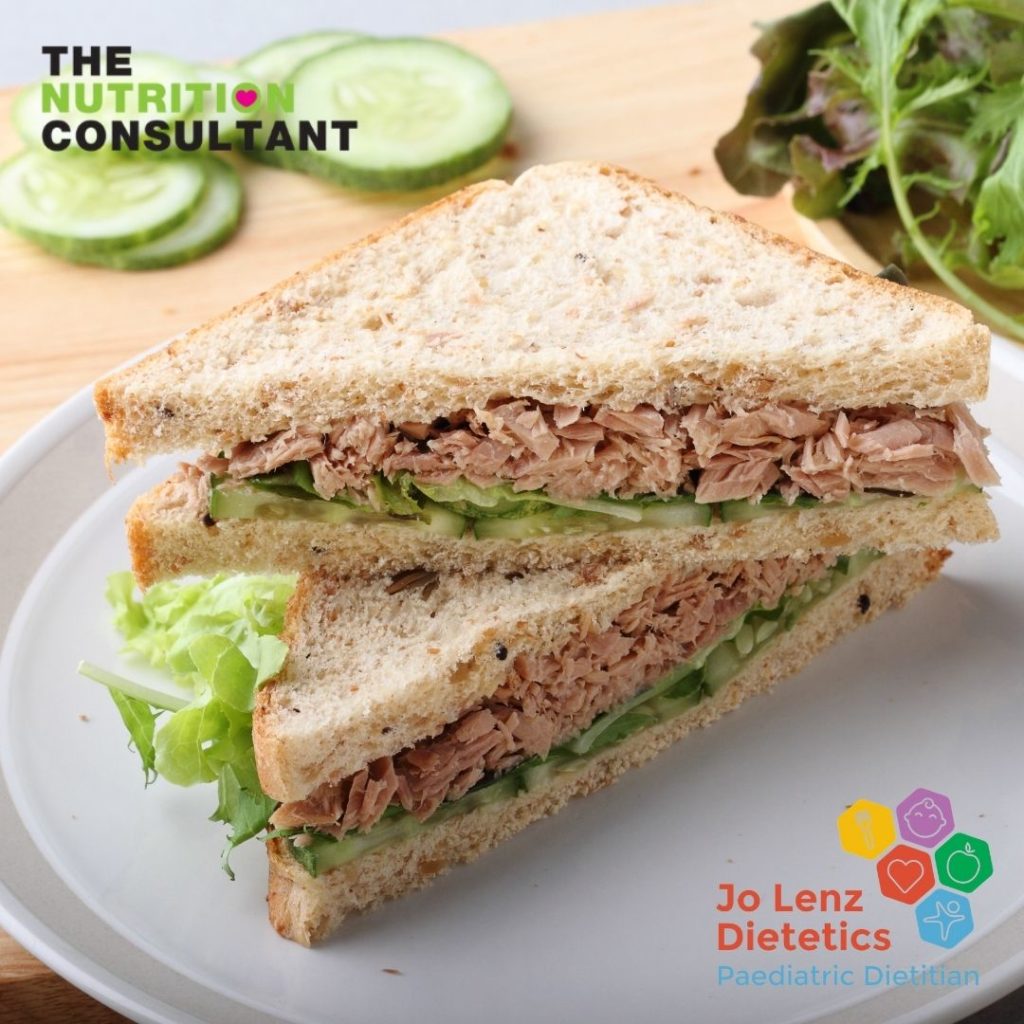 What is the best way to initially introduce my baby to fish and shellfish?
Take care to remove any bones. I always feel the fish after it's been cooked to check for bones.
Initially you can cook the fish (baked, poached, grilled) and cut fingers of fish that baby can grasp in their hand (parmar grip). Alternatively, you could flake and mix through some cooked pasta, serve as a small fishcake. Once they are eating bread you can offer a small soft sandwich with some tuna or salmon, or a couple of fingers of sardines on toast.
Prawns in a tomato or mild curry sauce are often a nice introduction to shellfish.
How can I include more fish? Isn't it difficult to cook?
Easy meals incorporating more fish: sardines on toast, tuna sandwiches, baked or grilled salmon or sea bass (grilling fish is very easy and quick – place on some tin foil on a baking tray or grill pan, heat the grill to high and grill until the fish is cooked through, seabass takes minutes like this), prawn curry, fishcakes (salmon, tuna or crab), fish pie, homemade fish fingers, tinned mackerel stirred through a pasta dish, stir fry with prawns, tuna pasta bake, kedgeree, white fish in a cheese sauce (mornay), or poached fish in milk.
Jo's simple fish cake recipe:
Serves 2 adults, 2 children & a baby/toddler.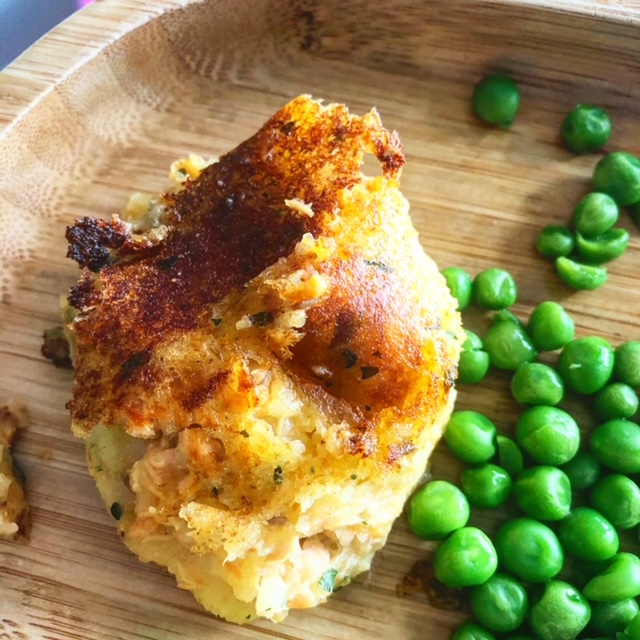 Take 5 large red potatoes (or other potatoes suitable for mashing)
Peel, cut into large pieces and boil until very soft and drain. Mash well.
Add 1 tin of red salmon (choose the ones with the bones as these are soft and mash easily, these are a very good source of calcium). Mix in well.
Add 1 tbs light mayonnaise (optional)
Add 1-2 tbs chopped parsley (I use frozen)
Form into small cakes and chill in the fridge for 10 minutes or until needed (you can freeze these now if you want)
Fry in rapeseed oil until golden brown and cooked through, serve with peas or any other vegetable
Summary
Fish is quick to cook and a nutritious food to offer your child. It's high in protein and a good source of iodine and other minerals like calcium. Oily fish provide omega 3 fats which are essential to your child's health.
Aim to offer fish twice a week (one of these servings ideally should be an oily fish like salmon or sardines) but bear in mind that some fish should be avoided, and others limited.
There are alternatives you can offer if your child doesn't eat fish.
References
Solid Starts.com: Canned Fish for Babies
European Centre for Allergy Research Foundation
This blog was written by Jo Lenz, a specialist in paediatric dietetics. She has been a registered dietitian for 14 years (13 years spent working for the NHS Trusts such as The Royal Free London NHS Foundation Trust and Oxford University Hospitals NHS Foundation Trust), has worked in several hospital and community settings, and now runs her own private practice 'Jo Lenz Dietetics'.
Jo has three young children and understands the difficulties of providing children with a healthy diet whilst juggling the pressures of a busy family life. Based in Oxfordshire, she provides one-to-one online consultations, workshops, and consultancy to food brands/companies.
Website: www.jolenzdietetics.net
Email: jo@jolenzdietetics.net
Instagram: @jolenzdietetics
Facebook: @Jo Lenz Dietetics