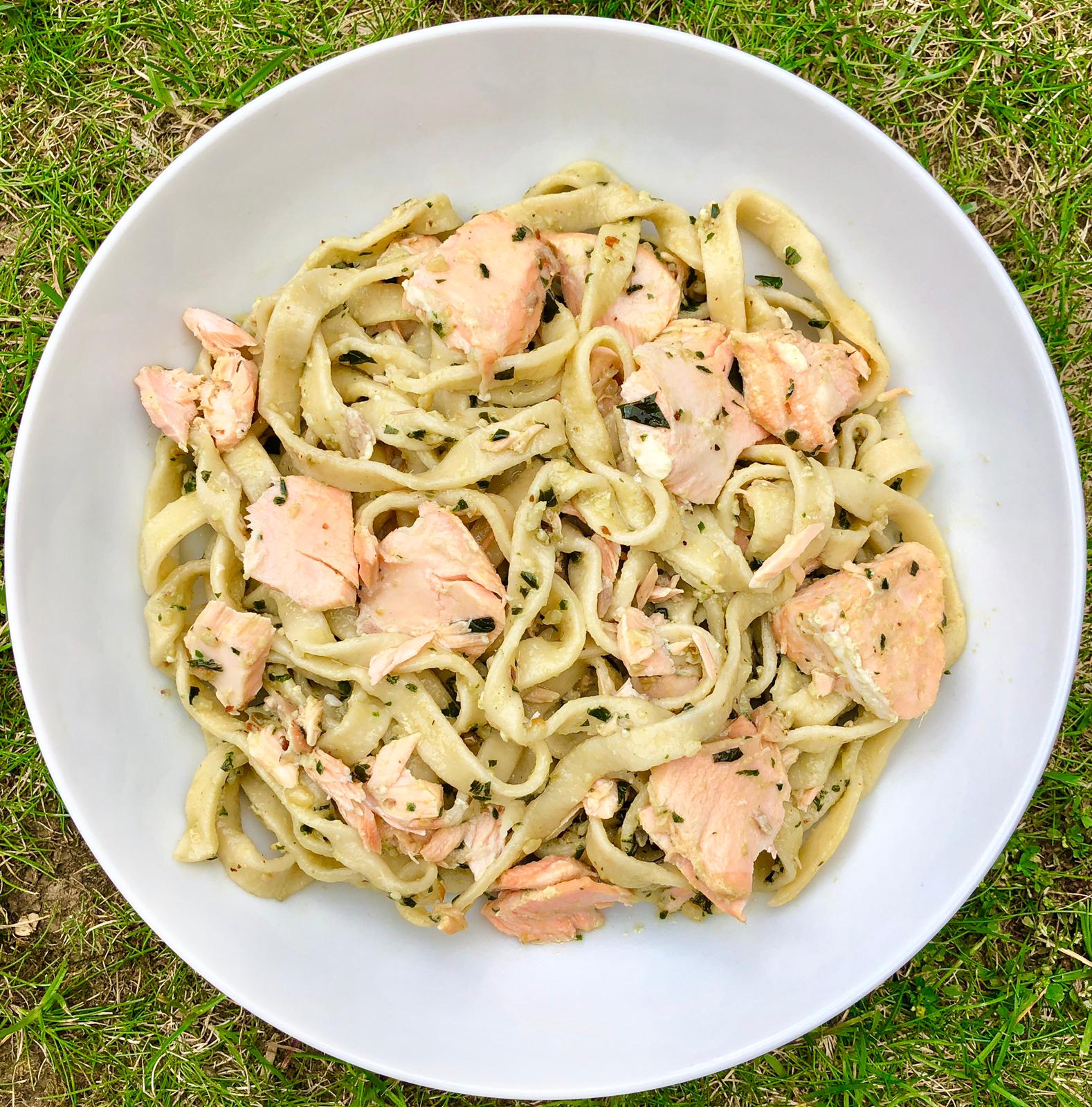 Ingredients
4

salmon fillets

50g

mixed nuts

(we used pine nuts, almonds, brazil and walnuts)

30g

basil

(fresh; washed)

15g

parmesan cheese

1/2

clove

garlic

2

tbsp

olive oil

300g

pasta

(fresh or dried)

selection of vegetables

(for accompaniment)
Instructions
Preheat oven to 200°C/ fan 180°C/ gas mark 6. Lightly wrap the salmon fillets in foil and place on a baking tray in the oven and cook for 20 minutes (or as per the packet instructions).

Whilst the salmon is cooking, make the pesto. Place all the nuts into a small frying pan and lightly toast the nuts until they are a golden-brown colour.

Place the nuts into a food processor along with the fresh basil, parmesan, garlic and olive oil. Lightly blitz until you have a coarse texture.

When the salmon is nearly cooked, start to cook your pasta as per the packet instructions (fresh pasta will cook quicker than dried). Once cooked, hold back a cup of the cooking water and drain the pasta. Add the pasta back to the pan.

Steam your accompanying vegetables for 6-8 minutes.

Add the pesto mixture to the pasta along with a couple of tablespoons of the cooking water. Mix everything together until the pasta is coated in the pesto. If the pasta is not loose enough add a little more cooking water.

Remove the salmon from the oven and flake into chunky pieces.

Add the salmon to the pasta and gently mix through making sure not to break up the salmon pieces too much.
Tip:
If you don't want to cook veg separately, add some defrosted peas to the pasta cooking water for the final 2 minutes of cooking time. Then add a handful of fresh spinach when tossing with the pesto.