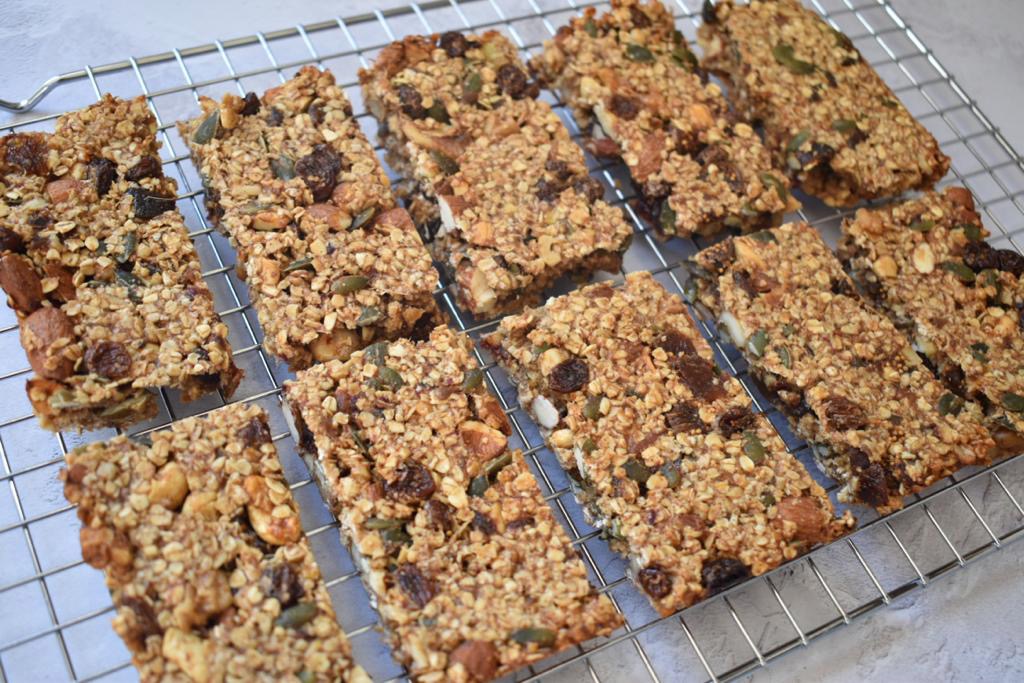 Ingredients
40

g

butter

(or dairy-free alternative or coconut oil)

1

tbsp

honey

(or syrup such as maple or agave)

½

tsp

vanilla bean paste

4

medjool dates

(pitted and chopped)

1

overripe banana

(large, peeled, mashed)

½ – 1

tsp

ground cinnamon

200

g

oats

30

g

pumpkin seeds

120

g

mixed nuts

(we used equal amounts of cashew, walnuts and almonds)

40

g

raisins

40

g

dried figs

(chopped)
Instructions
Preheat the oven to 180°C/ 160°C fan/ Gas 4. Line a 8×10 inch baking tin (or similar) with greaseproof paper and set aside.

In a large pan add the butter, honey, vanilla bean paste and dates and warm over a low heat.

As the pan heats using the back of a wooden spoon squash the dates into a rough paste.

Once the butter has melted remove from the heat.

Add and stir in the mashed banana and cinnamon.

Add the oats to the pan and stir in well ensuring they are all coated.

Add the pumpkin seeds, nuts, raisins and figs and incorporate the ingredients evenly through the mixture.

Transfer the mixture to the lined baking tin. Evenly spread out the mixture over the bottom of the tin and press down to compact the granola mixture.

Place into the oven on the middle shelve for 20-25 minutes, or until the edges are golden brown.

Remove from the oven and set aside to cool in the tin.

Once cool, removed from the tin and slice into even portions.
Storage
Keep in an airtight container, in the fridge for up to 3 days, or alternatively, freeze for up to 3 months. Freeze individually in greaseproof paper or clingfilm. Remove from the fridge or freeze beforehand and allow to come to room temperature.
Tips
Only roughly chop the nuts leaving some large chunks and some whole nuts, this will give the granola bars a nice texture.

If you make these often mix up the combination of nuts, seeds and dried fruit you use for variety.
Warning
These are not suitable for children under 5 due to the presence of large nuts.