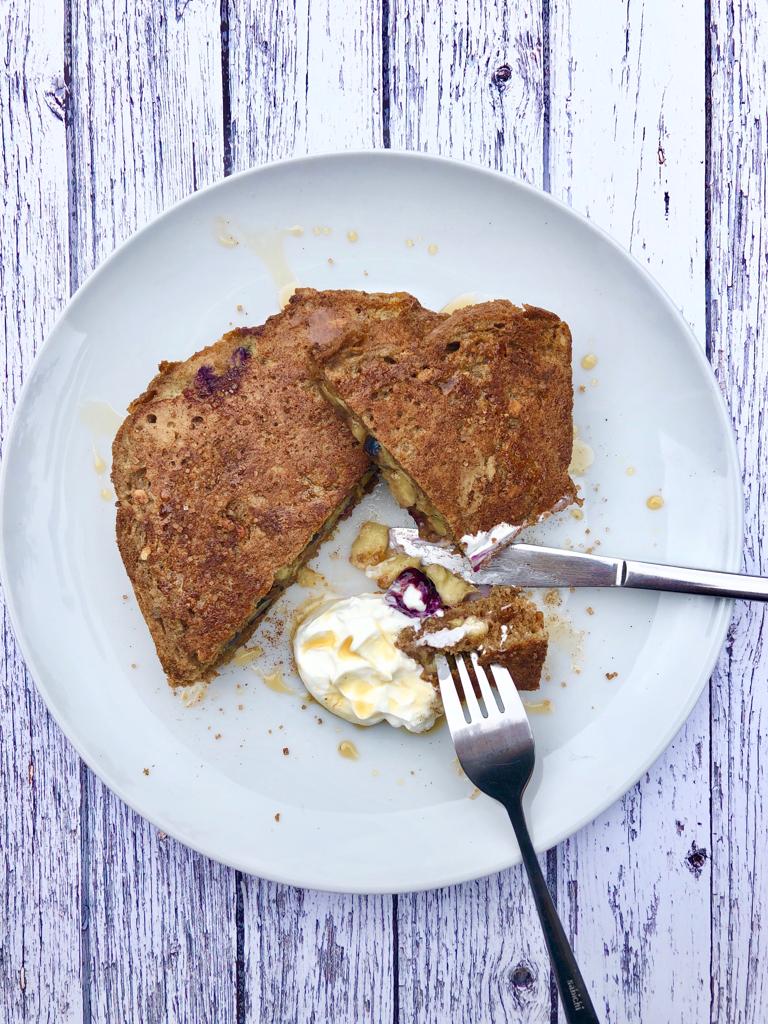 Ingredients
1

tsp

cinammon

1

sugar (or sweetener)

1

egg

½

tsp

vanilla bean paste

2

slices

wholemeal bread

1

tbsp

almond butter

1

banana

(sliced, overripe is better)

70g

blueberries

½

tsp

coconut oil

1

tsp

maple syrup (or honey)
Instructions
Take 2 shallow bowls. In one bowl, add 1/2 teaspoon of cinnamon and the sugar and mix together. In the other bowl, beat the egg with the vanilla bean paste and the rest of the cinnamon.

Take both slices of bread and spread the almond butter over one side on each of the slices.

Take one slice of bread and layer half of the banana slices on top of the almond butter, followed by a layer of the blueberries, then another layer of banana slices, using up the remainder of banana.

Place the other slice of bread, almond butter side down on top of the fruit to make a sandwich. Give the sandwich a firm press so it sticks together.

Take the sandwich and dip it in the egg mixture. Give it a few seconds for the egg to soak in before turning the sandwich and soaking the other side. All the egg should have soaked into the sandwich.

In a frying pan, heat the coconut oil over a medium heat. Fry the sandwich for 3 minutes on each side. It should be a golden-brown colour.

Once cooked, rub each side of the sandwich into the cinnamon and sugar mixture.

Place on a plate, cut in half, and drizzle the maple syrup over the top. Serve as it is or with yoghurt.
Tip:
Switch up your fruit with the season – in the winter months, try stewed apple or pear or orange segments.