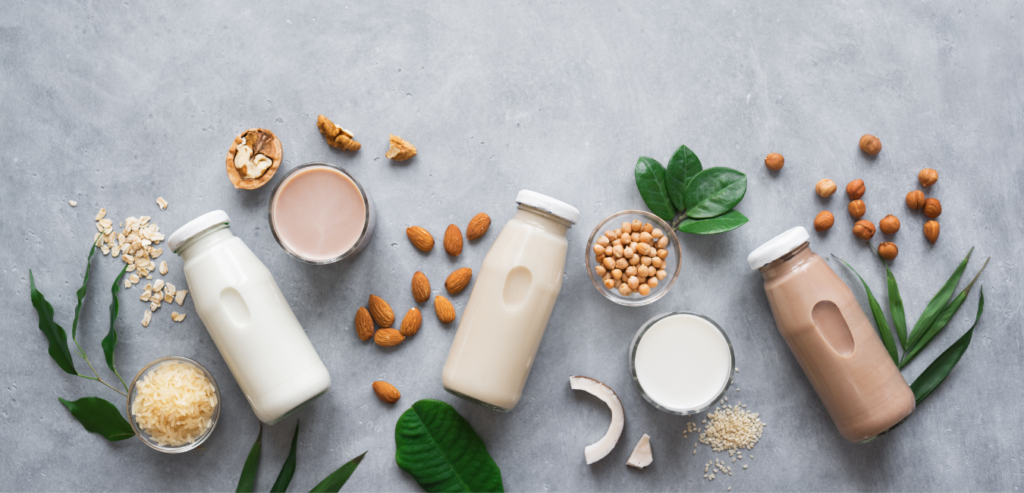 Plant-Based Milk Alternatives
Plant-based milk alternatives; What's the deal? Are they healthy? And which ones should I be buying?
I've worked with Registered Associate Nutritionist, Selina Patel to give you the low down on plant-based milk alternatives.
Plant-based milk alternatives have grown in popularity over recent years. As more people are aware of reducing their carbon footprint (which dairy is a contributor) and those with allergies and intolerances unable to consume dairy, it's no wonder plant-based milk alternatives are in demand. You only need to scan the supermarket shelves to see the array of milk alternatives on offer nowadays.
In this blog we focus on the nutritional elements of choosing a plant-based drink, but please note that there are many other factors to consider when selecting an alternative to use or making a complete switch from dairy.
Legally, these drinks cannot be named "milk" (along with other dairy products such as "butter", "cheese", "cream" and "yoghurt") as these terms are protected under EU legislation for use on animal products only, hence the phrase "milk alternative","m'lk", "mylk", "drink" or similar being used across these products.
Dairy milk is most commonly known for providing calcium; however, dairy milk also provides a good portion of daily vitamin B12 and iodine to the diet, which can be difficult to meet if living on a diet free of animal products. Therefore, if looking for dairy-free alternatives, it's important to ensure that they are fortified with these 3 micronutrients as a minimum, especially if you're using them as a complete replacement.
Why are these important within the diet?
Calcium
From a young age we're aware that calcium builds strong teeth and bones, but further to this, it's also important in muscle contraction and ensuring the blood clots as it should. It's important to get adequate intakes of calcium especially during childhood and adolescence and for expectant mothers during pregnancy and whilst breastfeeding. The presence of vitamin D in many of the fortified plant-based milk alternatives will aid in its absorption.
Iodine
Iodine, a less known mineral, but extremely important in the production of thyroid hormones (thyroxine and triiodothyronine). Although there are recommendations for all ages, it is essential that pregnant women (especially in the first trimester) and young children are consuming enough iodine as it plays a vital role in their cognitive development. Research shows that there are low intakes amongst children aged 11-18 and because over a 3rd of iodine intake is through milk, it's highly important that the alternative you are using is fortified with this mineral.
Vitamin B12
We obtain B12 through the consumption of animal products, which is why plant milk fortification is necessary. B12 helps the body keep the nervous system healthy, makes red blood cells, metabolises folate and helps the body use energy. If you're following a vegan diet or consume very little animal products its worth considering B12 supplements.
And there's more to consider…
As well as calcium, B12 and iodine other micronutrients present in dairy milk are phosphorus, potassium and riboflavin (vitamin B2). Milk is also a source of complete protein, contributes to fat intake and is hydrating, all of which is important, especially for young children, milk can also be a great way of recovering post-workout.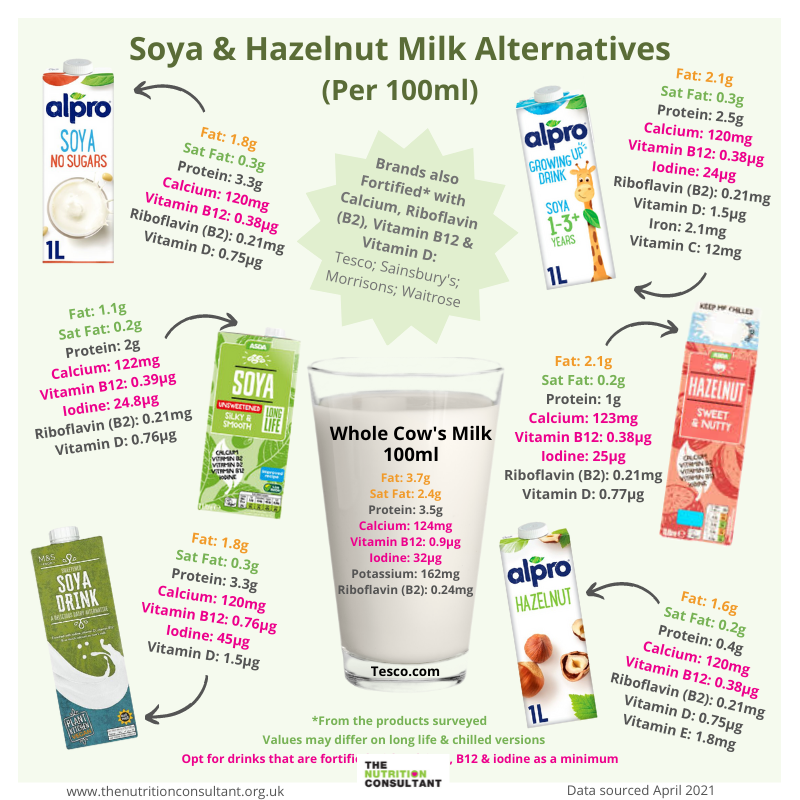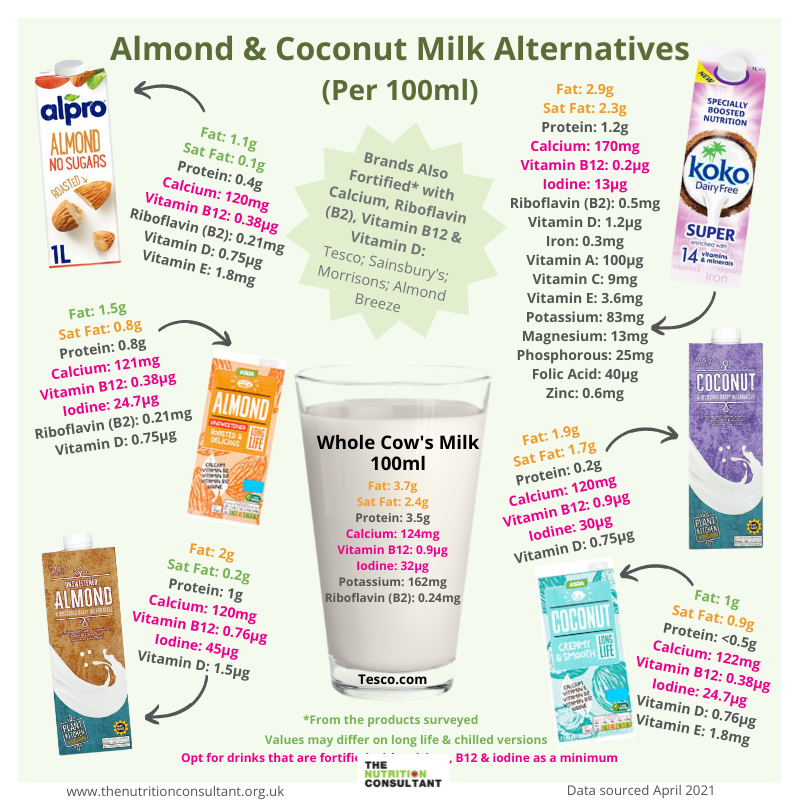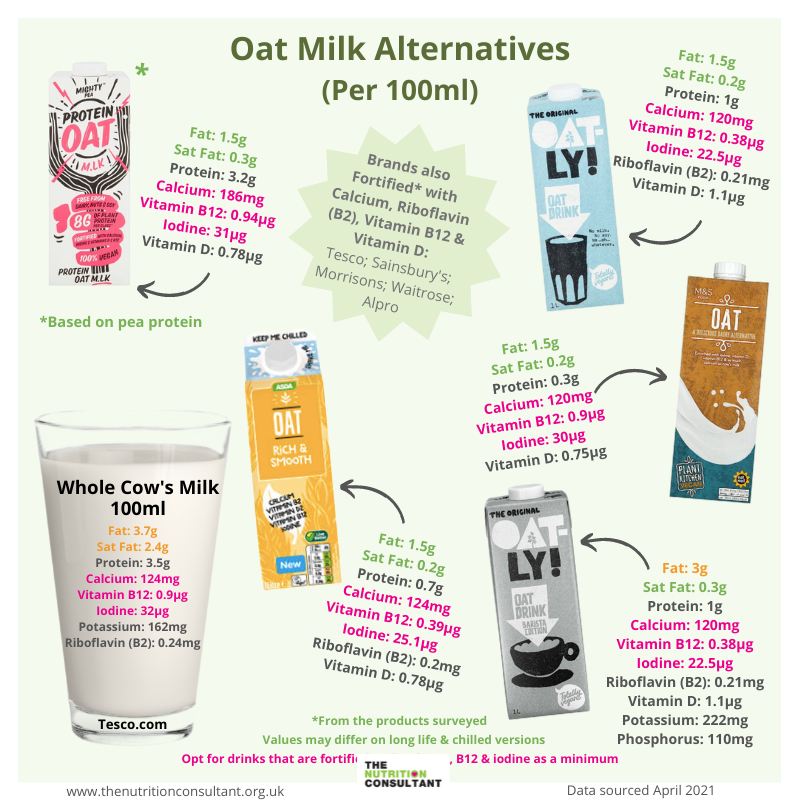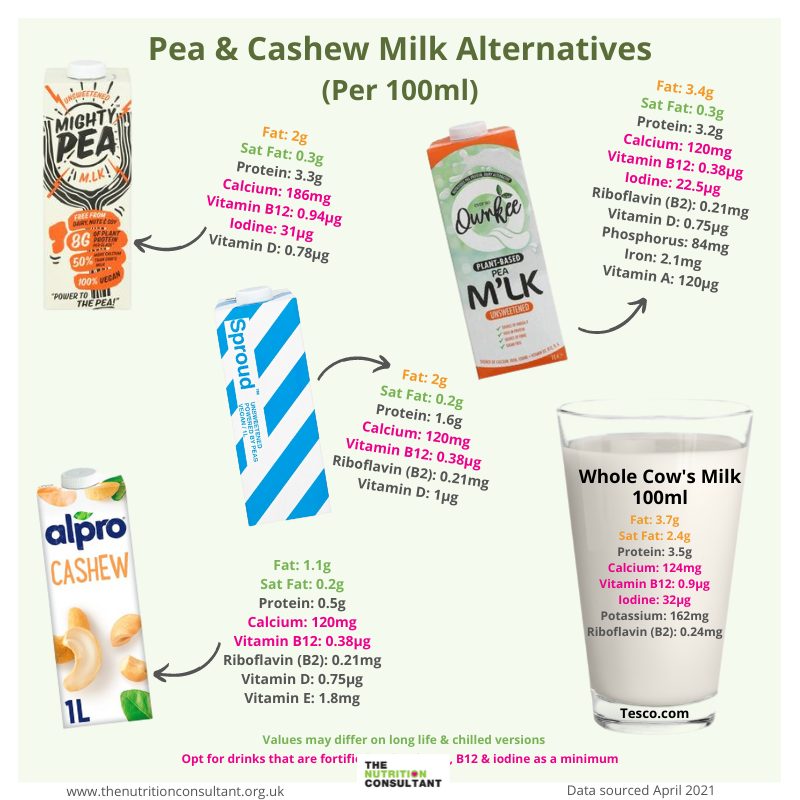 What's the difference in plant "milks"?
Plant-based milk sources derive from nuts such as almonds, cashews and hazelnuts; legumes like pea and soy and cereals such as oat and rice as well as hemp seeds and coconuts. Although in their own right these are all nutritious foods, after processing methods much of the benefits are lost. From the drinks included in this blog, only around 6%, on average, of the plant-based item was left within the finished product. This is another reason added vitamins and minerals are of benefit in plant-based drinks.
In the UK, dairy milk is not generally fortified with vitamin D, however, for those plant-based milk alternatives that are, vitamin D was included in all of those we looked at, as well as calcium and B12. Unfortunately, at this time only a handful of brands were found to include iodine. Many alternatives we found also included riboflavin, and in a few others, vitamin E. It's fantastic to see that from those surveyed here at The Nutrition Consultant; M&S, ASDA, Oatly, Mighty Pea and Qwrkee all included iodine in their drinks. Head over to Charlotte's guide on micronutrients where you will find all you need to know on the vitamins and minerals out there. It's likely that other brands will follow suit in the future as the plant-based movement grows due to continuing environmental concerns.
If you generally purchase organic products, when it comes to plant-based milk alternatives, it is best to avoid the organic label due to EU regs stating these cannot be fortified. This leaves these organic (and regular unfortified) versions to be essentially water, a small amount of the plant-based source, along with a stabiliser, oil and possibly some salt or sugar. Whilst this is perfectly fine if you're enjoying a refreshing drink, it isn't recommended as a large replacement to dairy.
Whether you're looking for a complete alternative to milk or just looking to reduce your dairy consumption it's worth knowing the difference between types and brands, as nutritionally speaking some will vary considerably. Take a look at the tables and infographics below for easy comparison and how they fair up against dairy milk and the recommended daily nutrient intakes.
Note: Where you see the abbreviation "mg", this refers to milligrams, the symbol "µg" refers to micrograms which is 1000x smaller than a milligram.
As you can see there are many options when it comes to choosing a plant-based drink. Most are low in saturated fat (except for some coconut versions), but the majority of these contain little protein. If you're looking for one with similar values to cows' milk, soy and pea drinks are a recommended go-to. However, that being said, plant-based proteins may need to be consumed in amounts greater than those for animal proteins to have the same effects on muscle maintenance and growth due to the differences in amino acid profiles. Overall, when chosen correctly, plant-based milk alternatives can form part of a healthy diet.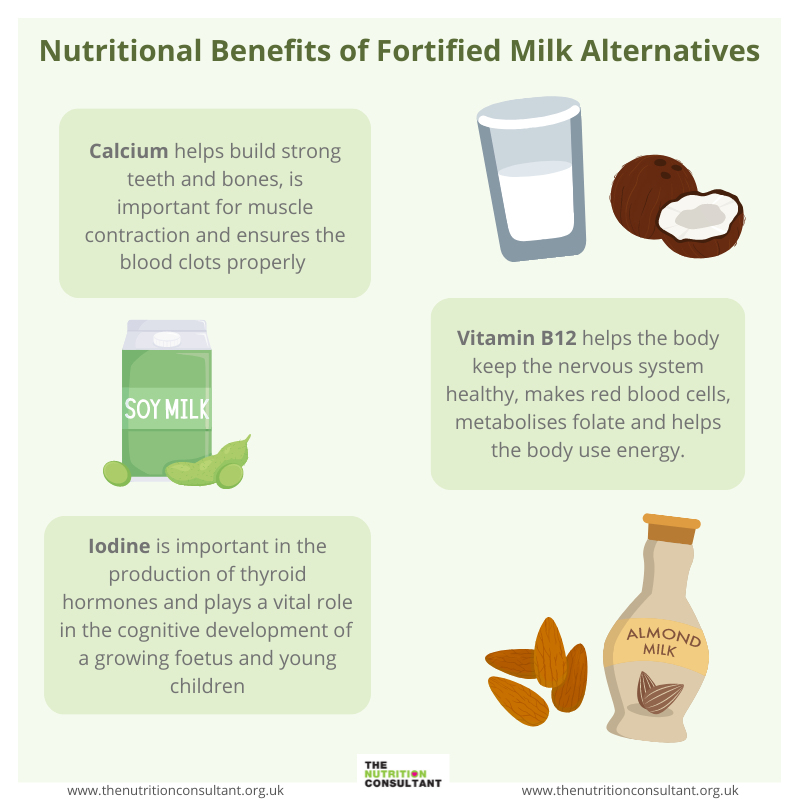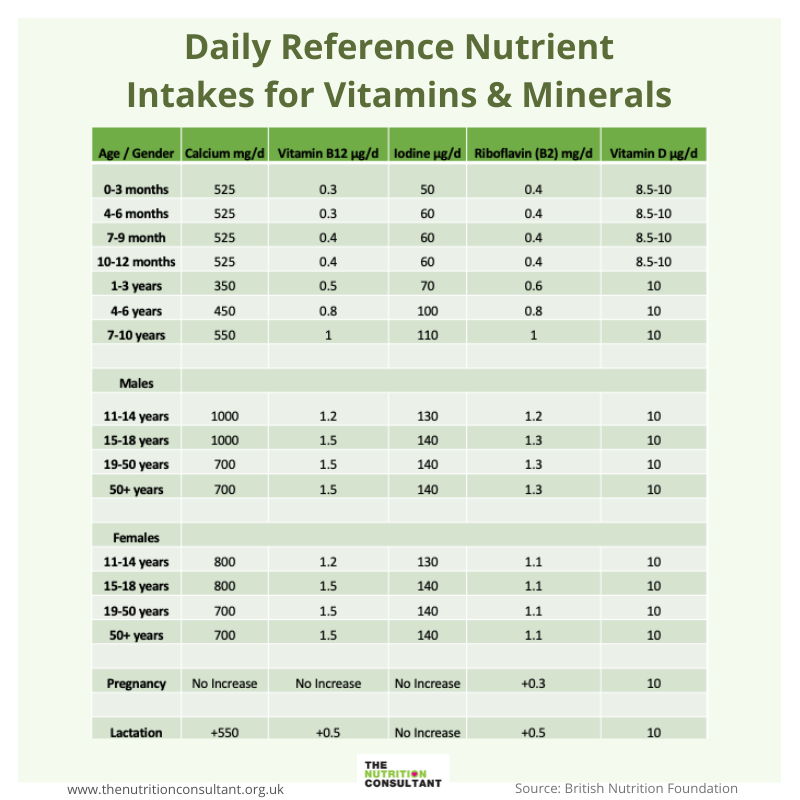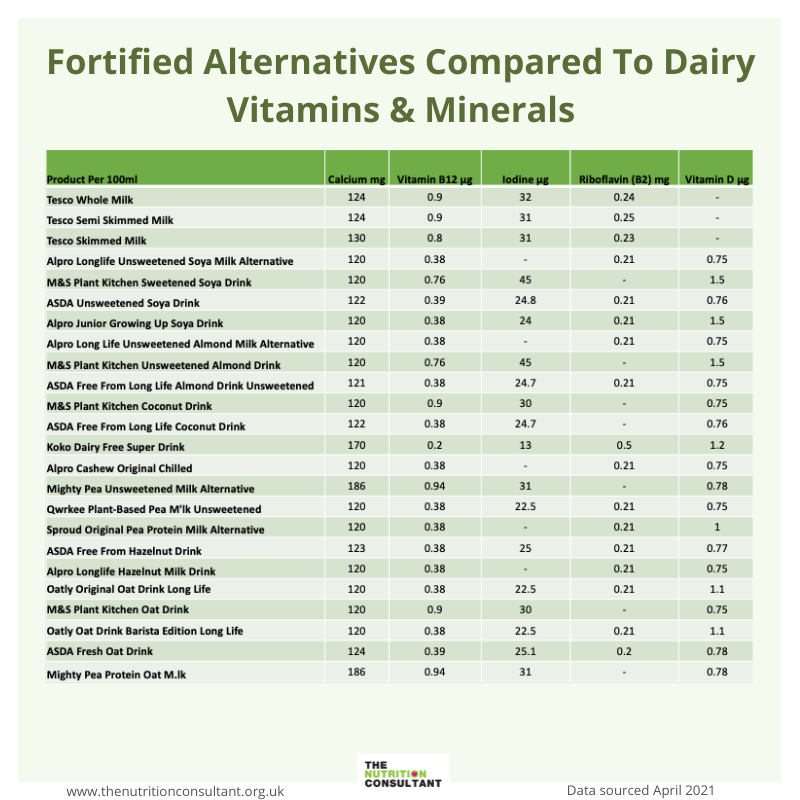 Here are my top tips on choosing a plant-based milk alternative:
Opt for brands fortified with calcium, B12 and iodine as a minimum.
If tolerated, choose soya or pea drinks for the closest nutritional profile to milk.
Avoid organic milk alternatives as these are not fortified with micronutrients.
Stick with unsweetened / no sugar versions to reduce added sugar intake.
Other points to consider if offering plant-based milk alternatives to children:
Children under 12 months are not recommended to consume plant-based milk alternatives as their main drink source, but unsweetened fortified versions can be included as part of a healthy balanced diet from age 1. If you suspect your child has an allergy or they follow a dairy-free diet for other reasons, please speak to your GP who can refer you to a dietitian.
Rice milk is not recommended to children under the age of 5 due to the arsenic content.
This post was written in collaboration with Selina Patel (ANutr). Selina is a recent graduate from the University of Westminster and has a BSc in Human Nutrition with First Class Honours. She works alongside me at The Nutrition Consultant and Interns with SR Nutrition. You can find Selina over on her Instagram page @the_lifestyle_nutritionist where she shares nutrition tips, recipes, meal ideas and more!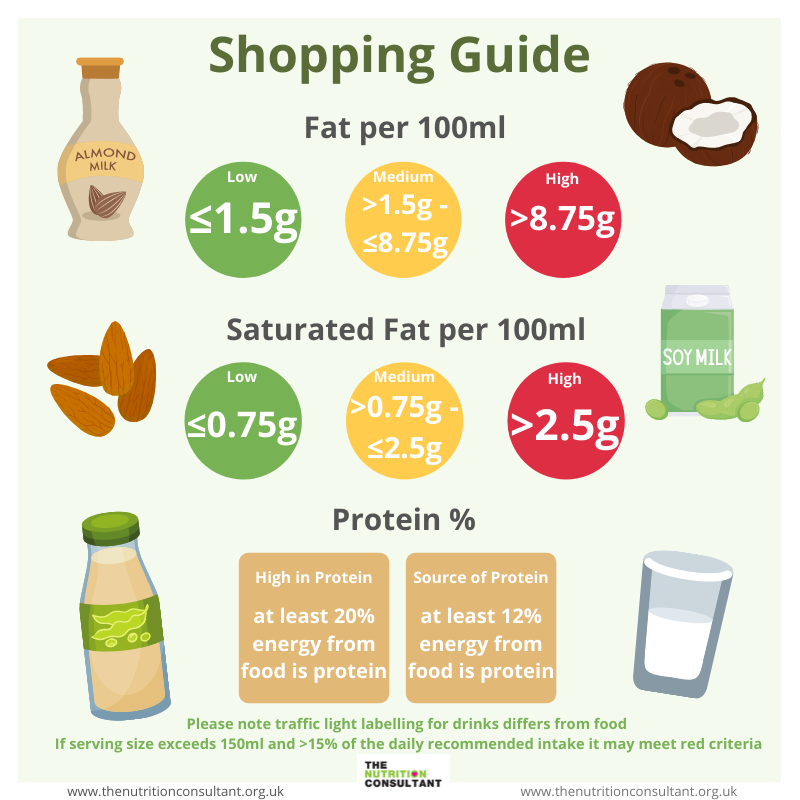 Please note data on products are sourced from Ocado, Tesco and ASDA and are correct as of April 2021.
Any further questions? Please let me know in the comment box below.